The arabica futures (three-month ahead) at the InterContinental Exchange (ICE) New York (NY) broke through the USc 160/Ib resistance level to USc 161.95/Ib during the week of 2nd June 2021. This is the highest price of this benchmark since 16th November 2016, which was also the last time that the USc 16/Ib ceiling was broken. The arabica price has sustained strong upward momentum since dipping to USc 125.71/Ib on 7th April 2021, increasing by USc 36.24/Ib (+28.8%) over the ensuing eight-week period.
The recent surge in arabica prices is supported by several key fundamentals. Most notably, market concerns regarding dry weather, leading to a state of water emergency alert in key Brazilian growing states including Minas Gerais, Goias and Mato Grasso do Sul. Brazil's meteorological department reported that 'most of Brazil's central region will receive little rain from June to August', undermining development and yield potential for the 2022/23 'on-cycle' crop. The imminent 2021/22 Brazilian 'off-cycle' harvest is predicted to fall anywhere between 10-30% by various stakeholders, which compounds the bullish fundamentals, particularly in light of the International Coffee Organization (ICO) revising down its global 2020/21 coffee surplus estimate by 38% from its previous figure, to 2.019 m 60kg bags.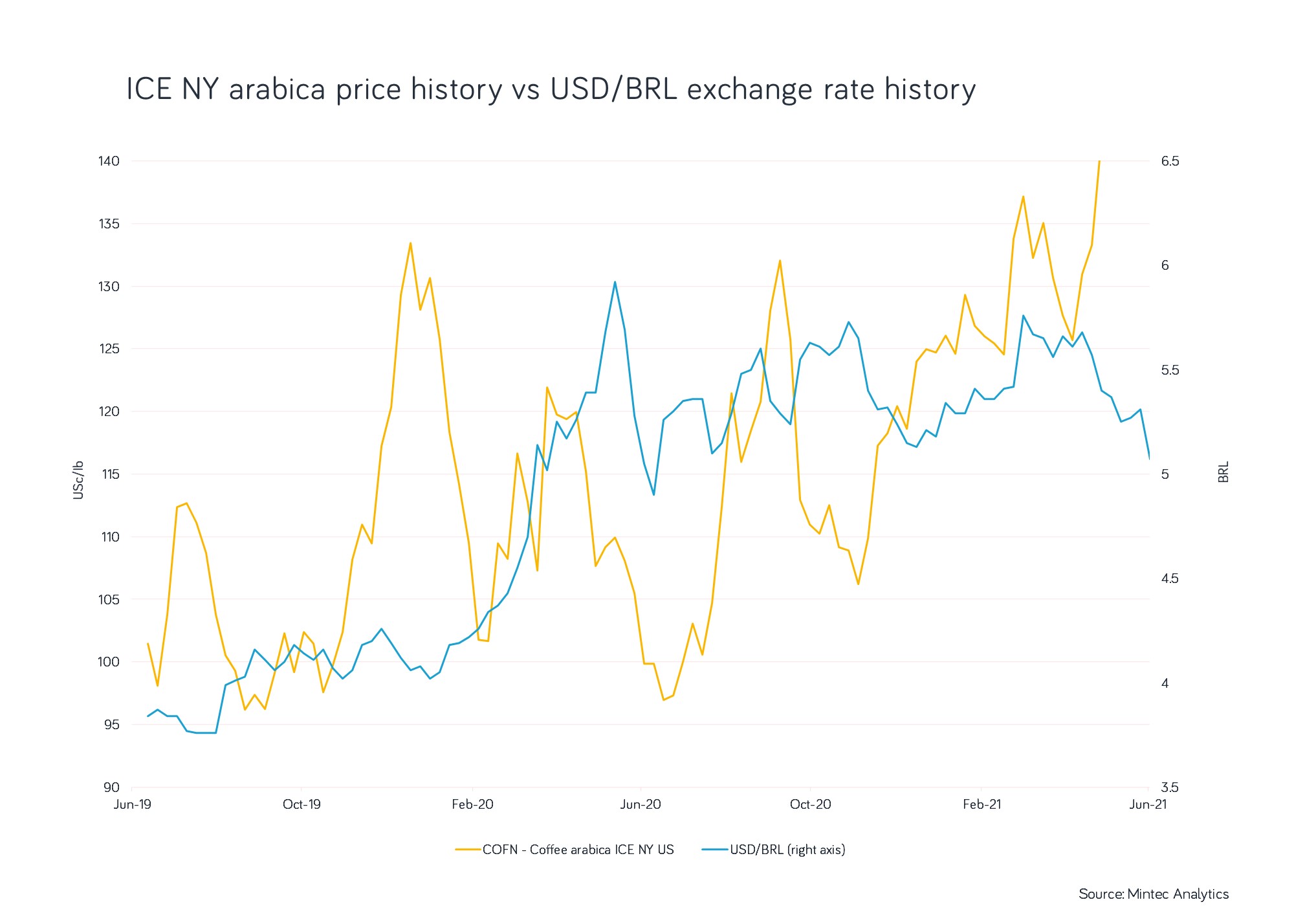 Another factor supporting the ICE NY price is the relative weakness of the USD against the BRL. Despite renewed lockdowns in Brazil, the USD/BRL exchange rate has come under pressure due to broad USD weakness. Indeed, the latter appreciated by 6.5% against the greenback during the six-weeks to 26th May 2021, lending support to the NY benchmark on account of higher USD-denominated prices of imported Brazilian arabica.