The Norwegian Seafood Council (NSC) reported that domestic fresh salmon exports fell by approximately 772 tonnes (-4.0%) week-on-week (w-o-w), to 19,300 tonnes, during the period ending 11th February 2021. Aggregate fresh salmon shipments to the EU, UK and US fell by 1,200 tonnes demand. This was partially offset by higher frozen salmon shipments to East Asia, ahead of the two-week Chinese Lunar year celebrations that commenced on 11th February 2021. Aggregate Norwegian salmon exports to South Korea, China and Japan increased by 383 tonnes during the week to 11th February 2021. The Asian demand boost, in conjunction with domestic supply bottlenecks, lent support to the Norwegian farmed salmon spot price, which increased by NOK 6.62/kg (+16%) w-o-w to NOK 48.6/kg free carrier (FCA) during the week of the 11th February 2021.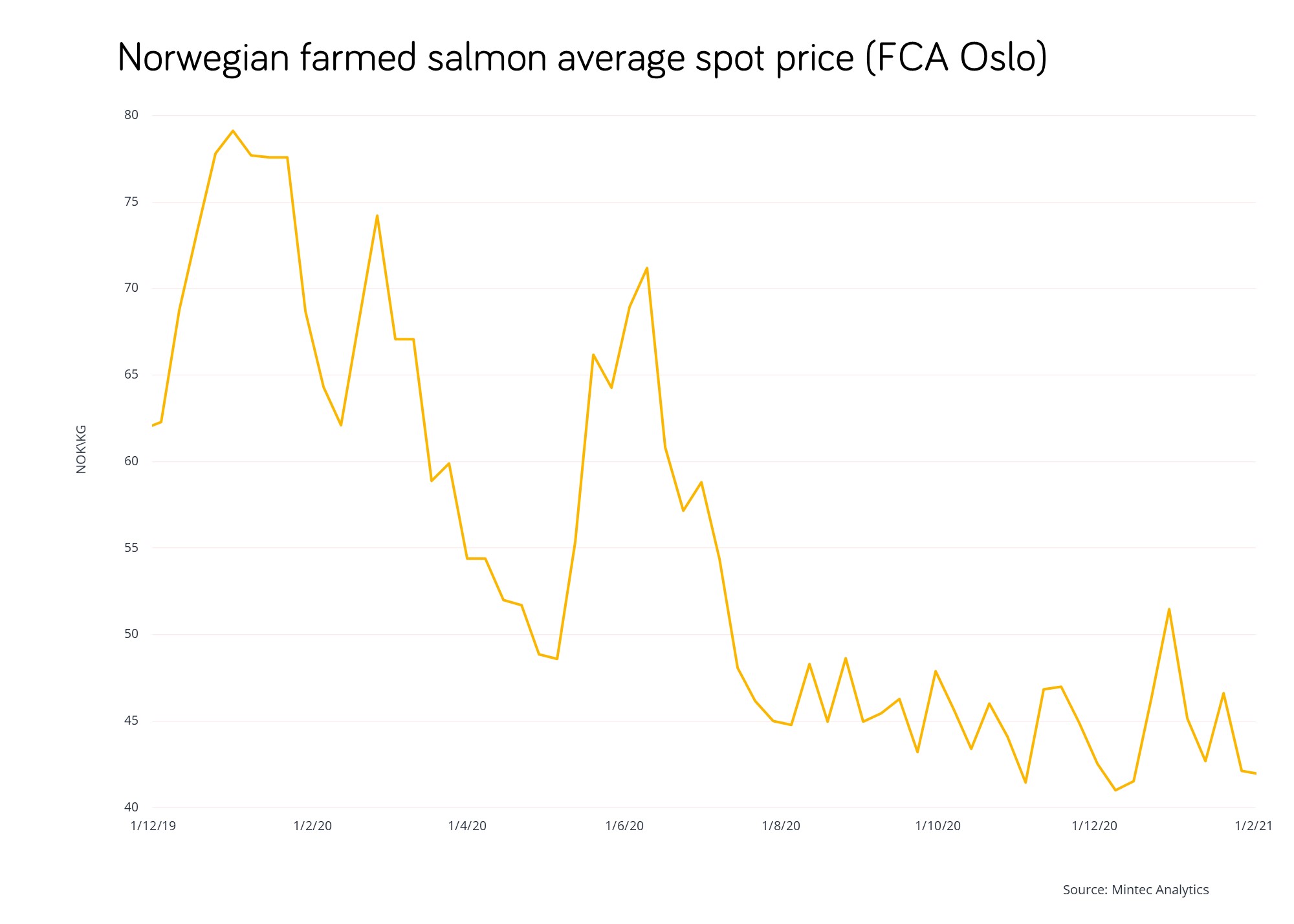 However, fundamental market weakness is reflected in the latest Norwegian spot price, which lagged the same period of the previous year by approximately NOK 13.52/kg (-21.8%). Low profitability and the hope of better prices prompted many Norwegian farmers to defer some of the 2020 harvest into 2021. Substantial feed volumes shared among a high individual fish count underpins Kontali's estimate for Norwegian salmon biomass to increase by up to 10% year-on-year (y-o-y) in 2021 to 850,000 tonnes. However, the global market is sufficiently stocked with large-sized salmon (exceeding 6kg whole fish equivalent (wfe)) in frozen inventories. The lack of restaurant demand increases sellers' incentives to discount larger fish against smaller, retail-friendlier sizes for home consumption.
It is unlikely to assume that COVID-19 vaccinations will be disseminated across majority populations of key western hemisphere markets before H2 2021. Thus, H1 2021 will largely be characterised by further lockdowns, amid faltering out-of-home consumption. Against this backdrop, salmon sales will primarily be driven by the retail grocery sector with limited ability to sustain higher prices above current levels.