The Norwegian prawn price maintained a four-month uptrend, from NOK 14,228/MT in August 2021 to NOK 90,116/MT in December, which is a record-high price since Mintec started tracking the series in 2006. At NOK 68,675/MT, the Q4 2021 catch price of Norwegian prawns increased by NOK 45,925/MT (+201.9%) quarter-on-quarter (q-o-q). Norwegian prawn prices typically increase on a q-o-q basis during Q4, in line with higher European consumption, as Europe comprises approximately 75% of annual Norwegian seafood exports.
Higher year-on-year (y-o-y) production costs provided further price support for Norwegian prawns in Q4 2021, with the quarterly average prawn price up NOK 12,005/MT (21.2%) y-o-y. Most notably, the average price of European Brent crude oil increased by USD 33.8/barrel (+74.4%) y-o-y in Q4 2021 to USD 79.2/barrel. Fuel derived from Brent crude is one of the main expenses for Norwegian fishing fleets, implying higher prawn prices to help offset some of this cost inflation.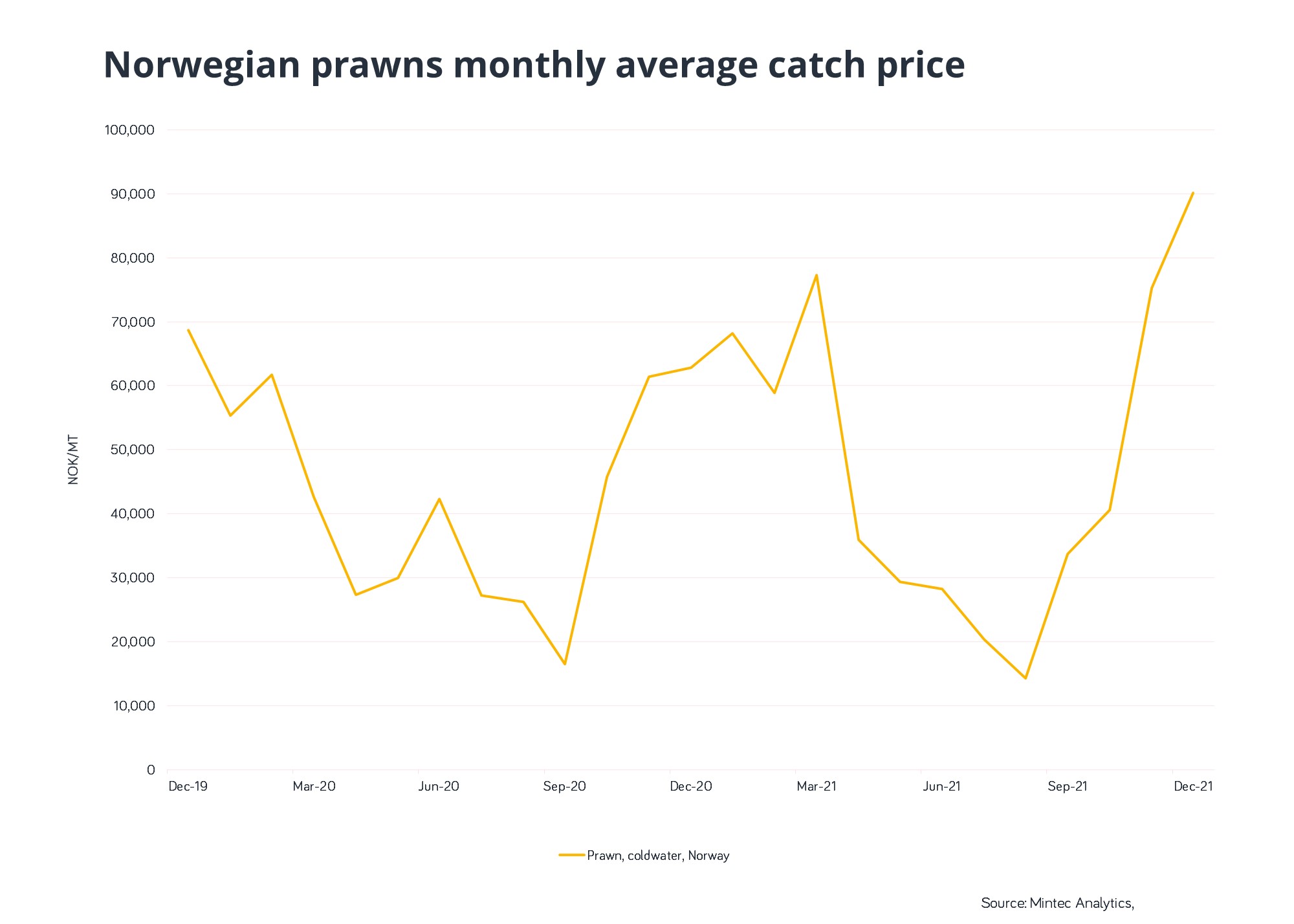 August and October aside, Norwegian prawn exporters recorded y-o-y volume growth in consecutive months from Apr '21-Nov '21. During Q3 2021, strong demand growth from the European market and higher average prices (+6.6% y-o-y per tonne) supported robust Norwegian exports, which increased by 282 tonnes (+8.9%) during the period to 3,442 tonnes. European imports slowed y-o-y in October 2021, in line with sizeable inventories accrued during Q3 2021.
However, a strong rebound was noted in November with exports increasing by 319 tonnes (+32.0%) y-o-y to 1,317 tonnes. Despite rising global COVID-19 cases, and a 10% increase in the average NOK-denominated cost per tonne, European buyers were incentivised to buy ahead of the festive season, where demand typically spikes. Robust exports recorded in November were attributed to strong UK demand for frozen, peeled prawns, in addition to increased shipments of industrial prawns to Iceland, due to domestic supply problems in Iceland.