As Valentine's Day approaches, Mintec has analysed the price movement of commodities in high demand in the leadup to this day. Mintec's chocolate indices comprise a blend of cocoa beans, sugar, and skimmed milk powder (SMP) prices. The Vanilla Mintec Benchmark Prices (MBP) are also included in the vanilla flavoured chocolate indices.
Mintec's Valentine's Day vanilla flavoured Chocolate EU Index increased by 8.9% year-on-year (y-o-y), whilst the index without vanilla rose by 29.5% y-o-y in January 2022. Cocoa, sugar, and SMP prices have risen, driving the indices up y-o-y. Beyond the chocolate indices, EU strawberry prices rose sharply by 31% month-on-month (m-o-m) due to Spain's cooler than average winter weather. For the US, the Valentine's Day Chocolate Index increased slightly by 0.6% (including vanilla) and significantly by 19.5% (without vanilla) in January 2022 compared to a year ago, while the US strawberry price decreased by 19.5% y-o-y.
As consumers face high food and energy prices this year, Mintec expects that price-sensitive consumers will choose to pay more for 'needs' versus 'luxuries'. Consumers tend to choose luxurious chocolate brands to celebrate Valentine's Day. However, as they face higher prices than a year ago, demand for pricey chocolates could decline in favour of cheaper alternatives. Although, the easing of COVID-19 related social restrictions will likely encourage consumers to dine out and celebrate more, spurring the demand for chocolates compared to a year ago. For health-conscious consumers, strawberry prices have declined y-o-y but risen recently due to tight supply amid high demand, but some relief is likely due to lower predicted retail demand. Retail demand for strawberries is projected to be slightly lower than in 2021, as more consumers will return to pre-pandemic dining out patterns.
Valentine's Day Indices – Chocolate (With Vanilla)


Mintec's EU Valentine's Day Chocolate Index (with vanilla) increased by 8.9 % y-o-y, with the US index increasing only slightly by 0.6%. The stable vanilla Mintec Benchmark Prices (MBP) was insufficient to offset the rise in cocoa, sugar and SMP prices.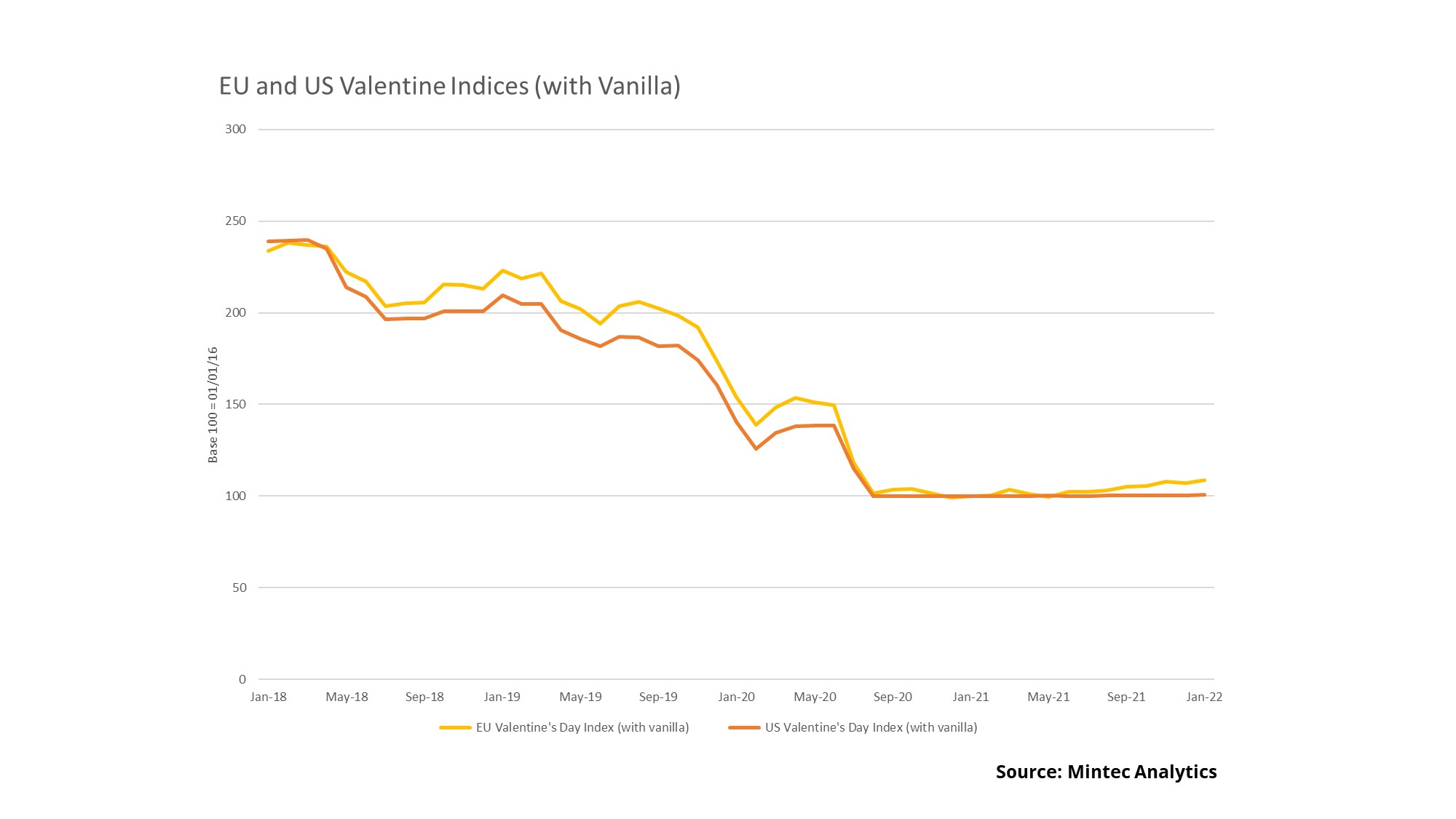 Valentine Indices – Chocolate (No Vanilla)

Mintec's EU and US Valentine's Day Chocolate Index (without vanilla) increased by 29.5% and 19.5% y-o-y, respectively, driven by higher cocoa, sugar and SMP prices.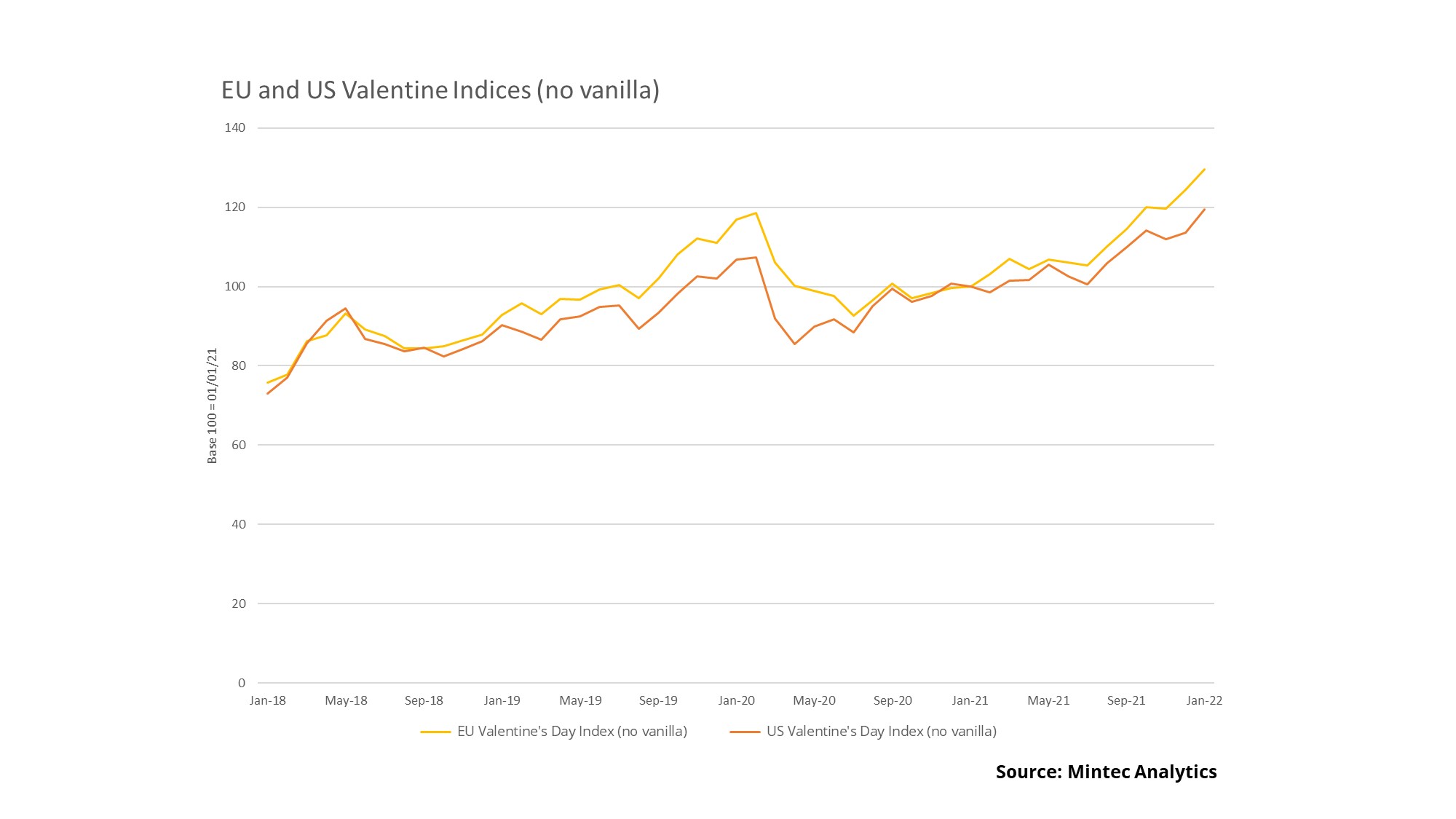 PRICE ANALYSIS BY COMMODITY
Cocoa bean terminal prices (3 months future contracts)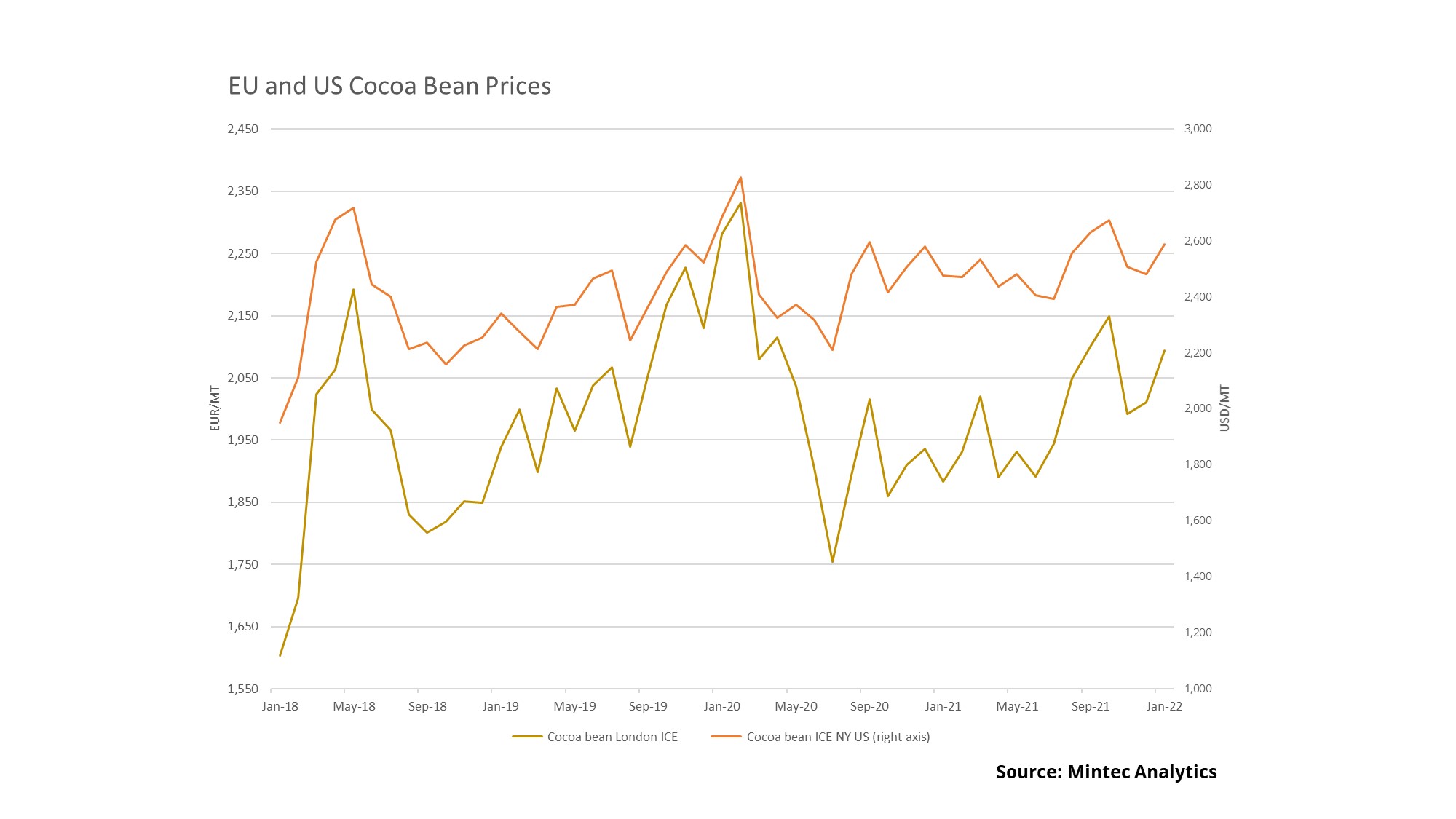 At EUR 2,094/MT, the monthly price of cocoa bean futures at the InterContinental Exchange (ICE) London increased by EUR 158/MT (+11.2%) y-o-y in January 2022, while also expanding by EUR 83/MT (+4.1%) against the December 2021 average price. Since dipping to a five-month low price of USD 2,482/MT in December 2021, the ICE New York (NY) benchmark price rose by USD 108/MT (+4.3%) m-o-m to USD 2,589/MT in January 2022. The January 2022 average ICE NY price also surpassed the same period of the previous year by USD 10/MT (+4.6%). Cocoa bean prices began to rally from late-November 2021, due to supply concerns from Ghana, the world's second-largest cocoa grower. However, adequate rainfall and sunshine in the world's top grower, Cote d'Ivoire, present strong prospects for the mid-crop harvest that starts in Q2 2022, which should help offset lower Ghanaian output and keep a lid on prices.
Global demand is another key price driver and the European Cocoa Association (ECA) reported Q4 2021 cocoa bean grindings rose by 14,070 tonnes (+4.0% y-o-y), while aggregate European grindings for the 2021 CY grew by 138,000 tonnes (+6.1%) y-o-y to 1.46 m tonnes, which was the highest volume in over 20 years. A strong Asian demand recovery was also evident in 2021, as may economic restrictions were gradually eased, fuelling consumer spending. However, the US National Confectioners Association reported in-mid January 2022 that North American cocoa grindings unexpectedly contracted by 1,416 tonnes (-1.2% ) y-o-y in Q4 2022. However, ICE-monitored US cocoa inventories fell to a nine-and-a-half month low, suggesting that resurgent consumer demand could be driving the market, while some US grinders are also said to be clearing old stock to avoid paying additional storage penalties.
Robust chocolate demand is anticipated to in the weeks immediately preceding and following Valentine's Day, which should support cocoa prices, although caveated with the potential for further social restrictions, in the event of re-escalating COVID-19 infections.
Sugar terminal prices (3 months futures contracts)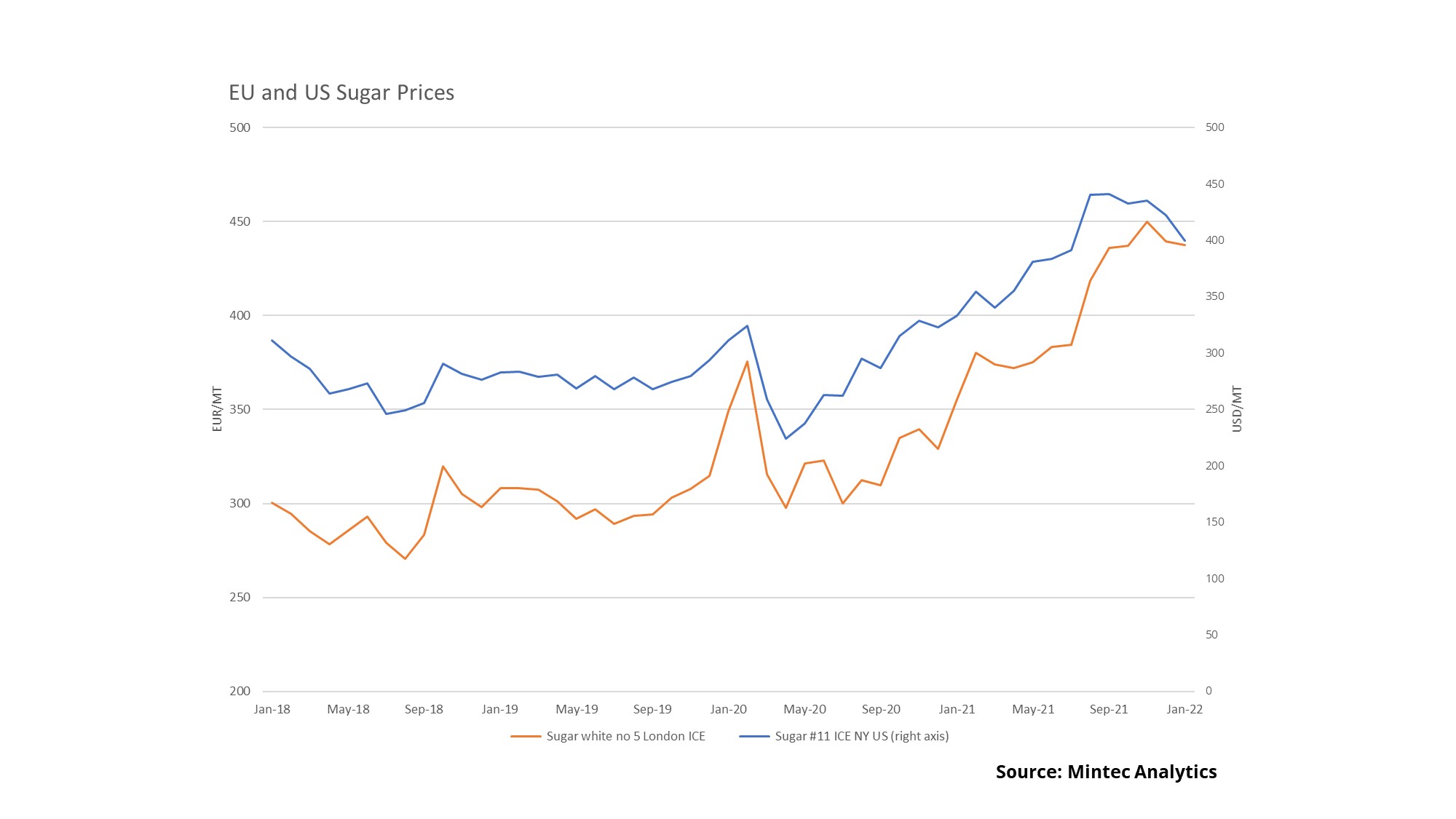 Since peaking at a four-and-a-half-year high of USD 441/MT in September 2021, the ICE NY price of white sugar unwound, falling to a six-month low average of USD 400/MT in January 2022. The ICE London benchmark charted a similar trajectory, dipping to a three-month low of EUR 438/MT in January 2022, following a three-and-a-half-year high of EUR 450/MT in November 2021. Sugar prices fell on expectations that larger y-o-y sugarcane crops in India and Thailand in CY 2022 would offset lower Brazilian output, which is projected to contract by 20% y-o-y in 2021/22. The Indian Sugar Mills Association (ISMA) reported in late-January 2022 that Indian sugar production during Oct-Jan 2021 increased by 1.01 m tonnes (+5.7%) y-o-y to 18.71 million tonnes, allowing for up to 6 million tonnes sugar exports in 2021/22, roughly on par with the previous marketing year. This should help maintain an adequately supplied global market and keep a lid on prices around current levels.
However, global sugar prices remain substantially above the same period of the previous year, with the ICE NY price increasing by USD 76/MT (+19.8%) y-o-y in January 2022, while the comparable London benchmark price accelerated by EUR 109/MT (+23.2%) during the same period. Frost-impacted Brazilian yields are largely anticipated in 2022, while EU sugar profitability has fallen significantly in recent years, as production quotas and other farm supports have been gradually phased out. Notwithstanding, global sugar production growth is anticipated to rise by 2.2 m tonnes (+1.2%) during the 2021/22 season to 181.4 m tonnes. This is underlined by improved crop yields in Europe and a recovery in Thai output and solid Indian production. Mintec expects a demand kick to support a sugar price rally through Valentine's Day before easing as more volume becomes available.
Skimmed Milk Powder (SMP) prices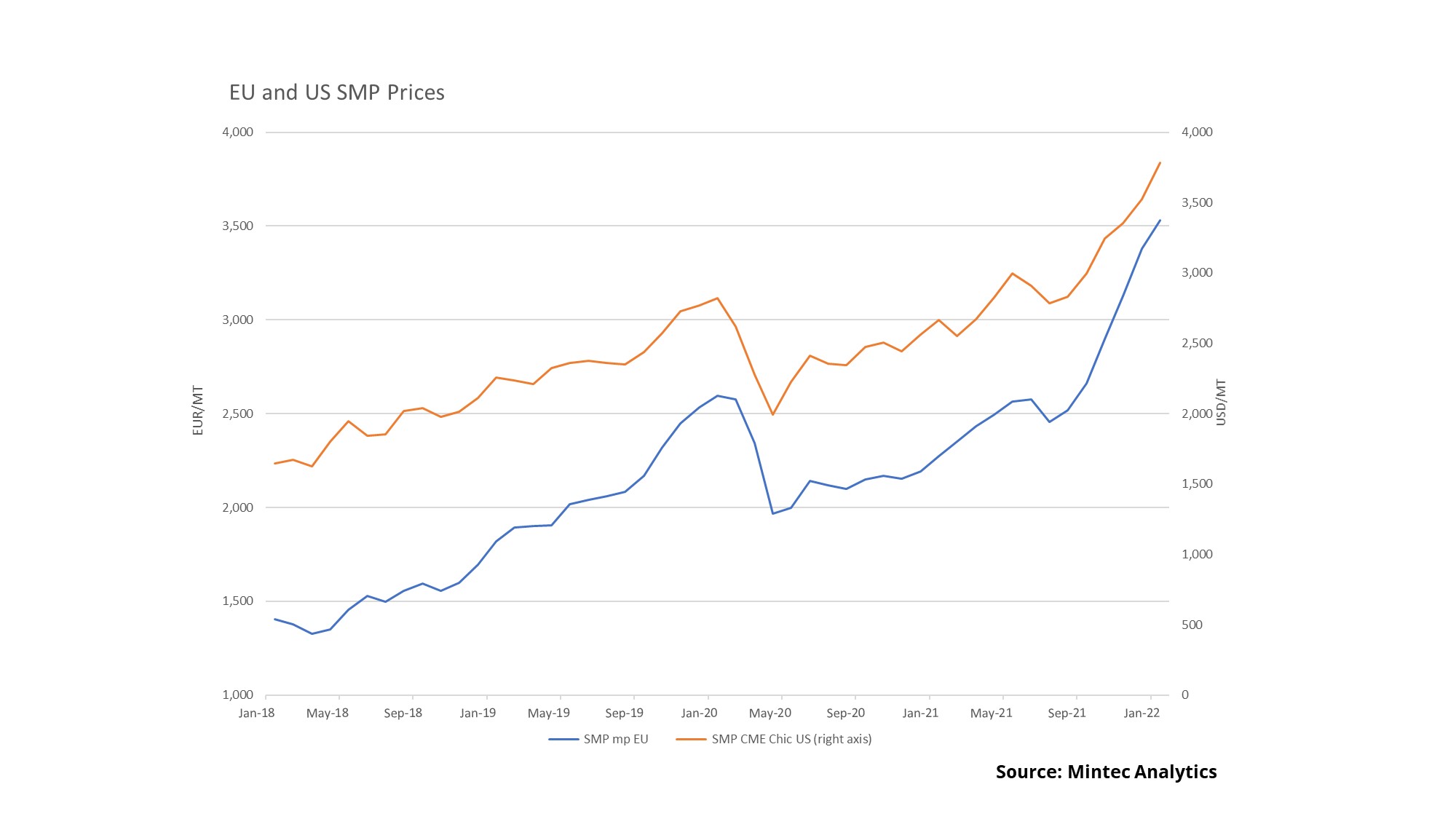 The EU SMP and US SMP average monthly prices peaked at EUR 3,532/MT and USD 3,785/MT, respectively, in January 2022. These price jumps represent an annual increase of EUR 1,275/MT and USD 1,120/MT, up by 55.3% and 42.1% year-on-year, respectively.
Tight supplies due to the slowdown in milk supply in both markets, led by a rise in input costs, which accelerated the reduction of cowherds, was the main price driver for dairy ingredients in the last four months to January 2022.
Currently, dairy farmers are facing high input costs compared to last year. Feed grains are a significant component of livestock production costs, which are rising, contributing to soaring production costs. Although 2021/22 maize production estimates are higher for the US and Ukraine, according to the USDA, the ongoing political conflict between Russia and Ukraine is contributing to the upward price trend in the grains market. In January 2022, the average monthly price of CME maize stood at USD 240/MT, up by 17.8% y-o-y, while the Euronext maize price grew by 19.5% y-o-y to EUR 248/MT. Additionally, in the US, labour is hard to find and commands a premium and electricity costs in the EU are 300% higher than a year ago, while freight costs remain high.
In addition to rising input costs, domestic demand has been steady in the US and the EU due to the easing of restrictions in the foodservice sector, plus firm global demand for SMP. Lastly, China's appetite for imported milk powder remained strong throughout 2021. The world's largest dairy importer bought 27% more SMP in volume during 2021 than in the previous year and 24% above the previous record set in 2019.
The upward SMP price trend is unlikely to lose momentum in the coming months, supported by a forecast low milk supply, leading to a weak SMP output projection. Given this, it will be necessary to wait until the milk output peak season (May 2022) in the Northern Hemisphere to see if this lower output projection is realised.
Vanilla prices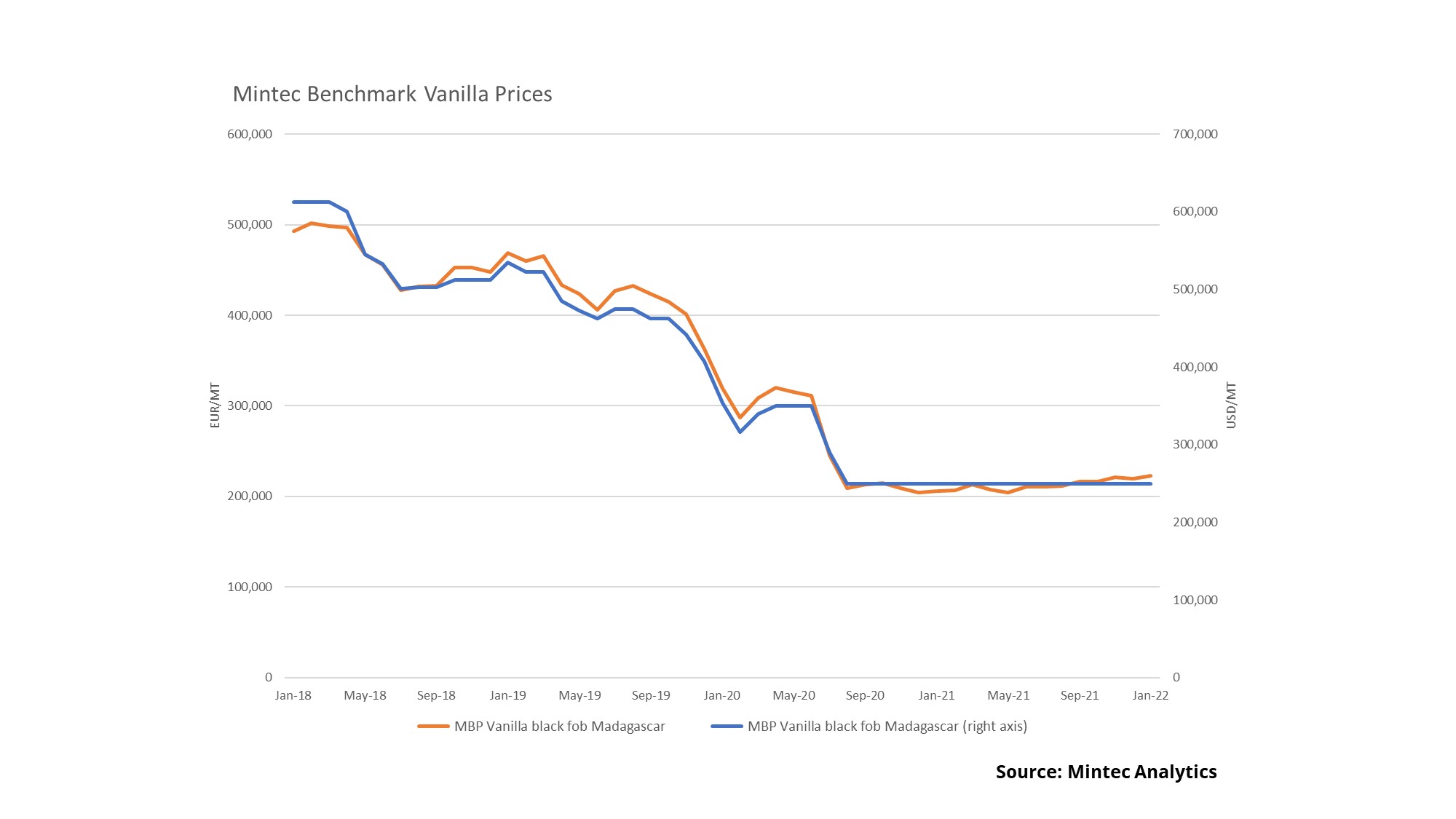 The Mintec Benchmark Prices (MBP) of Madagascan vanilla remained unchanged over the past twelve months at USD 250/kg, in line with the Malagasy government-regulated minimum export price.
The recently finished vanilla flowering in Madagascar for the season ahead was weaker than that of the previous year, with the decline attributed to drought conditions and the cyclical nature of the crop - a strong harvest (Madagascar produced large crops in the past couple of seasons) is usually followed by a smaller one.
The market has been relatively active recently, stimulated by speculations over the decline in flowering. Business entities are expected to start building stocks amid the perceived supply tightness, posing an upside risk to prices.
Madagascar exported 2,133 tonnes of vanilla during the 2020/21 campaign, 600 tonnes more (+44%) than the prior season, reflecting relatively solid demand for vanilla during the pandemic, along with a replenishment/build-up of stocks in destination markets after buyers had most likely run down their inventories amid the previously softening market.
The demand for natural vanilla continues to be stimulated by consumers' preferences towards higher quality and natural ingredients, whilst the tendency towards clean labels has grown.
Strawberry prices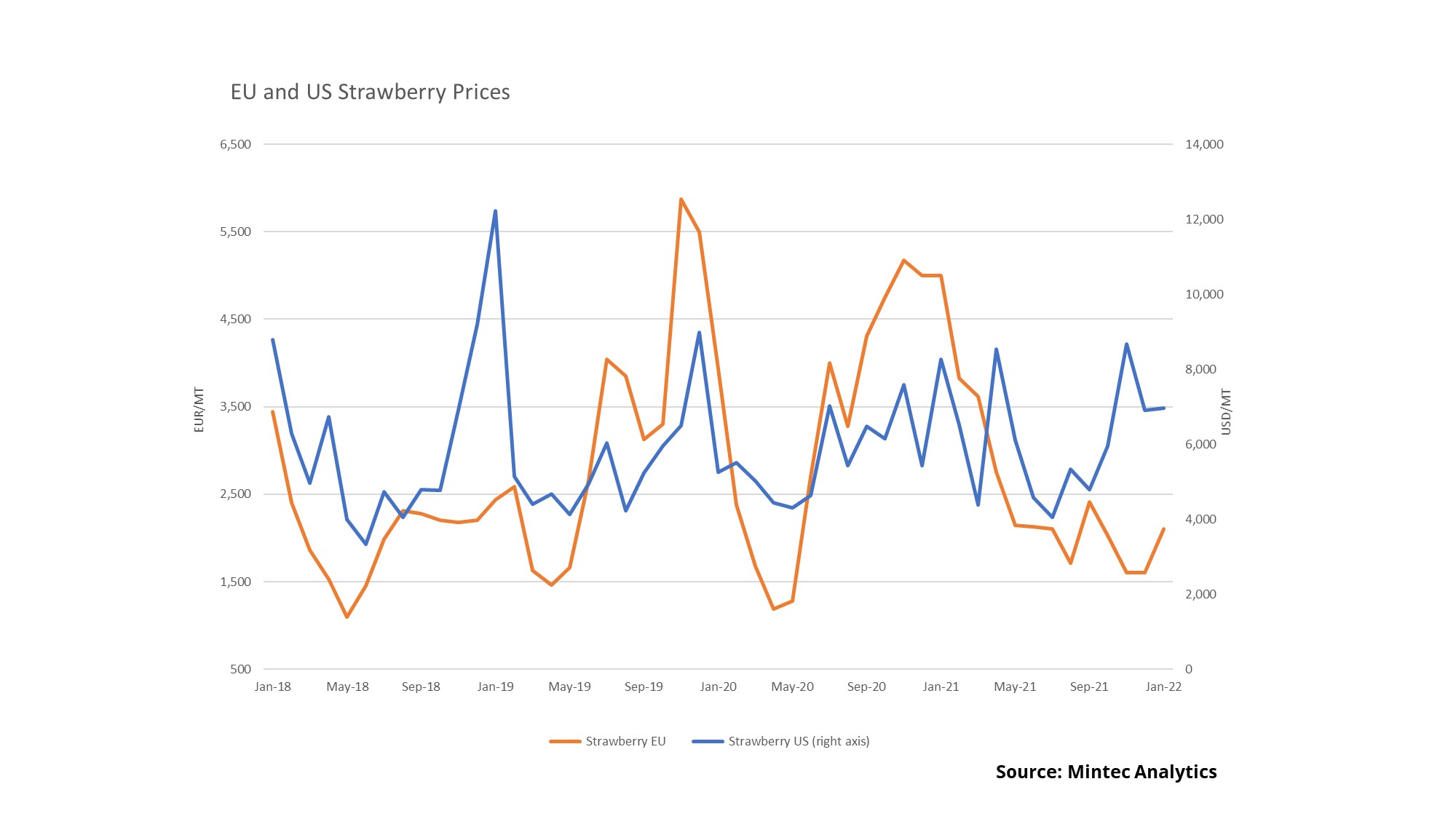 The Mintec price for Spanish strawberries declined by 58% y-o-y to EUR 2.1/Kg in January 2022, whilst prices rose by 31% m-o-m in January 2022. The rise is largely attributed to the cooler than average winter weather in Spain, which delayed the ripening of the strawberry crop. Market participants in Huelva, the top producing Spanish region, are reporting a decline in volumes of up to 20% compared to average levels. Fruit quality is good, which is positive for consumers, and expected to drive demand throughout February, particularly as Valentine's Day approaches. Consumer demand in the EU is likely to rise in the run-up to Valentine's Day, as the fruit is traditionally popular on this occasion thus the Spanish strawberry price is expected to continue an upward trend.
The Mintec price for US strawberries declined by 16% y-o-y to USD 7.0/Kg in January 2022, largely driven by overall growth in production y-o-y. Market participants in Florida, a key strawberry producing US state, have reported a larger, high-quality crop for winter 2022 amid favourable weather conditions during the crop development phase. Although California is the top producer of strawberries in the US, most of the winter crop is supplied by Florida throughout December-March, contributing to supplies available in February for Valentine's Day. This production growth follows a year of tight supplies in Q1 2021 due to adverse, wet weather in both top-producing US states. Although current volumes are estimated to be 15% higher y-o-y in California, supplies are expected to remain tight in 2022 amid high demand.
Demand in the US is reportedly strong, following increased health awareness in the wake of COVID-19, combined with a rise in consumption in the New Year, as many consumers opt for healthier choices as new year's resolutions. Firm demand has limited the price decline for US strawberries, and the average price rose in January 2022, up 1% m-o-m. As Valentine's Day approaches, domestic demand is expected to grow further, as many consumers purchase strawberries for celebrations. However, retail demand is projected to be slightly lower than in 2021, as more consumers will return to pre-pandemic dining out trends. In 2021, restrictions limited the opportunity to go out to celebrate. Thus, demand for at-home consumption rose and outstripped the tight supply, causing a steep rise in prices. Overall, in February 2022, prices are expected to remain lower compared to 2021, yet rise in the short-term due to a seasonal peak in demand.
Conclusion
Irrespective of flavouring choices, consumers face higher chocolate prices this year than a year ago, driven by high cocoa, sugar, and SMP prices, y-o-y, with vanilla prices remaining stable at the Malagasy government-regulated minimum export price. With the rise of the health and wellness trend, consumers seeking healthier options such as strawberries face higher prices than a month ago due to weather-driven supply issues in the EU and more robust demand in both the EU and the US markets.