The Mintec Category Index (MCI) for Global Hot Beverages rallied for the fourth consecutive month in February 2021, increasing by USD 33/MT (+1 index point) (+1.4%) month-on-month (m-o-m) to USD 2,449/MT, or 113 index points. The latest price movement reflected (speculative) supply-side tightness across coffee markets, and improving demand for cocoa powder, offsetting falling black tea prices.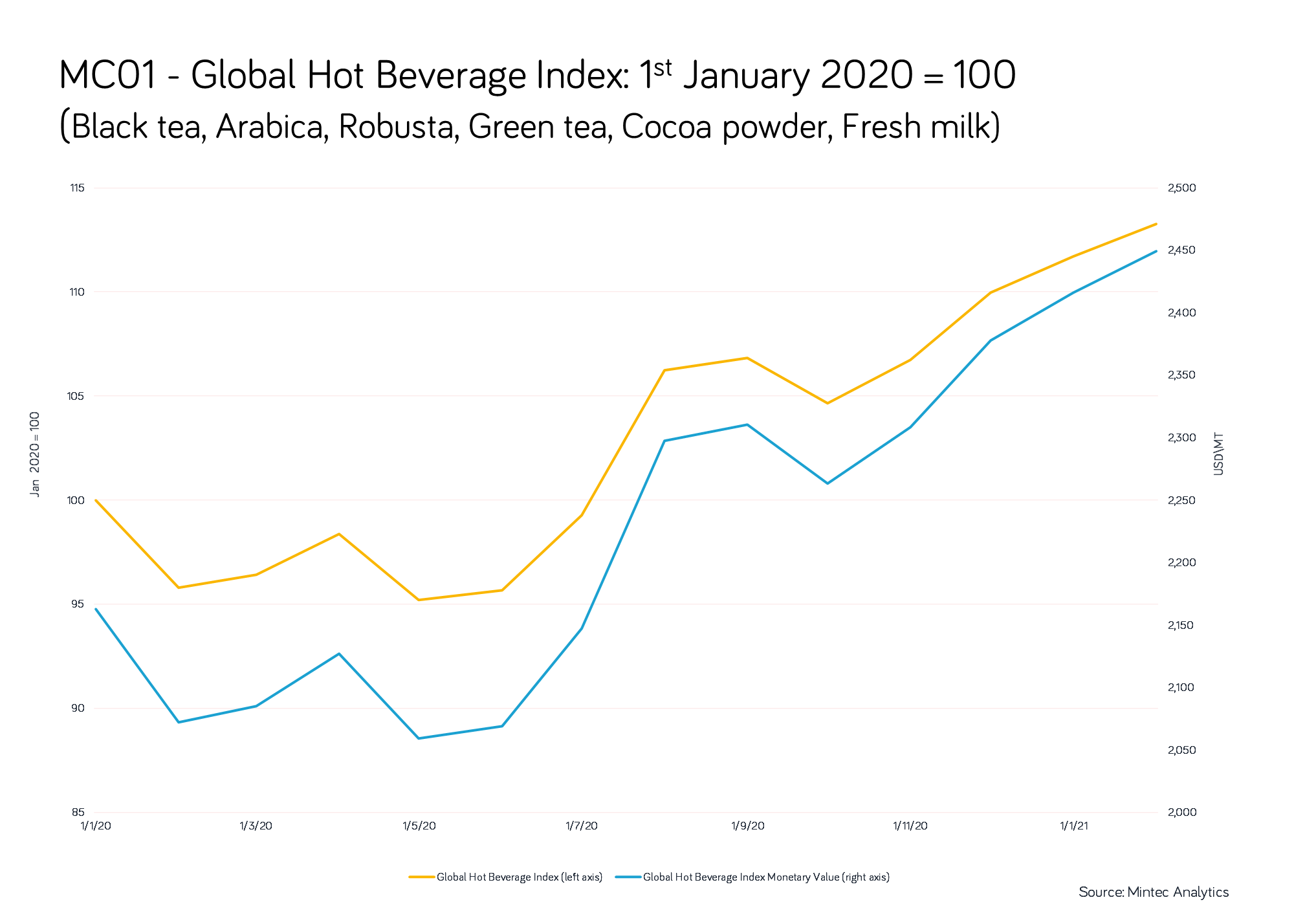 The USD-denominated Mintec Benchmark Prices (MBP) for European cocoa powder (EXW) exhibited the strongest gains of the indexed commodities during February 2021, increasing by USD 99/MT (+4.0%) m-o-m and by USD 471/MT (+22.3%) year-on-year (y-o-y) to a five-year high USD 2,590/MT (EUR 2,145/M/T). The average European price ratio of cocoa powder to cocoa bean, increased for the fifth consecutive month to 1.16, which is unseasonably high, reflecting rising cocoa powder demand for home baking and hot beverage consumption during re-escalating COVID-19 cases across Europe. However, strong supply expectations are foreseen to dampen cocoa bean and derivative product prices through Q2 2021 and Q3 2021, reflecting plentiful availability from Cote d'Ivoire, the world's top producer, amid an anticipated slower demand recovery and sizeable warehouse inventories.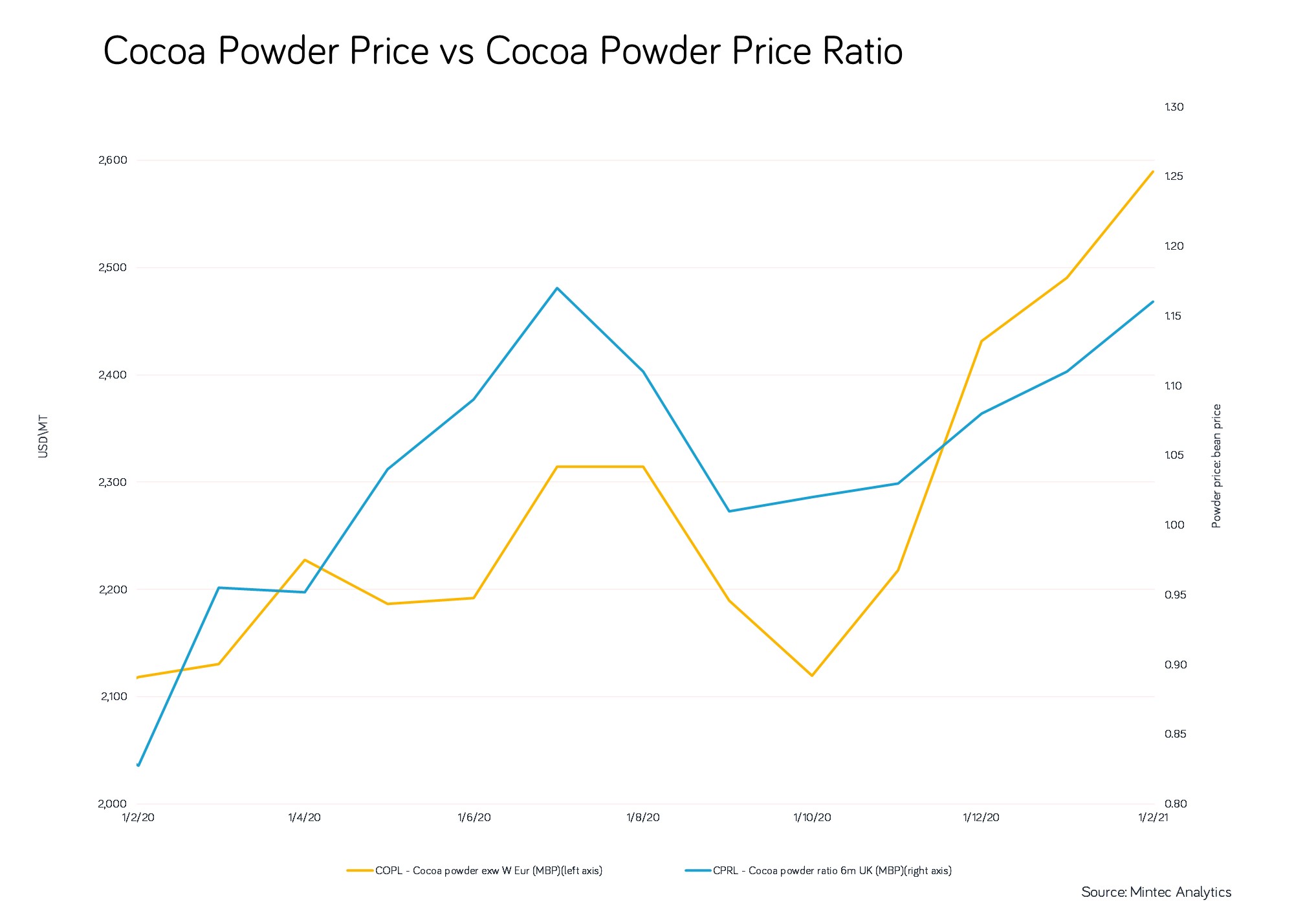 At USD 2,839/MT, the monthly average (three-months ahead) Arabica futures at the InterContinental Exchange (ICE) NY increased by USD 47/MT m-o-m (+1.7%), and by USD 504/MT y-o-y (+21.6%), in February 2021. The Arabica rally is primarily attributed to supply concerns regarding dry weather in Brazil's Arabica heartlands, particularly Mina Gerais. Brazil's upcoming 2021/22 off-season crop has been exposed to extreme aridity during the crucial flowering stage, fuelling expectations of a potentially decade-high global Arabica deficit. The Green Coffee Association (GCA) reported on 16th March that US green coffee inventories had fallen to a five-year low of 5.79 million 60-kg bags, further supporting bullish speculation on the futures market. The strength of the BRL vis-à-vis the USD is another supportive factor, with the former gaining 1.9% against the latter during the two-weeks to 17th March 2021. A stronger BRL translates into higher USD-denominated terminal prices.
At USD 1,383/MT (EUR 1,144/MT), the monthly average Robusta futures price (three-month ahead) at the ICE London increased by USD 43/MT m-o-m (+3.2%) and USD 91/MT (+7.1%) y-o-y in February 2021. With the harvest almost completed, Vietnam's National Coffee Association predicts Robusta production during the 2020/21 marketing year (October to September) to decline by 10-15% y-o-y from 1.81 million tonnes in 2019/20. The price impact attributed to lower Vietnamese supply will likely be mitigated through plentiful Brazilian availability, Brazil being the second largest Robusta exporter and coming off a record 2020/21 crop. However, the COVID-19 pandemic presents bullish potential in the event of further lockdowns, as seen in several key-consuming markets at the time of writing; Robusta demand is positively correlated to household coffee consumption due to its predominant use in retail blends.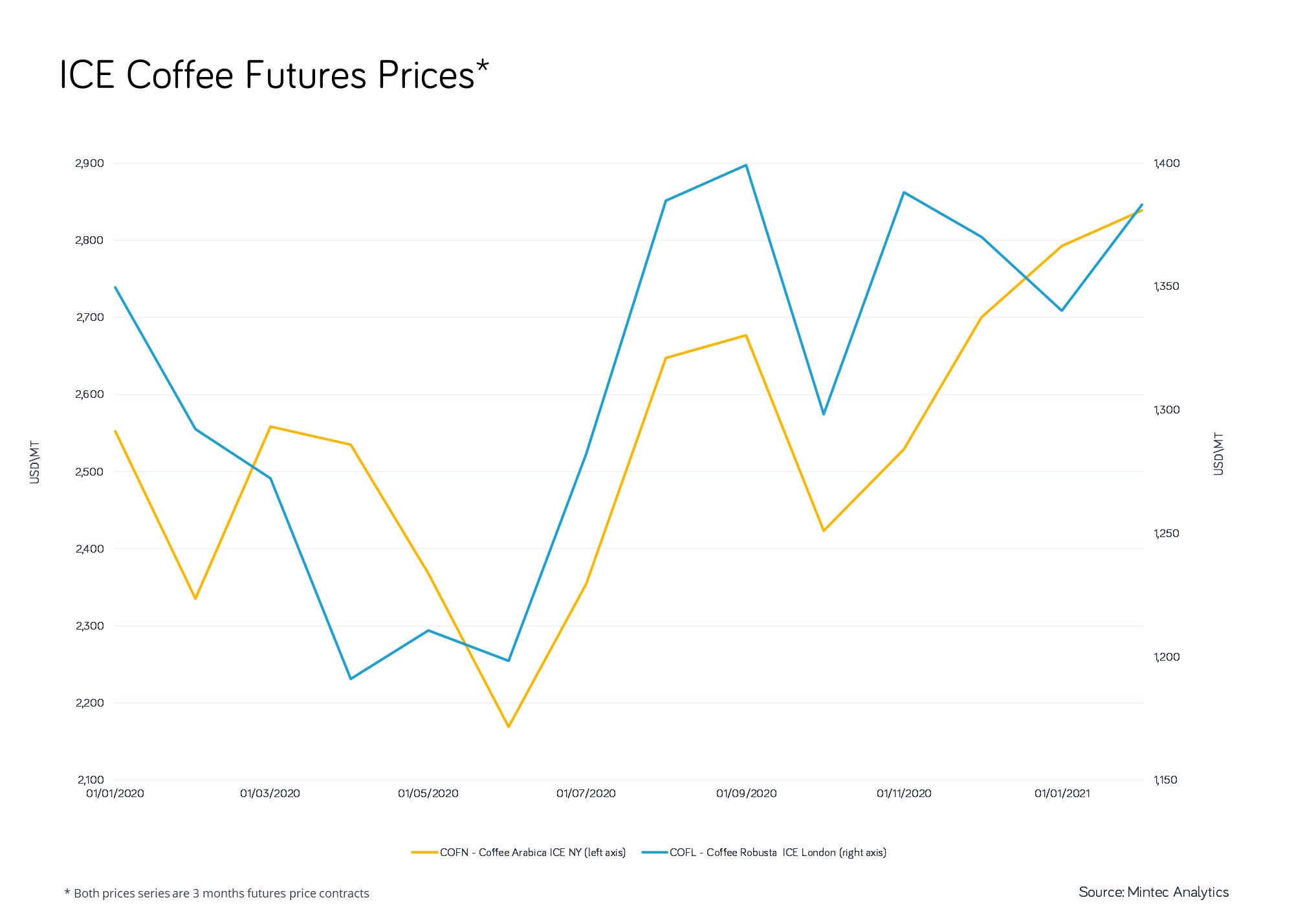 The average black tea price at the Calcutta auction fell by USD 247/MT (-9.4%) m-o-m during February 2021 to USD 2,379/MT, attributed to comparatively poor liquidity among Indian buyers related to the economic impact of the global pandemic. However, the average price surpassed the February 2020 average by USD 779/MT (+48.7%) due to improvements in crop quality, as the previous year's harvesting activities suffered acutely from lockdown restrictions. Mintec expects Calcutta prices to uptick from Q2 2021 onwards, on relatively tight supply, a recovery in crop quality and steady export demand, as lockdowns ease. At USD 2,020/MT, the average price of Kenyan tea at the Mombasa auction fell respectively by USD 7/MT(+0.3%) m-o-m and (USD 90/MT) (-0.3%) y-o-y, which is partially related to sluggish out-of-home demand in Kenya's low-cost position. However, the price weakness largely reflects robust supply fundamentals, with local farmers increasing planted area and yields, amid government-backed investment. Kenya's low-cost position enhances the price competitiveness of Kenyan tea exports, compared with South Asian teas, and early indications suggest this trend will continue through 2021, with another strong harvest anticipated.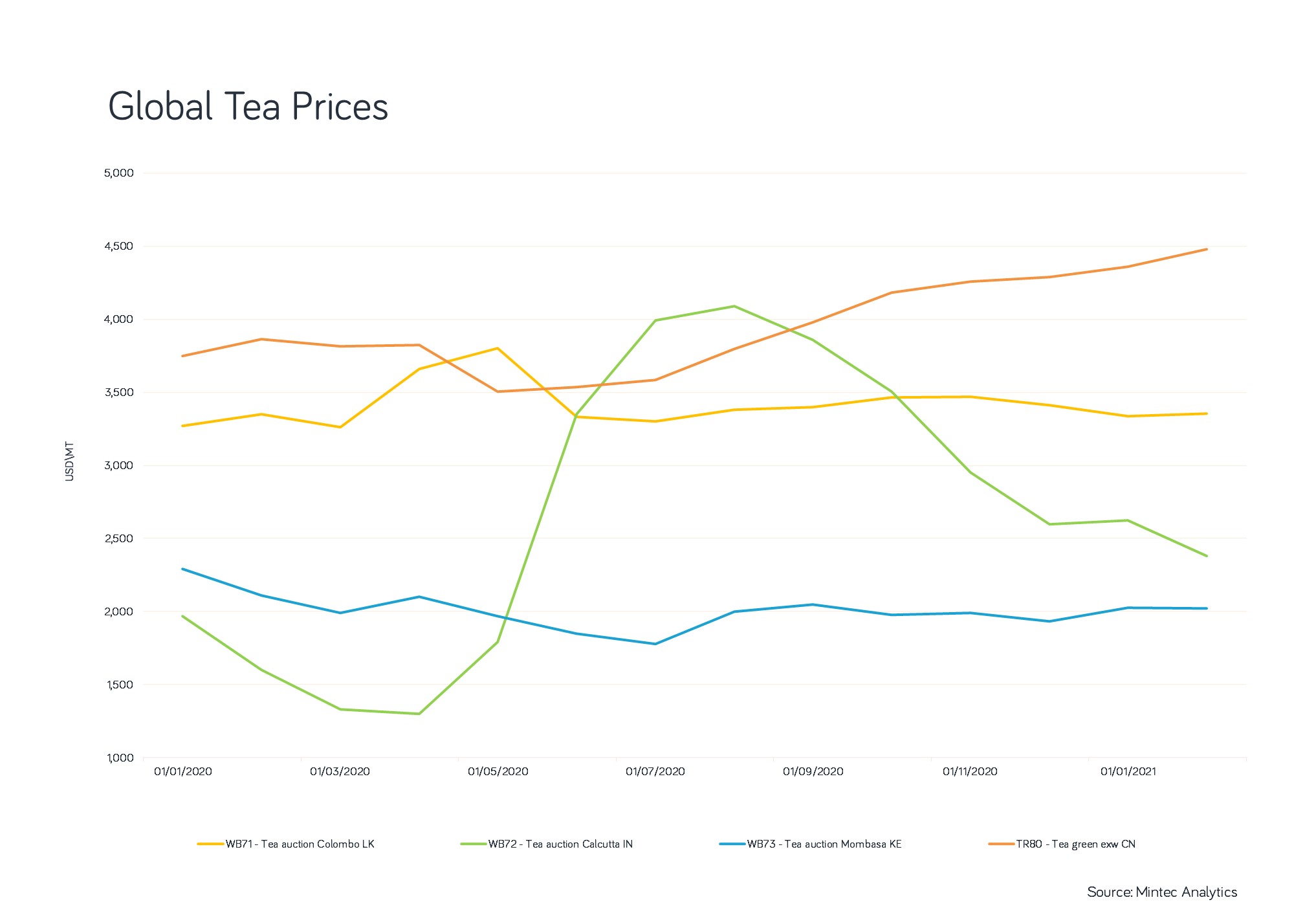 At USD 4,478/MT, Chinese green tea EXW prices rallied for the ninth consecutive month in February 2021, increasing by USD 121/MT (+2.8%) m-o-m and USD 617/MT (+16.0%) y-o-y, respectively. The latest price represents the highest recorded by Mintec Analytics in over five years, reflecting a growing preference for beverages with potential health benefits during the global pandemic, which is foreseen to continue through the 2021 calendar year.