The Mintec Category Index (MCI) for European Hot Beverages increased marginally during December 2020, with the monthly average price gaining EUR 1.32/MT (+0.1%) month-on-month (m-o-m) to EUR 1,915/MT, as firm cocoa powder and Arabica prices slightly offset falling Robusta and tea prices. However, the index contracted by EUR 73/MT lower (-3.7%) year-on-year (y-o-y), largely attributable to the demand-dampening effects of the global pandemic.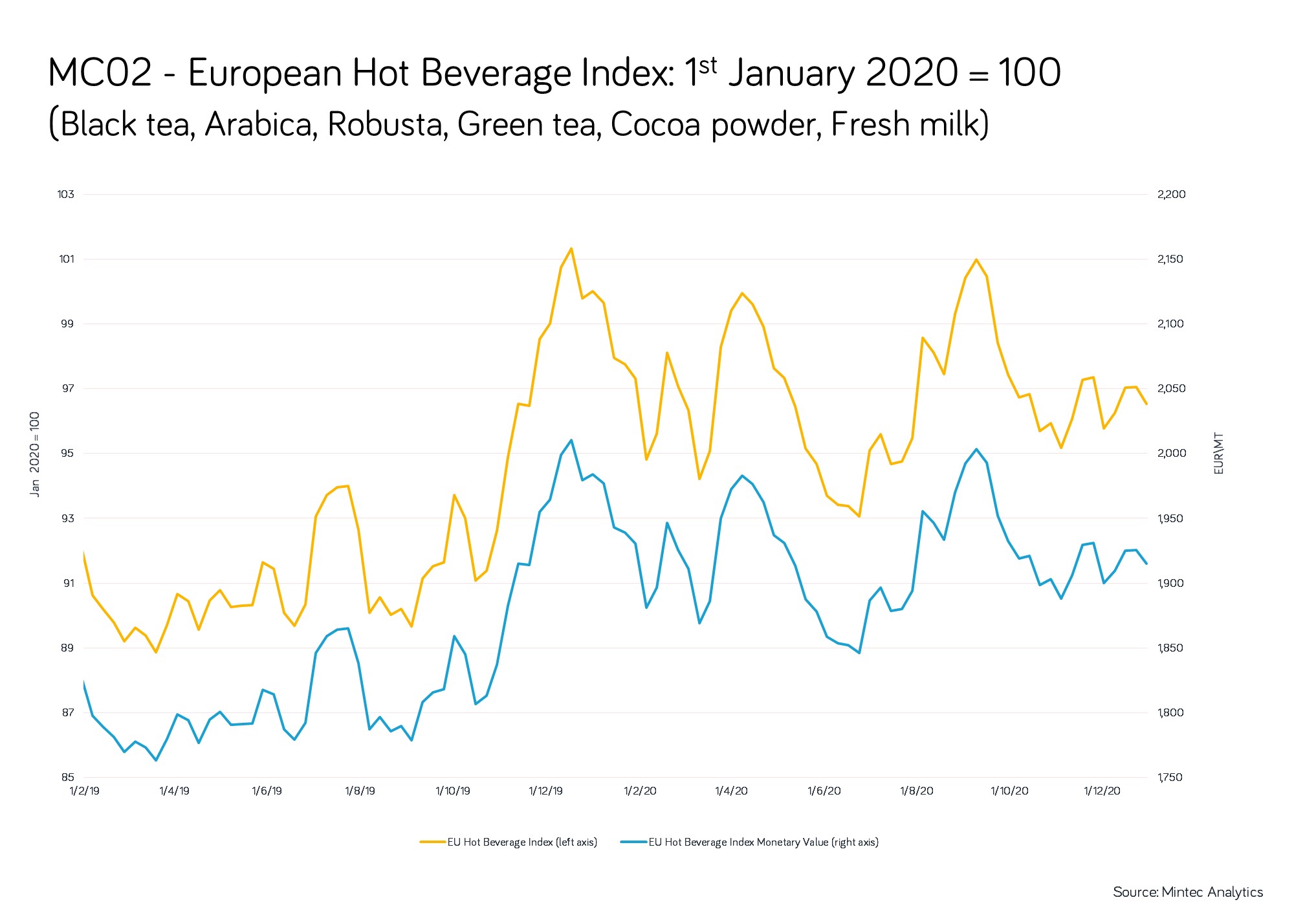 The EU average ex-works (EXW) cocoa powder price exhibited the sharpest gains during December 2020, increasing by EUR 132/MT (+7%) m-o-m to EUR 1,988/MT, and by EUR 121/MT (+6%) y-o-y. The December 2020 average European price ratio of cocoa powder to cocoa bean, captured by the Mintec Benchmark Price (MBP) series CPRL, increased for the third consecutive month to 1.08, which may be driven by rising cocoa powder demand for home baking and hot beverage consumption during re-escalating COVID-19 cases across Europe. Given that cocoa powder is typically derived as a by-product of the more profitable cocoa butter, it follows that a rising powder ratio is often contrasted with a declining butter-bean price ratio (CBRL), which fell for the fourth consecutive month to 2.34 in December 2020. Mintec expects the cocoa powder EXW price to peak around EUR 2,100/MT, after which the market may struggle to absorb the additional volumes produced , thus curbing seller expectations.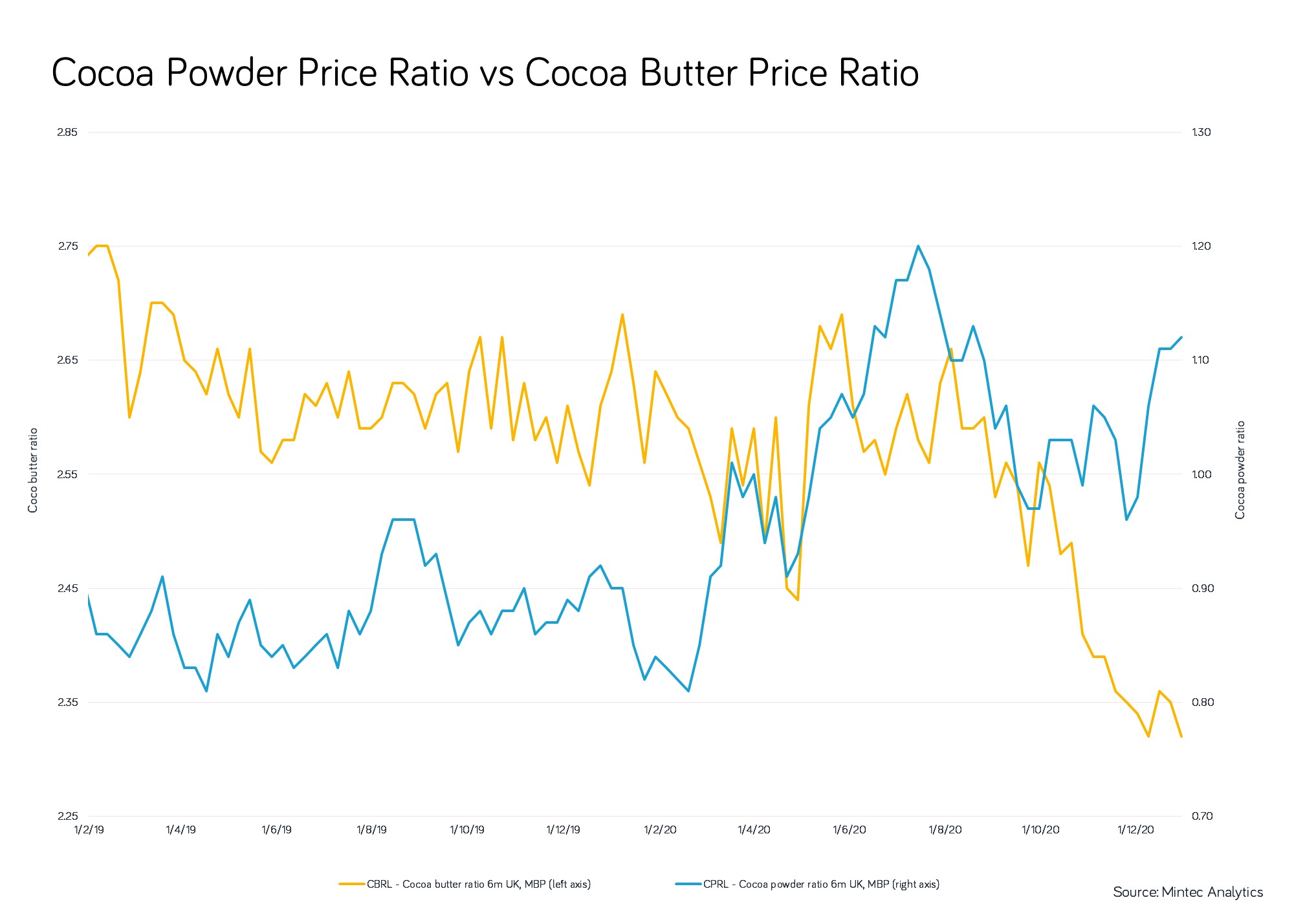 At EUR 2,221/MT (USD 2,489/MT), the average monthly price of Arabica futures at the InterContinental Exchange (ICE) NY increased by EUR 115/MT m-o-m (+5.5%) during December 2020. This was primarily supply-driven, on account of hurricane-related harvest disruptions during the Central American harvest, in addition to drought undermining the development of the 2021/22 Brazilian crop. The impact was partially offset via the EUR gaining 2.8% against the USD during the period, supporting a comparatively softer EUR denominated price increase. Mildly bullish factors are anticipated to support Arabica prices during the next six months, although heavily caveated with continued uncertainty surrounding the timeline for widespread COVID-19 vaccines to support a global economic rebound this year. Further assessment is also needed to evaluate the potential losses to Brazil's upcoming Arabica crop, while also considering the likelihood of Brazil's large 2020/21 stock carryover to plug the 2021/22 crop deficit.
The average monthly Robusta futures price at the ICE London fell by EUR 37/MT m-o-m (-3.2%) in December 2020 to EUR 1,131/MT. This continued the downward trend started in November 2020, as the combined effect of thin demand amid a record Brazilian Robusta crop, partially mitigated t the weather-delayed start to the Vietnamese harvest. Vietnam's National Coffee Association predicts the 2021 crop to decline by 10% to 15% y-o-y, to around 1.58 – 165 million tonnes, due to poor weather and low technological investment. However, swelling ICE inventories, which rose to a five-month high in January 2021, provides bearish potential. It is also dependent on the global demand response, which is currently undermined by escalating COVID-19 cases across key consumer markets.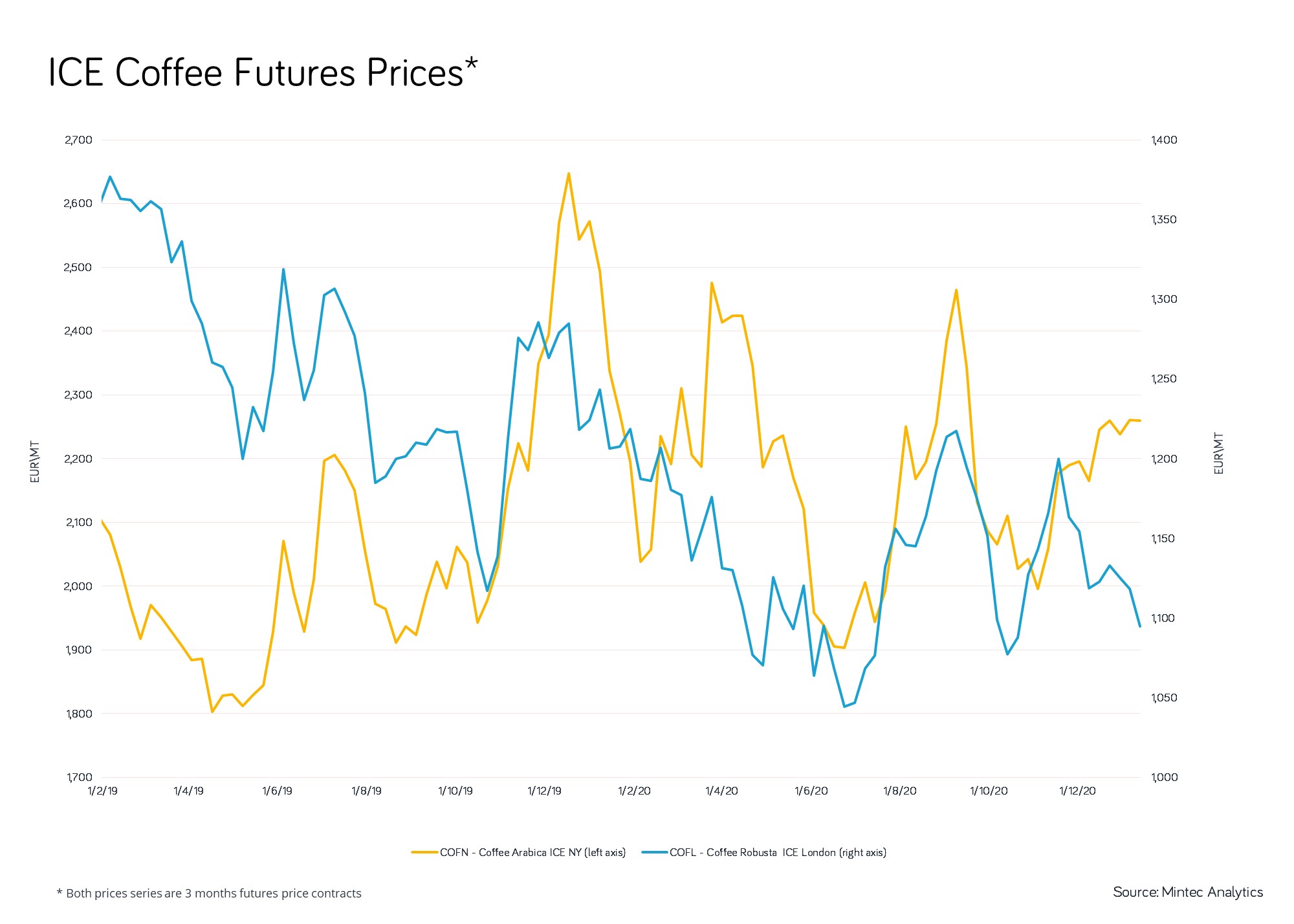 When converted to EUR, the average black tea price at the Calcutta auction fell by 14% m-o-m during December 2020 to EUR 2,123/MT, which is the fourth consecutive m-o-m decline. The price decrease is attributed to poor liquidity among Indian buyers related to the economic impact of the global pandemic. However, relative supply tightness and a 9% depreciation of the INR against the EUR supported a 5% y-o-y increase in the auction price during December 2020. Mintec's average EUR-denominated December 2020 price of Kenyan tea at the Mombasa auction fell respectively by 5% m-o-m and 20% y-o-y to EUR 1,582/MT. The downward pressure came amid 12.3% y-o-y growth in annual Kenyan tea production during the 2020 calendar year, attributable to ideal growing conditions. The increase in supermarket demand for home-consumed tea during the pandemic has been insufficient to negate the subsequent fall in foodservice demand. Given the recent escalation in the pandemic across key tea-consuming countries, amid firm supply projections, tea prices are likely to recede further over the coming months.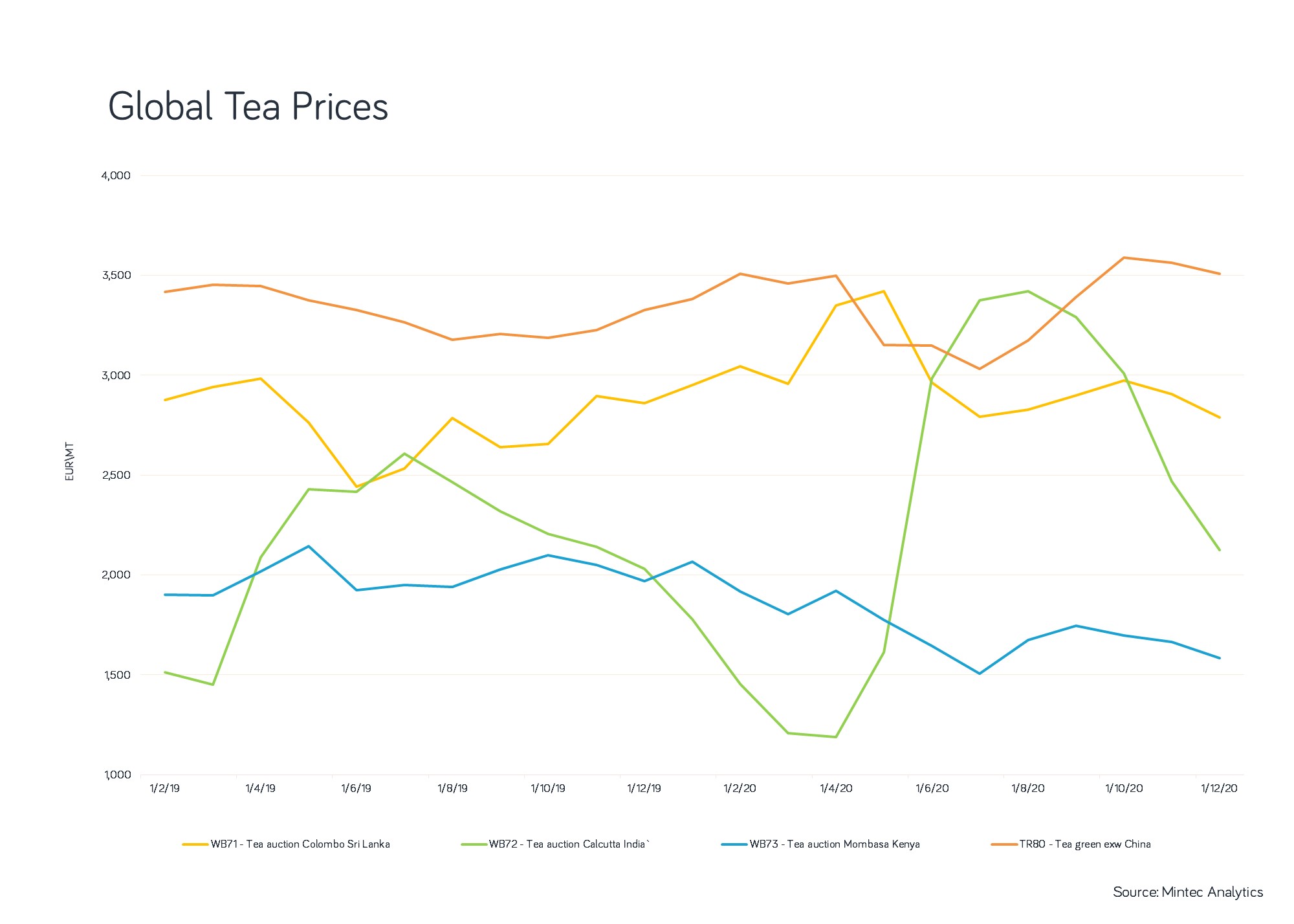 However, Chinese green tea prices rallied by 18.4% during the quarter ending October 2020 to EUR 3,590/MT. Despite easing to EUR 3,508/MT by December 2020, the average price remained at least 5.5% higher than pre-pandemic levels, which is testament to its purported health benefits. Firm pricing is expected to continue through Q1 2021 at least, given the recent spike in COVID-19 cases and re-imposition of social distancing measures across consuming countries.
Mintec's Category Indices provide up-to-date pricing across key food, beverages and non-food commodities groups., in addition to regular insights regarding the key fundamental drivers shaping market dynamics. Please visit our Mintec Analytics platform to find out more.