UK consumers are expected to have one of the most expensive Christmas meals in recent years. Mintec's 2021 UK Christmas Dinner Index increased by 9.2% y-o-y, following a sharp rise in input costs, labour shortages and COVID-19 related supply chain disruptions.

Since the beginning of 2021, the UK food supply chain has experienced extensive disruptions that have resulted in supply constraints, delayed deliveries and thus high commodity prices in 2021. Factors that led to the inflationary pressures faced by the food industry are: shipping container shortages, high freight rates, elevated input ( feed grain, fertiliser, packaging materials) costs, labour shortages (caused by Brexit and COVID-19). These challenges resulted in empty supermarket shelves. For example, data from the Office for National Statistics (ONS) shows that between the 20th and 31st October 2021, an average of one in six (or 17%) adults in Great Britain experienced shortages of essential food items.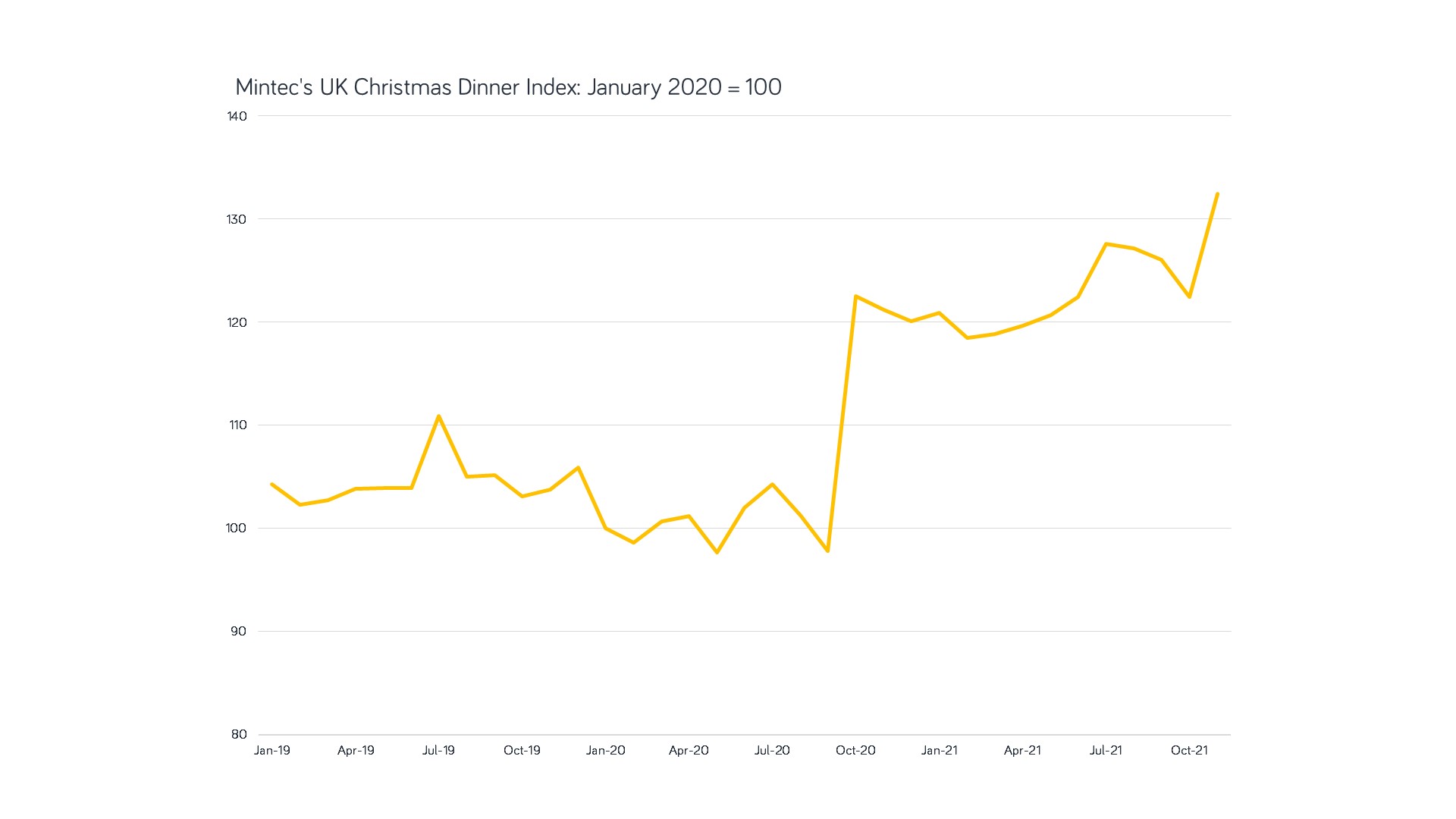 Source: Mintec Analytics
The index comprises the main meal, Yorkshire pudding (included in the main meal) and Christmas pudding. The basket of commodities for the main course comprises meat (turkey and pork), vegetables (potatoes, carrots and parsnips) and Yorkshire pudding components (wheat flour, milk and eggs). The Christmas pudding index includes almonds, raisins, sultanas and sugar. Firm prices for commodities such as turkey, sugar, potato, parsnips, raisins and almonds have offset the downward price trend in the pork, carrot and sultanas markets.
In line with the increasing demand for plant-based foods and the indication that consumers are moving away from traditional meals, Mintec presents a UK plant-based Christmas dinner index for 2021. The index tracks price developments since Mintec launched its first of a kind, independent Benchmark Prices for plant-based proteins in March 2020 and shows that the plant-based meal commodities increased by 9.6% year-on-year (y-o-y) in November 2021.
Breakdown by Components


Main Meal Index (turkey, pork, carrots, potatoes, parsnips, Yorkshire pudding)


Prices of all the key ingredients in the main meal index (including the Yorkshire pudding) rose sharply y-o-y at the end of November 2021. A spike in the turkey price more than offset the decrease in the pork price. Consequently, the main meal ingredients blend costs 7.3% more y-o-y as of the end of November 2021.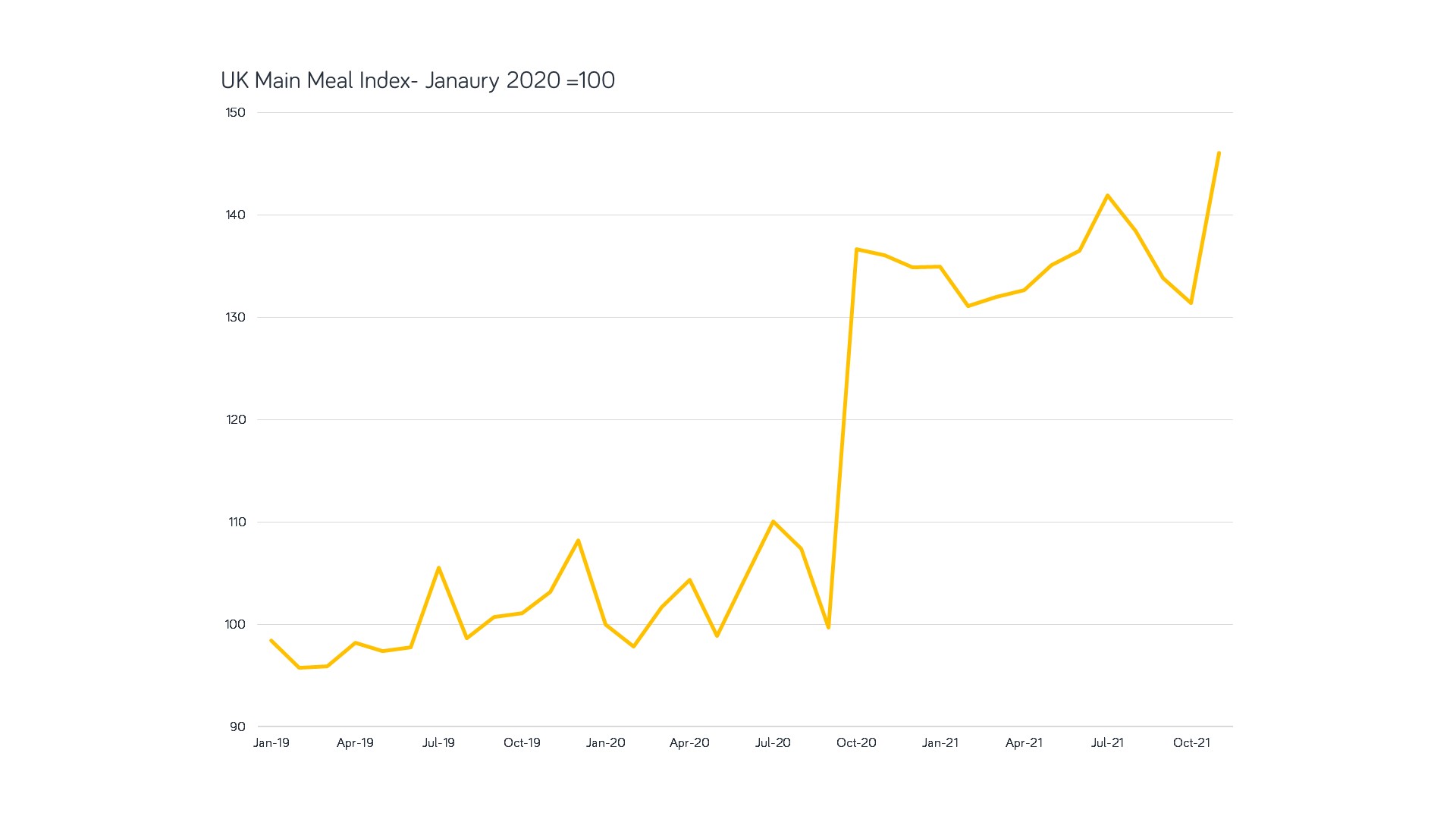 Source: Mintec Analytics
Turkey


Due to increased production costs and supply chain disruptions, the Mintec turkey price averaged GBP 4.6/kg in November 2021, up 10.7% y-o-y and 16.2% m-o-m. High feed costs (accounting for approximately 60-70% of turkey production) and rising energy prices have driven turkey production costs higher in 2021. This has discouraged farmers from rearing turkey and translated into firm turkey prices. Fewer EU workers are willing to travel to the UK for work following Brexit, causing labour shortages at meat manufacturing units. The lack of skilled labour (butchers) at processing plants resulted in lower turkey slaughter rates in September 2021, leading to tighter market supplies in October and November 2021. Turkeys slaughtered in September reached a volume of 0.5 million birds, down 35.3% y-o-y and 17.4% m-o-m. However, slaughter rates in October increased by 4.1% y-o-y to reach 0.7 million birds, implying a steady turkey supply during the Christmas period.
On the demand side, UK turkey consumption is likely to increase y-o-y in December 2021 due to high demand from the retail sector, compared to last year's level when social restrictions were in place. However, surging COVID-19 cases in the country continue to generate uncertainty, with fears that large gatherings could be restricted in December, which would impact the expected rise in consumption.
Pork


The UK pork price set a cap on the overall increase in the Christmas dinner index. The average price of pork in the UK fell by 6% y-o-y and 2.7% m-o-m to GBP 1.4/kg in November 2021, in line with a steady supply. In October and November, live pig supplies exceeded available processing capacity. In recent months, some UK farmers sold a few batches of pigs (in addition to the contracted pigs) to abattoirs at lower prices with the backlog of pigs on their farms. This approach was taken to mitigate the losses incurred from the excess pig numbers left at farms. Meat processors across the UK were concerned about the CO2 shortage that occurred (September 2021) as it is mainly used to stun animals before slaughter and in the packing process to increase the shelf life of the meat product. The disruptions caused due to the CO2 shortage are resolving; however, the labour shortage continues. UK pork prices are expected to trend downwards in the short to medium term with a significant build-up of ready to slaughter pigs on the UK farms.
Potatoes


The Mintec price of UK potatoes increased by 1.8% y-o-y to GBP 0.15/kg in November 2021, driven by a decline in UK potato production combined with rising input costs and higher wastage following quality issues. UK potato production is estimated to decrease by 2% y-o-y in 2021 to 5.4 million tonnes amid a reduction in planted area. The yearly decline was attributed to uncertainty surrounding the COVID-19 pandemic, which resulted in farmers taking a more cautious approach, planting on smaller areas for the 2021 season. A total of 136,806 hectares were devoted to potato production in the UK, a decline of 3.9% y-o-y and the second lowest on record. Moreover, prices are rising in line with seasonality as the harvest ends. Potato availability has fallen, and processors are now relying on stocks, which will lead to a drawdown in inventories.
Farmers are also grappling with soaring production costs, which are set to increase for the 2021/22 marketing year (MY). A combination of rising natural gas and fertiliser prices along with higher storage costs is creating a bullish market sentiment. To reduce risk ahead of 2022, a cautious approach is expected by growers negotiating contracts in November and December 2021 amid inflationary pressure. As the festive period approaches and the weather becomes cooler, table potato demand is expected to rise following a change in consumer purchasing habits. More consumers opt to purchase potatoes for home-cooked meals such as Christmas dinners, potentially exerting a temporary additional upward pressure on prices. Overall, in the short term, potato prices are expected to remain firm with tight supply and strong demand expectations.
Parsnips


The Mintec price of UK parsnips also rose by 8% y-o-y to GBP 1.08/kg in November 2021, following a rise in production costs. Additionally, many producers were forced to dispose a large amount of produce in Q3 2021 following the UK labour shortage as Brexit controls restricted EU workers from working in the UK. A lack of farmworkers from the EU meant that many producers did not harvest parsnips, leading to wastage. Since Q2 2021, the shortage of HGV (Heavy Goods Vehicle) drivers disrupted the parsnip supply chain and thus delayed deliveries.
Carrots


In contrast, UK carrot prices declined by 7.2% y-o-y to GBP 0.45/kg amid abundant market supplies. Market participants suggest that the harvest in 2021 was plentiful following good growing conditions, meaning all demand could be met, resulting in downward pressure on prices.
There is potential that prices will rise slightly in early 2022 following increasing fuel, transportation, and energy costs, which are set to escalate further due to higher crude oil prices. Moreover, the labour shortage following Brexit is still concerning for farmers, with many forced to raise wages to incentivise new workers. The extent to which this will impact individual vegetable markets is unknown. Yet, it is likely that growers will consider these factors as they prepare for the next season to mitigate the risk of losses.
Yorkshire Pudding Index (wheat, eggs, milk)
The blended price of the Yorkshire pudding commodities rose by 8.9% y-o-y at the end of November 2021, with a dramatic rise in wheat price.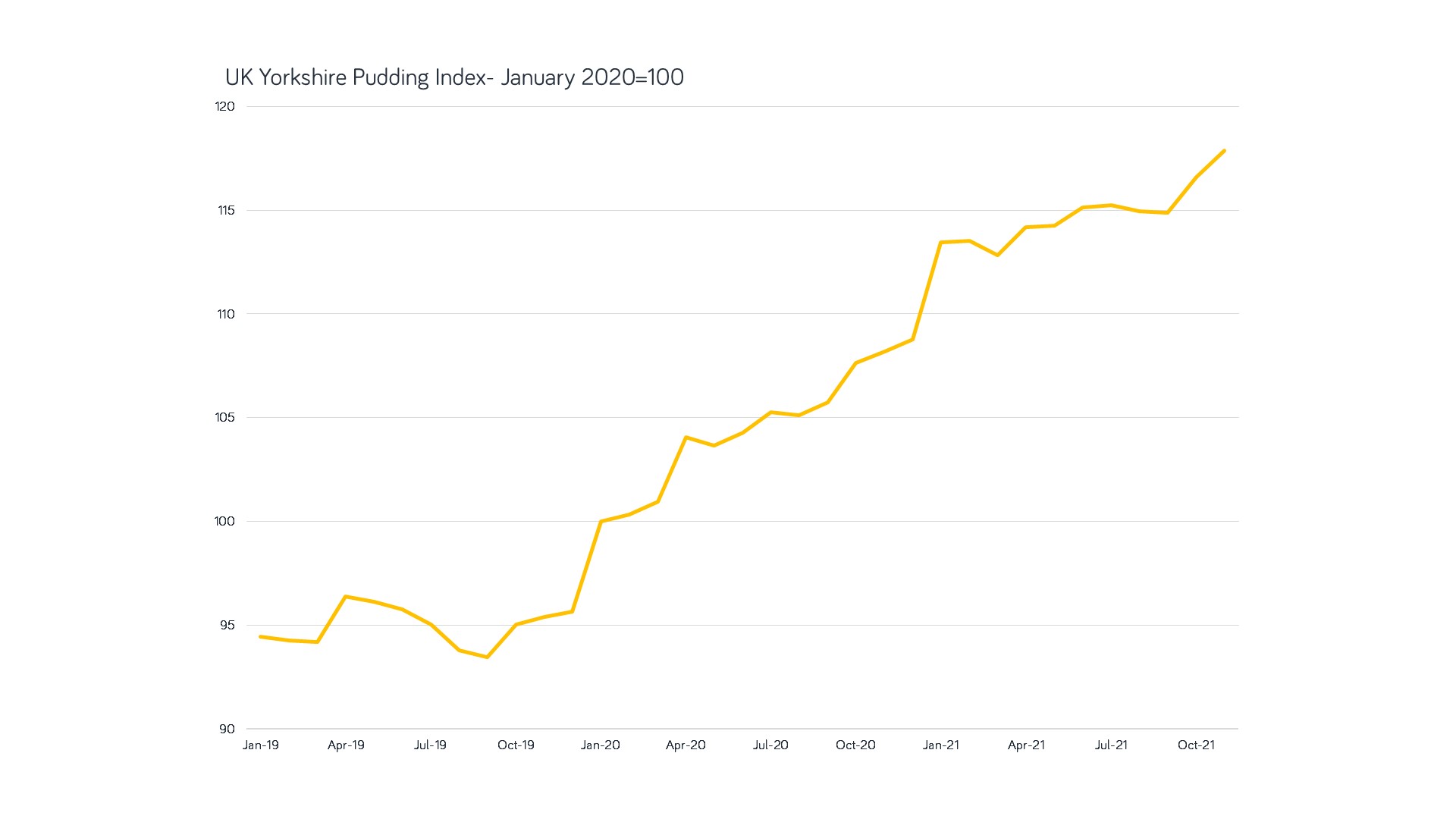 Source: Mintec Analytics
Wheat



Wheat prices have reached a record high level this year, with the November 2021 monthly average price at GBP 0.25/kg, up 26.8% y-o-y. On the demand side, there has been an increase in the home-baking trend spurred by the pandemic, resulting in robust flour consumption.
The upward trend in the UK wheat market since August 2021 continued till November. Following the global wheat market, the UK wheat price rose with an expected decline in stocks in several major exporting countries (Russia, Canada, and the US) in the 2021/22 season. According to the Agriculture and Horticulture Development Board (AHDB), the UK's 2020/21 total wheat availability is estimated at 16.8 million tonnes, 2.4 million tonnes higher than in 2020/21, but the second lowest since 2013/14. Despite an increase in wheat production in the UK, the lowest opening stock in this century limits the overall availability. Imports are forecast to fall to 1.4 million tonnes, 40% less than 2020/21 volumes, with surging freight costs and logistical issues posing a challenge. In addition, high input costs (fertilisers) amid soaring energy prices are raising concerns about the 2022 spring crop. This implies farmers could opt for planting crops such as barley or sunflower seeds, which require a lesser volume of fertilisers. Consequently, high energy prices are likely to be a bullish driver and will continue to support UK wheat (bread quality) prices in the short term.
Milk
The Mintec price of UK fresh milk increased by 6.3% y-o-y to GBP 0.30/kg in November 2021, in line with firm EU milk prices. This price rise is mainly attributed to tightened supplies during autumn (September and October 2021) and a shortage of lorry drivers.
Total UK milk deliveries for October 2021 seasonally rose to 1.2m litres, up by 3.7% m-o-m. However, October milk deliveries were 0.6% down the previous year volumes and below forecast, according to the AHDB. Additionally, there are reports that some UK farmers had to dispose of fresh milk during September due to the shortage of HGV truck drivers, which meant that supplies could not be delivered, exerting upward price pressure.
Despite an increase in the UK fresh milk price, this is unlikely to be enough to stimulate higher production as UK farmers continue to face escalating input costs such as feed and energy costs. Moreover, demand is building up with the upcoming festive period and the foodservice sector's continued recovery. Thus, the UK milk market is likely to remain bullish until the peak of the UK milk collection during Spring 2022.
Eggs
UK egg prices rose by 6.8% y-o-y while remaining steady m-o-m at GBP 1.4/kg in November 2021 despite an increase in egg production in Q3 2021. Total UK egg production in Q3 2021 reached 7,864 (thousand cases), up 1.7% y-o-y; however, a 0.9% decrease compared to Q2 2021. Demand for eggs remains strong y-o-y with an increase in home baking, thus offsetting the production increase.
Christmas Pudding Index (almonds, sultanas, raisins, sugar)
The price of the blended Christmas pudding components rose by 15.8% y-o-y in November 2021 as the increase in almond and sugar prices outweighed the decline in sultana prices.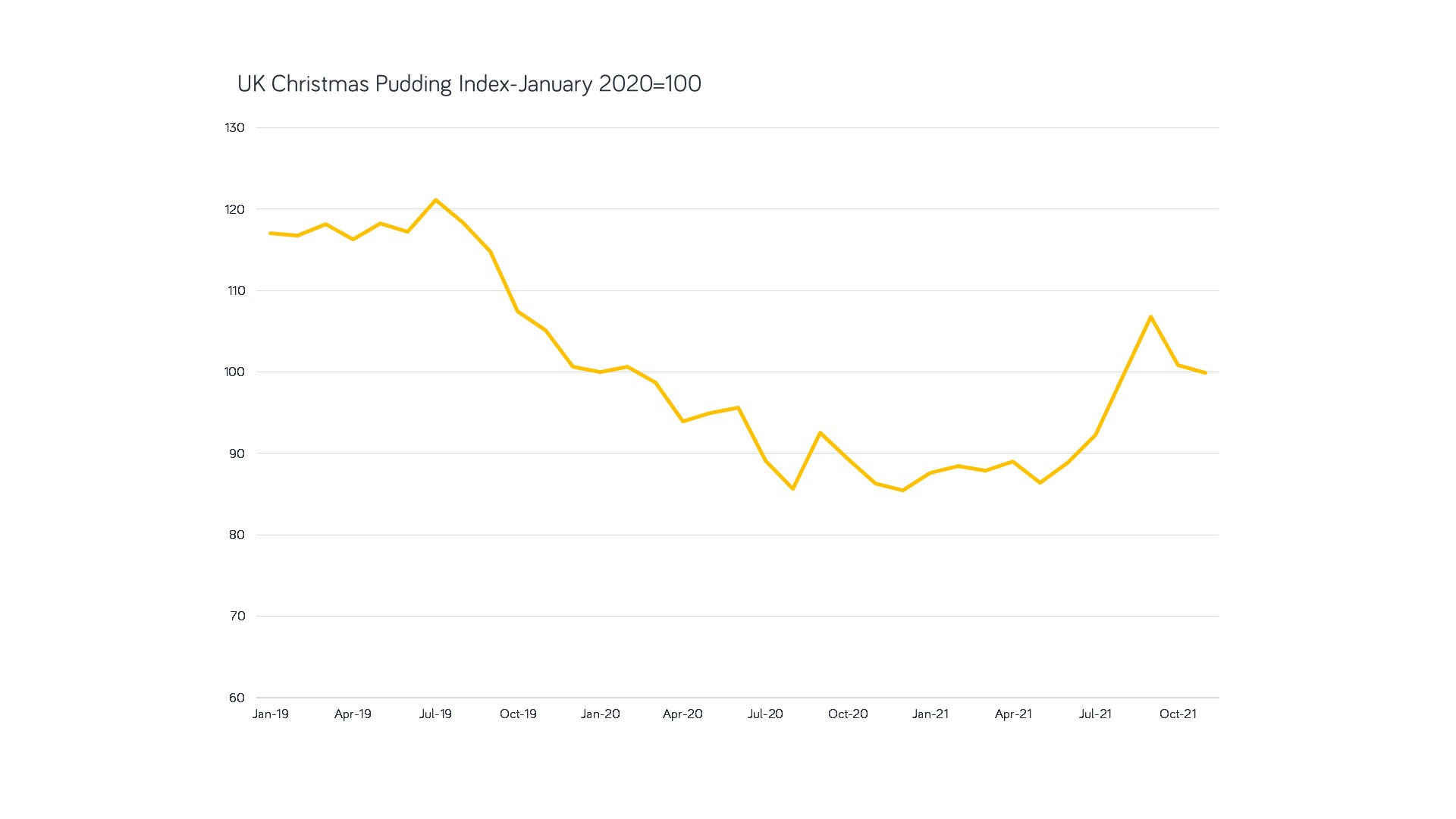 Source: Mintec Analytics
Almonds


The Mintec Benchmark Prices (MBP) of imported Californian almonds delivered CIF (cost, insurance, freight) Northwest Europe rose by 20.5% y-o-y in November 2021, to GBP 4.9/kg (USD 2.93/lb). The market has been pressured by robust global demand and concerns over severe drought in California, the leading almond producer.
The drought in California was intense throughout the growing season, between March and September, prompting the USDA to lower its production estimate. The agency initially projected the output at 3.2 billion lbs back in May 2021; this was later revised to 2.8 billion lbs in July, a decline of 312 million lbs (-10%) from the previous campaign. The 2021/22 season started in California with ideal weather conditions during the bloom period. However, the drought conditions deteriorated as the season progressed. According to the US drought monitor, as of 23rd November, 28% of the state was in exceptional drought, and 80% experienced extreme drought conditions.
Solid global demand has also been a supportive factor, with the state shipping 2.9 billion lbs of almonds during 2020/21 (+22% y-o-y). The export increase is primarily attributed to competitive almond pricing during 2020/21 and the COVID-19 pandemic stimulating at-home consumption of healthy, protein-rich snacks, such as almonds.
Nonetheless, demand has slowed in recent months as buyers acquired sufficient inventory volumes when prices were relatively low. The benchmark dipped 15% between September and November, and prices could rebound as subdued pricing is expected to stimulate additional demand.
Sultanas and raisins


The Mintec Benchmark Prices (MBP) of imported Turkish sultanas delivered CFR (cost and freight) UK fell by 9.8% in the twelve months to November 2021, to GBP 1.2/kg (USD 1,589/MT). The market briefly spiked during August and September, driven by expectations of a substantial hike in the Turkish intervention price. However, this did not materialise, and prices subsequently fell, also pressured by ample supplies in Turkey.
Prices in USD-denominated markets have been exposed to the fluctuating USD-TRY exchange rate. The Turkish lira lost about 40% of its value against the dollar in the twelve months to the end of November. The slide accelerated in the past couple of months as the Turkish Central Bank started slashing its key interest rate against calls of prominent economists to continue with the monetary tightening amid the high inflation. The last round of interest rate cuts was implemented on 18th November, with the bank cutting the one-week repo rate by 1% percentage point to 15%. This was the third interest rate cut in Turkey since September this year.
The Mintec Benchmark Prices of US raisins delivered on a CFR basis UK rose by 25.7% in the twelve months through November to GBP 2.1/kg (USD 2,780/MT). Similar to almonds, the market has been pressured by drought concerns in California. The US Raisin Bargaining Association recently published its crop estimate for California for the 2021/22 season. The institution anticipates production to reach 197,556 tonnes (Natural Thomson Seedless), a decrease of 26% y-o-y.
Sugar

At GBP 383.52/MT in November 2021, the average price of InterContinental Exchange (ICE) sugar at the London exchange culminated in a four-month rally but surpassed the levels of the same period last year by GBP 79.51 (+26.4%). The November 2021 price was the highest since March 2017, attributed to strong market fundamentals.
The relentless escalation of the London sugar price, from GBP 258/MT in April 2020, is largely due to supply-side factors. The European sugar beet area has fallen in consecutive years, from 1.6 m ha in 2017/18 (the first year since the production quotas were abolished) to 1.45 m ha and 1.4 m ha in 2020/21 and 2021/22, respectively. Aside from the end of quotas, the EU also banned neonicotinoids (NNI) pest seed treatments. Some regions that had sown beet without NNIs were forced to contend with pests and diseases, resulting in higher costs and lower yields. Additionally, two seasons of poor weather conditions – heatwave and aridity in 2020/21, followed by frost and dry conditions in the 2021/22 planting season, caused yields to plunge.
Other factors supporting the sugar price include high crude oil prices, stimulating the flow of sugar diverted into biofuels. This has reportedly been the case in Europe through Q3 2021. However, low stocks eventually need replenishing, thereby exacerbated upside price risk, particularly during trade deficit years. Additionally, freight and logistic bottlenecks contributed to soaring seaborne trade costs, most notably for sugar from India, Thailand, and other Asian exporters.
Based on the latest data from the European Beet Growers Association (CIBA), EU sugar imports from outside Europe are likely to fall by 280,000 tonnes (-11.5%) y-o-y in 2021 to 2.15 m tonnes, while UK imports from outside Europe are anticipated to average 450,000 tonnes. Autonomous tariff quota (ATQ) 260,000 tonnes into the UK will likely displace EU white sugar with raw cane imports. The European sugar balance is projected to fall below 1m tonnes in 2020/21, further supporting prices.
UK Plant-Based Christmas Dinner Index (pea protein isolate, carrageenan, corn starch)

For several years, the health and wellness trend has been driving changes in global food and beverage consumption patterns. Consumers have been pushing for healthier and more sustainable diets in recent years. Thus, the plant-based protein segment is primed for continued growth, particularly in Europe and North America. According to a report from Good Food Institute, global retail sales of plant-based meat substitutes hit record highs in 2020, reaching USD 4.2 billion, up 24% y-o-y.
Mintec's 2021 UK plant-based Christmas dinner index increased by 9.6% y-o-y in November 2021.
The Mintec Benchmark Prices for plant-based proteins cover a range of food-grade proteins in the pea and soya sector, typically used to manufacture meat-free substitutes. The plant-based Christmas dinner index utilises the Mintec Benchmark Prices for pea protein isolate EXW Europe as part of a plant-based 'turkey loaf' alternative to meat. The European Mintec Benchmark Prices for pea protein isolate comprises the bulk of the overall turkey loaf price. The index tracks price developments since Mintec launched its first of a kind, independent Benchmark Price for plant-based proteins in March 2020.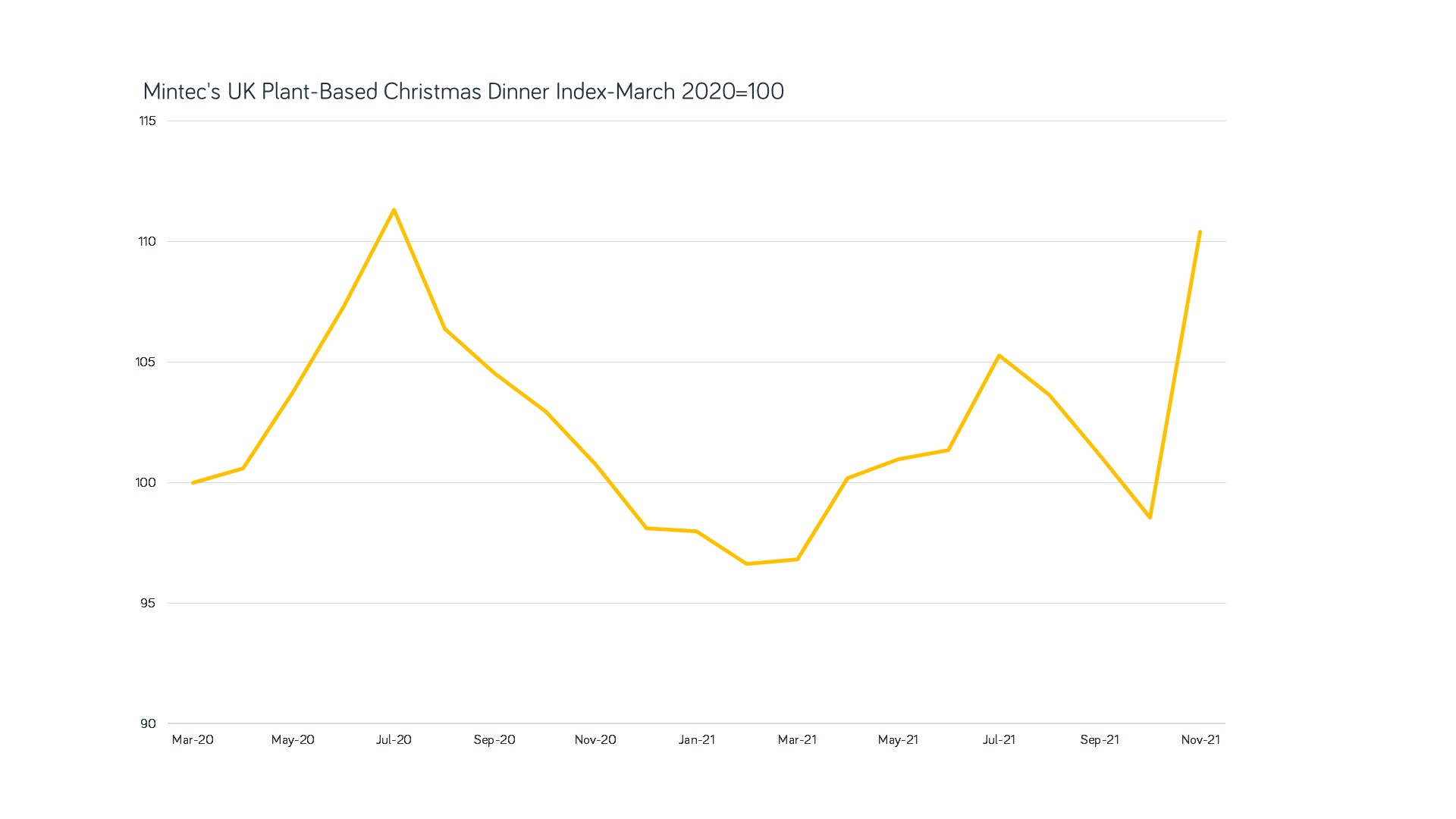 Source: Mintec Analytics
Pea Protein Isolate


In November 2021, the Mintec Benchmark Prices for pea protein isolate EXW Europe increased by 16.3% m-o-m (the highest level on record) and 11.8% (+GBP 0.58/kg) y-o-y to GBP 5.5/kg. The price increase is attributed to a rise in demand for plant protein-based products following higher demand for foods that support healthier lifestyles. Also, many large meat-producing companies have diversified their product range to plant-based products, thus providing consumers with a broader choice. Additionally, the growing availability of pea proteins meant that consumers allergic to soya have access to the plant-based alternatives offered in local supermarkets, thus supporting demand.
The surge in European pea protein prices is also driven by limited supply for the 2021/22 pea crop. Europe has suffered low yields, particularly from France (a key pea producing country), where adverse weather conditions have severely damaged the crop. Furthermore, the pea protein market is facing elevated freight costs, labour shortages and high raw material prices, which will continue to support the bullish market sentiment in the short term.
In addition to pea protein isolate prices, Mintec also publishes global Benchmark Prices for pea protein concentrate, soya protein concentrate, and soya protein isolate.
UK Turkey loaf 'filler' ingredients (corn starch)


The Mintec price of maize (corn) starch increased by 22.8% y-o-y in November 2021, to GBP 0.36/kg. The UK maize starch price follows the Euronext maize price closely, which is currently being driven by a lower 2021/22 MY production estimate for Russia and Ukraine, two major maize producers and exporters, and further influenced by a projected tighter global wheat supply in 2021/22. In addition, high production costs – fertilisers (that make up 40% of maize production costs) and transportation costs also support the maize starch price.
Carrageenan
The Mintec price of carrageenan semi-refined ex-work from China remained stable y-o-y at GBP 4.56/kg in November 2021. The key upward price driver was growing demand from the food manufacturers with the easing of mobility restrictions during the first half of 2021. However, freight disruptions from China due to COVID-19 screening and port congestions caused problems for exporters in securing container space, leading some food manufacturers to source other alternative food ingredients. As a result, the carrageenan price lost all the gains since August 2021.
Conclusion


Most food commodity prices have increased considerably this year. Thus, UK consumers will likely be cost-sensitive when considering which foods to include in their Christmas menus. Whilst lower pork prices indicate that consumers will pay less for their pigs in blankets, a 10.7% y-o-y increase in turkey prices mean that consumers opting for traditional meals will have to fork out more money on the most popular Christmas meal component. The overall Christmas Dinner Index increased by 9.2% compared to a year ago, as the main meal, Yorkshire pudding and Christmas pudding indices, all rose by 7.3%, 8.9% and 15.9%, respectively.
This year, shoppers who opt for a plant-based meal also face more expensive meals as the Mintec plant-based Christmas meal index increased by 9.6% compared to a year ago. Plant-based protein ingredient prices, particularly pea protein, rose, mainly due to high freight costs.
Food price inflation amid a broader commodity bull-run implies that elevated raw material prices have mostly translated to consumers paying higher prices at supermarkets. As the festive period approaches, the average consumer is expected to spend more than they have at other times in this calendar year, augmented by 2021's inflationary pressures. Beyond the Christmas meal price, there are other factors to be considered, such as the size of social gatherings amid escalating cases of the COVID-19 Omicron variant. If consumers remain concerned about the spread of the new variant, they could have smaller gatherings and thus purchase less food, for example, smaller or medium-sized turkey as seen in 2020. Furthermore, if they decide not to eat out, retail sales could be higher than anticipated, thus, impacting restaurant demand.