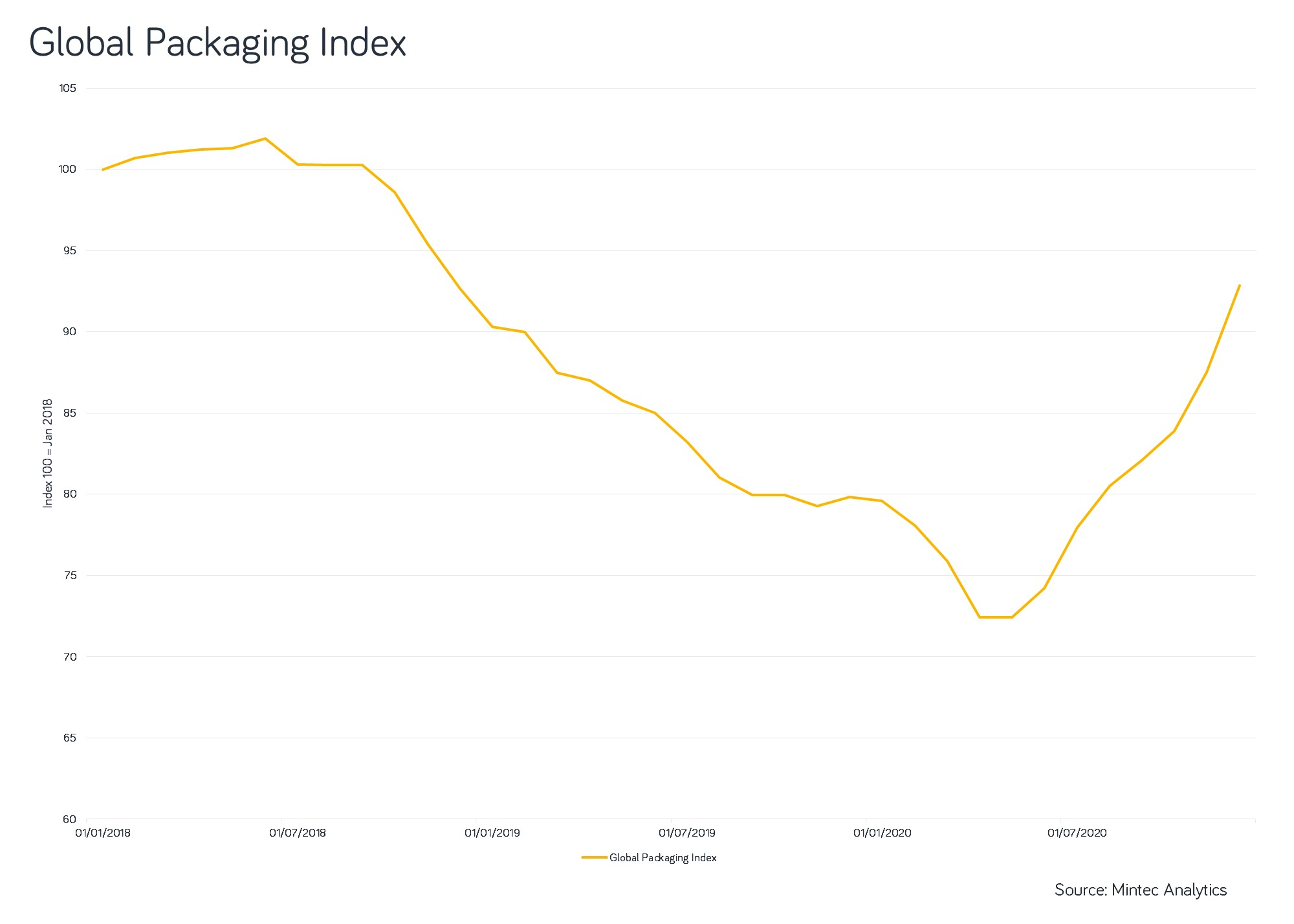 The Mintec Global Packaging Index continued on a bullish trend, with gains in all three markets (metals, paper and plastics) driving the index up another 5 points in December 2020, reaching 92.8 points - the highest since November 2018. Of all the components factored in the index, the Mintec Global Metals Index experienced the largest month-on-month (m-o-m) increase in December, up by 9%.

The rise in the Mintec Global Metals Index is mainly attributable to a surge in global steel prices, driven by a shortage of steel supply amid intense demand. Steel consumption rebounded at a faster pace than expected, at a time when inventory levels were historically low and needed rebuilding to support the rising demand. As a result, Hot-Rolled (HR) coil steel on the Chicago Mercantile Exchange (CME) rose to USD 1,012/MT in December 2020 (the highest on Mintec's record), up 25.1% m-o-m and a significant rise of 55.5% compared to the corresponding period in the previous year. Meanwhile, the HR coil steel Northern Europe (ex-works) price rose 17.7% to USD 731/MT during the same period.
The aluminium market also strengthened during December 2020, with prices on the London Metal Exchange (LME) rising for seven-consecutive months to USD 2,018/MT, the highest level since October 2018. Prices increased, fuelled by soaring demand for raw materials and concerns that the potential new US sanctions on Rusal, one of the world's largest aluminium producers, could limit global supplies of the metal. In addition, strong demand from China continued to support the price.
The Mintec Plastics Packaging Index rose by 5.5% in December to an average of USD 1,358/MT, driven by notable increases across Chinese and EU polyethylene (PE) prices and US polypropylene (PP) prices. Low global supply and high ethylene prices amid market optimism derived from the COVID-19 vaccines, supported Chinese PE prices. As a result, Chinese LDPE prices strengthened significantly to USD 1,450/MT in December, up 15.1% m-o-m. In addition, currency fluctuations and higher shipping rates contributed to the significant price rise.
US PP prices also jumped, by 11% to USD 1,830/MT during the same period. Supplies of propylene and PP were short following substantial outages in Q3 2020 caused by the hurricanes. Furthermore, feedstock prices helped to drive up costs due to low ethylene stocks and high crude oil prices. A normalisation of stock levels in the US market is unlikely to happen fast, thus setting a bullish tone for the next couple of months. Moreover, orders from China are expected to increase ahead of the Chinese New Year.
Meanwhile, the Mintec Global Paper Index rose in December by 3% m-o-m, driven by higher kraftliner prices in Europe and China, due to strong demand for corrugated board from the e-commerce industry amid limited supply. Prices of unbleached kraftliner in the EU rose by 8.6% in December to USD 740/MT compared to the previous month. Logistic problems due to a lack of shipping containers and rising freight rates also contributed to the increase in prices. Strong demand and noticeably tight supplies, especially for brown grades, continued to shape the market for corrugated case material in December as not all capacities were available.
According to market participants, demand is projected to remain strong for the first quarter of 2021, and supply will remain limited, especially as paper mills are set to go offline for maintenance work in March.
Overall, the Mintec Global Packaging Index is expected to remain firm for the next couple of months, driven by tight supply in most markets amid intense demand for various packaging products. Supply issues should start easing by the end of the first quarter, adding some downward pressure to prices.