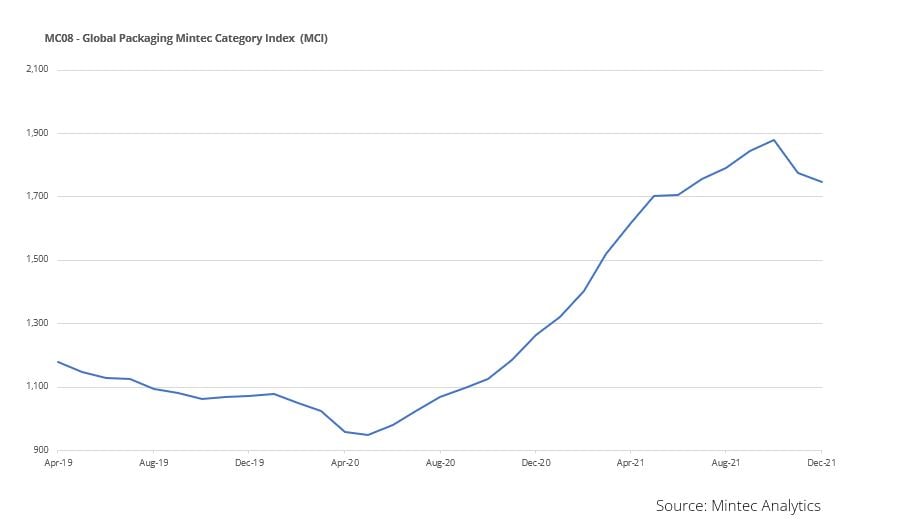 The Global Packaging Mintec Category Index (MCI) fell marginally by 1.4% month-on-month (m-o-m) to USD 1,748/MT in December. However, the index increased by 38% year-on-year (y-o-y) and 32% since the beginning of the year, primarily driven by easing US plastics and steel prices.
Plastics Market
The downward trend seen in the US plastics market in recent months continued in December, with most plastic prices falling in line with sustained improvement in supply conditions. EU prices, however, maintained the upward trend seen in November on the back of supply chain disruptions.
EU plastic prices increased across all grades, as supply conditions in the EU remained tight in December. Furthermore, new lockdown restrictions to tackle the Omicron variant, which emerged in the last week of November, plant closures and high freight rates supported prices. The EU PET price, in particular, reached a record-high, climbing 8.2% m-o-m and 104.4% y-o-y to EUR 1,589/MT. In addition to supply chain disruptions, the continued surge in EU PET prices is in line with robust demand for recycled PET (rPET) from top beverage producers. The higher demand for rPET is due to requirements to meet sustainability targets for consumer goods by 2025, as mandated by the EU. HDPE, LDPE and PP prices, however, increased at lower rates m-o-m, to EU 1,868/MT (+3.6%), EU 2,311/MT (+1.7%) and EU 1,883/MT (+0.8%).
On the other hand, most US plastic prices fell due to the gradual reopening of more production factories and supply conditions continuing to improve in December. Consequently, US prices for HDPE and LDPE fell by 5.1% and 4.2% to USD 2,458/MT and USD 3,009/MT, respectively. While the production of US HDPE and LDPE plastics increased, logistical disruptions remained, as a lack of containers, labour and shipping space continued to dampen exports, with producers being unable to clear excess volumes despite notable heavy export sales. US PP prices continued to decline from a record high in September 2021, decreasing by 9.9% m-o-m to US 3,318/MT. However, the US PET price remained relatively stable, increasing marginally, up 0.8% to USD 2,094/MT in December. This resulted from limited trading volumes as most market participants had concluded business by the final week of December, and some processors had already secured early January supplies.
Metals market
Steel prices in the US and EU continued to soften in December 2021 due to limited spot market activity and lower downstream demand. However, the LME aluminium (3-month) price increased on the back of output curtailments amid high energy prices, fuelling concerns about potential shortages.
The US steel hot-rolled coil (HRC) price on the CME decreased by 14% m-o-m in December but increased by 35.5% y-o-y to a monthly average of USD 1,371/MT. The m-o-m decline is due to limited spot market activity. Lead times have continued to decline and are currently below the 10-year average. In December, the Northern Europe steel HRC price decreased by 1.7% m-o-m and increased by 62.4% y-o-y, to EUR 971/MT, due to a slowdown in demand. The automotive industry continued to struggle with global semiconductor shortages that curtailed car production substantially in 2021. Two factors will likely determine 2022 steel supply and demand, namely material uptake by the automotive industry and the outcome of trade barriers, such as import quotas and anti-dumping duties on steel imports into the EU.
The LME aluminium (3-month) price increased by 1.9% m-o-m and 34.1% y-o-y in December, to a monthly average of USD 2,707/MT, as surging energy prices have raised concerns about higher production costs and aluminium smelter shutdowns. The gas price surge has inflated Europe's power costs and caused some aluminium production curtailments in Europe. The high-power costs are expected to fuel further rises in aluminium prices in the short term.
Paper market
On the back of elevated energy prices and freight costs, the European paper packaging market continued to trend upwards in December 2021. High production costs have prevented many paper producers from benefitting from the current increases in paper price. The higher paper prices are charged mainly to cover additional costs instead of improving margins.
The French kraftliner 175gr price increased by 5.3% m-o-m and 35.9% y-o-y to EUR 997/MT in December, as demand outstripped supply. Some market participants report that the market has eased slightly, and demand is not as robust as earlier in the year. Obtaining the right grades was gaining importance for converters again, while they took everything available on the market during the boom. Supply is still tight and has only improved slightly.
The French testliner 2 average price stayed flat in December but increased by 49.1% y-o-y to EUR 850/MT, primarily driven by booming demand from the e-commerce sector and high production costs. Further price increases for white-top testliner, of around EUR 50/t, are planned from January 2022.
The December average price of GD2 increased by 8.2% m-o-m and by 45.3% y-o-y, to EUR 1,315/MT, driven by strong demand (from the e-commerce and food industries) and high production costs (for energy, fibre and transport). The December average price of EU GC2 also increased by 3% m-o-m and by 21.1% y-o-y, to EUR 1,695/MT, due to high production costs and logistics disruptions. GC2 board mills have order backlogs stretching into April. Producers have asked for an increase of around EUR 130-140/t for the GD2 and GC2 board from January 2022. As long as current conditions prevail, producers will likely continue to demand energy surcharges.