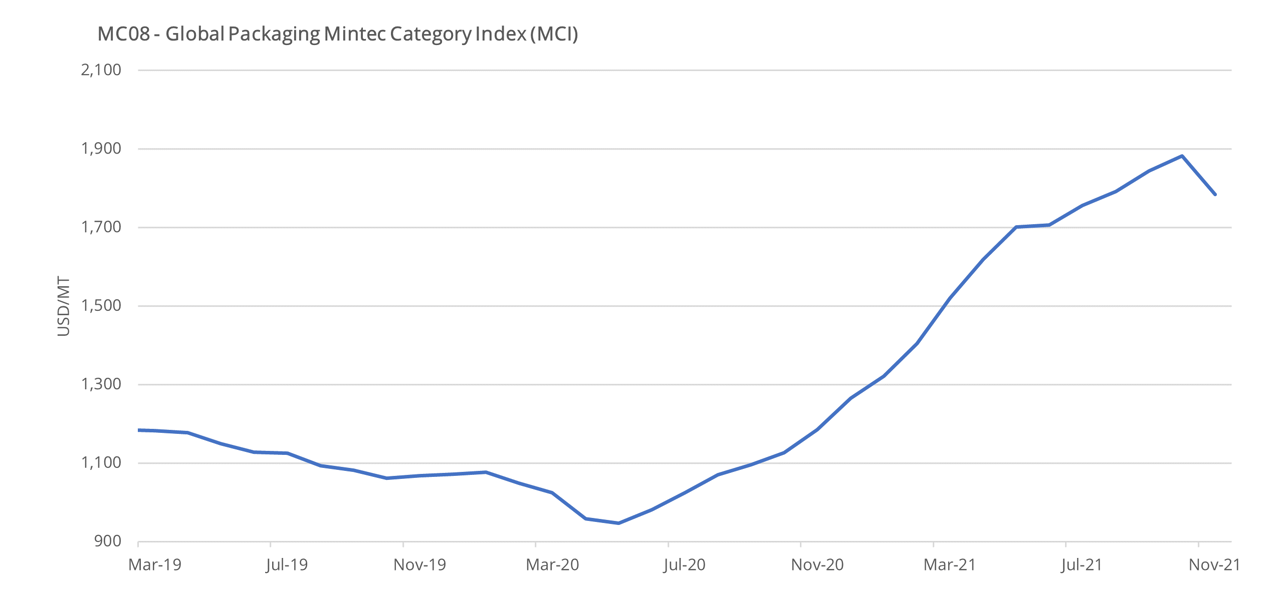 The Global Packaging Mintec Category Index (MCI) fell for the first time since May 2020, by 5% m-o-m to USD 1,784/MT in November. The index was primarily driven by a softening in the US plastics price along with weakness in the global metals market. The index remains up by 51% y-o-y and 35% since the beginning of the year.
Plastics Market
In November 2021, the plastics market maintained the trend seen in October, with most prices in the US falling due to improved production and supply conditions. Meanwhile, EU prices continued to strengthen due to persisting supply chain disruptions, particularly in Germany.
EU plastics production has remained relatively tight compared to October, as material shortages due to supply chain disruptions have left many firms unable to pass on the rising costs to consumers, meaning that several contracts are being cancelled. According to a survey by DZ Bank of the German plastics market, around 1 in 5 contracts are being cancelled by around 90% of firms due to these rising costs. The tight supply issues in the EU have been exacerbated by continued strong demand, with around 50% of producers indicating that demand has risen to pre-COVID levels. The continued global recovery continues to be the main demand-side driver. As a result, prices for HDPE, LDPE and PP increased by 3.6%, 1.8% and 1% m-o-m to EUR 1,868/MT, EUR 2,313/MT and 1,888/MT in November. EU PET had a more significant increase of 7.8% m-o-m to EUR 1,584/MT due to continued tightness of PTA feedstock supply as well as firm bottle demand.
US plastic production increased following recent inflation relief, which eased crude oil and plastic feedstock prices from their record highs. Ethylene and propylene prices in particular, have fallen due to increased supply from the now resolved weather disruptions which caused a decrease in production earlier in the year. This is evident in the monthly average price of US PP, easing by 7.2% m-o-m to USD 3,682/MT in November. US HDPE and LDPE market prices have also fallen by 3.69% and 3.06% to USD 2,590/MT and USD 3,142/MT, respectively. PET US prices, however, continued to rise in November by 11% m-o-m, to USD 2,078/MT. The upward trend is due to continually high domestic demand, which US production cannot fulfil alone, following the declaration of forces majeures by a key producer in Mexico and a US producer in October. In addition, supply has been hindered by high shipping rates from Asia, where the US typically sources PET to meet demand. Prices of rPET will likely continue to rise in Q1 2022, as consumers push for its use as a sustainable plastic from brand owners.
Metals market
US and EU steel prices of the metals used in packaging, continued to soften in November 2021 due to lower demand from the automotive industry. The aluminium LME price of the lightweight metal used in packaging also decreased, on the back of falling thermal coal prices, that eased pressure on metal smelting operations.
The US steel hot-rolled coil (HRC) price on the CME decreased in November by 5.5% m-o-m, but was up by 97.2% y-o-y to a monthly average price of USD 1,595/MT. The m-o-m decline is due to limited spot market activity. Weeks heading into the festive season typically mark the start of the seasonal slowdown period. In November, Northern Europe steel HRC decreased by 4.8% m-o-m but remained up by 89.9% y-o-y, to EUR 988/MT, due to a slowdown in demand. Customers are not looking to book much for Q1 2022 as the expectation is that the HRC price will decline further on slow automotive demand. The automotive industry continued to struggle with global semiconductor shortages that have curtailed car production substantially this year.
The LME aluminium (3-month) price decreased in November by 10.6% m-o-m but was up 36.6% y-o-y to a monthly average price of USD 2,656/MT, supported by falling prices in China for thermal coal, which aluminium smelters depend on for energy generation. Additionally, magnesium, a key ingredient in the aluminium alloy, has seen falling prices as China has re-started magnesium production. This has caused aluminium prices to move lower accordingly. The new Omicron variant has also created fears in the market, causing a sell-off of LME stocks. Furthermore, there are reports that Russia will remove the aluminium export tax (15%), which would lead to a boost in global supplies.
Paper market
The global paper packaging market continued to trend upwards in November 2021 compared to the previous month, on the back of elevated raw material prices. Demand remains solid across different paper grades, yet supply remains tight. With the increased cost of freight, labour, energy and other spares and consumables, the conversion cost of paper packaging has increased and is likely to continue to rise in the short term.
The French kraftliner 175gr price stayed flat in November but increased by 39.3% y-o-y, to EUR 947/MT, as demand continues to outstrip supply. Demand from the e-commerce sector continues to drive the market. Although the market has eased slightly, obtaining enough kraftliner is reportedly still challenging. Procuring additional volumes is almost impossible, and deliveries are delayed. However, alternative procurement options are emerging again. Market participants report that more imported paper is available in Europe. High energy prices, material delays and high freight costs have further supported kraftliner prices. The renewed price hike, of an additional EUR 50/t for deliveries of brown and white-top kraftliner, was announced in December.
The French testliner 2 average price increased in November compared to October, up 6.3% m-o-m and 57.4% y-o-y, at EUR 850/MT, primarily driven by booming demand from the e-commerce sector and high prices for recycled corrugated case material. Further price increases for white-top testliner are planned with a slight time lag.
The November average price of GD2 increased by 4.3% m-o-m and by 34.3% y-o-y, to EUR 1,215/MT, driven by brisk demand (from the e-commerce and food industries) and high prices for recovered paper. The November average price of EU GC2 also increased by 5.1% m-o-m and by 17.5% y-o-y, at EUR 1,645/MT, due to rising pulp and wood costs and the current logistic disruptions. Producers are calling for further mark-ups for deliveries. Manufacturers plan to invoice special surcharges of EUR 60-100/t due to rising costs of raw materials, high energy prices and logistics.​