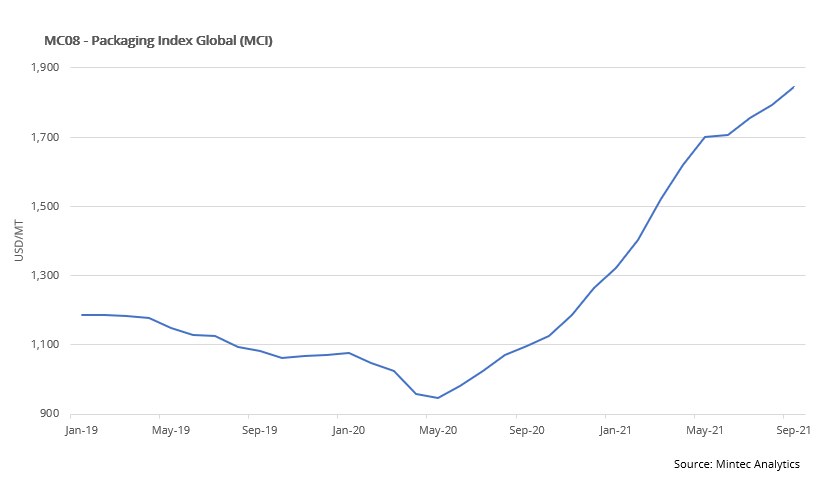 The Mintec Category Index for packaging (global) maintained an upward trajectory in September, rising by 2.9% m-o-m to USD 1,844/MT. This represents an increase of 68% compared to the same period in the previous year and 40% since the beginning of the year. The index was primarily driven by a rise in US plastics and EU paper prices, as demand continues to surpass supply for packaging materials.
Plastics Market
In September, the plastics market experienced another month of mixed price action, with prices continuing to rise in the US on sustained supply tightness. On the other hand, EU prices were slightly weaker as resins factories ramp up production.
Although US production continues to increase following disruptions earlier in the year, supply remains relatively tight. Additionally, with the US currently in the peak of the hurricane season, a few resins factories have been affected, particularly in the PE and PP markets. Accordingly, this has supported prices for US PP, which increased by 6% m-o-m to USD 4,039/MT in September. US HDPE and LDPE market prices rose by 1.2% and 1.1% m-o-m to USD 2,690/MT and USD 3,241/MT, respectively. With planned US factories maintenance in Q4-2021, the outages caused by hurricanes could be compounded, causing prices to remain firm. Demand for all US resins has remained strong over the past five months and will likely remain so for the rest of 2021, in turn exacerbating the potentially tight US supply in Q4-2021. Surging energy and crude oil prices have further supported the upward trend in US plastics prices.
EU plastics prices, in contrast, continued to weaken in September, marking the third consecutive month of falling prices. HDPE and LDPE prices led the month's losses, falling by 4.3% and 2.6% m-o-m, to EUR 1,768/MT and EUR 2,212/MT respectively in September, due to more readily available supply. Imports of all plastics into the EU remain weak from Asia, the Middle East and the US due to shipping delays and surging freight costs. With US prices remaining high relative to EU prices, there has been limited import demand. The EU market may have a potential upside with the recent surge in energy and crude oil prices, though these effects have not yet been reflected in EU prices.
Metals market

The steel prices (US, EU) softened in September due to lower demand from the automotive industry. Semiconductor shortages have been limiting automakers activity, and the availability of cheaper imports have weighed on steel prices. While aluminium LME price has soared by 60% this year, driven by tight supply in the market.
The US steel hot-rolled coil (HRC) price on the Chicago Mercantile Exchange (CME) decreased in September by 4% m-o-m, but was up by 184.7% y-o-y to a monthly average price of USD 1,812/MT. The month-on-month (m-o-m) decline is due to an improvement in domestic steel production, coupled with a slowdown in demand. The current and upcoming steel mill maintenance outages will provide underlying support for prices in the coming weeks, regardless of the weaker demand from the end-use sector (automotive). HRC prices are likely to remain stable in the near term, with modest descending pricing corrections to commence in Q4 2021, when demand tapers during the holiday season and in response to supply chain disruptions while import supply rises. In September, Northern Europe steel HRC decreased by 6% m-o-m and increased by 146.6% y-o-y to EUR 1,132/MT due to a decline in demand from the spot market and the automotive industry.
The LME aluminium (3-month) price rose to a new high of USD 2,853/MT, up 9.6% m-o-m and 60% y-o-y, supported by global supply tightness and soaring demand. China, the world's largest aluminium producer, has cut its supply substantially to reduce carbon emissions. In addition to high freight costs, gas prices in Europe are at a record high, thus supporting aluminium prices (aluminium is power intensive and requires gas for production). Prices of aluminium in the US and Europe will likely be sustained for several months due to the Russian export tax (15%) on primary aluminium.
Paper market

The global paper packaging price was edging higher in September 2021 than the previous month, on the back of elevated raw material prices. Europe and Asia face severe electricity shortages, and the demand for finished paper from other parts of the world is strengthening. With the increased cost of freight, labour, energy and other spares and consumables, the conversion cost of the paper packaging has increased and may continue to rise in the short term.
The September average price of French kraftliner 175gr stayed flat m-o-m and increased by 37.4% y-o-y at EUR 897/MT as demand continues to outstrip supply. Demand from the e-commerce sector continues to drive the market. Sourcing kraftliner continues to be challenging, and the situation might intensify in Q4 2021, which is a traditionally busy period before the festive season. There are low imports from North and South America to Europe since every tonne of produced kraftliner is sold out in the market. Several European kraftliner manufacturers have announced a EUR 50/tonne price hike for deliveries of brown and white-top kraftliner starting from October.
The French testliner 2 average price increased by 4% m-o-m and 59.2% y-o-y, at EUR 780/MT in September, primarily driven by high demand from the e-commerce sector and high prices for recycled corrugated case material. Furthermore, there are concerns around supply constraints, given that some maintenance stoppages in Europe were pushed back from the spring to the autumn. As a result, producers are looking to implement additional price hikes in the coming months.
The September average price of GD2 increased by 1.9% m-o-m and by 19.2% y-o-y, at EUR 1,085/MT, driven by brisk demand and high prices for recovered paper. The September average price of EU GC2 also increased by 1.4% m-o-m and by 6.1% y-o-y, to EUR 1,485/MT due to rising pulp and wood costs and the current logistic disruptions. Producers are calling for further mark-ups for deliveries from October, which would support higher prices for cartonboard.