Price increases have been seen across a significant number of soya, and pea protein extracts over the last quarter with Mintec Benchmark Prices (MBP) for pea protein concentrate EU and Soya protein isolate EU increasing by 4.35% and 5.64% respectively.
Login to Mintec Analytics to see the current soya price, pea protein concentrate price and pea protein isolate price.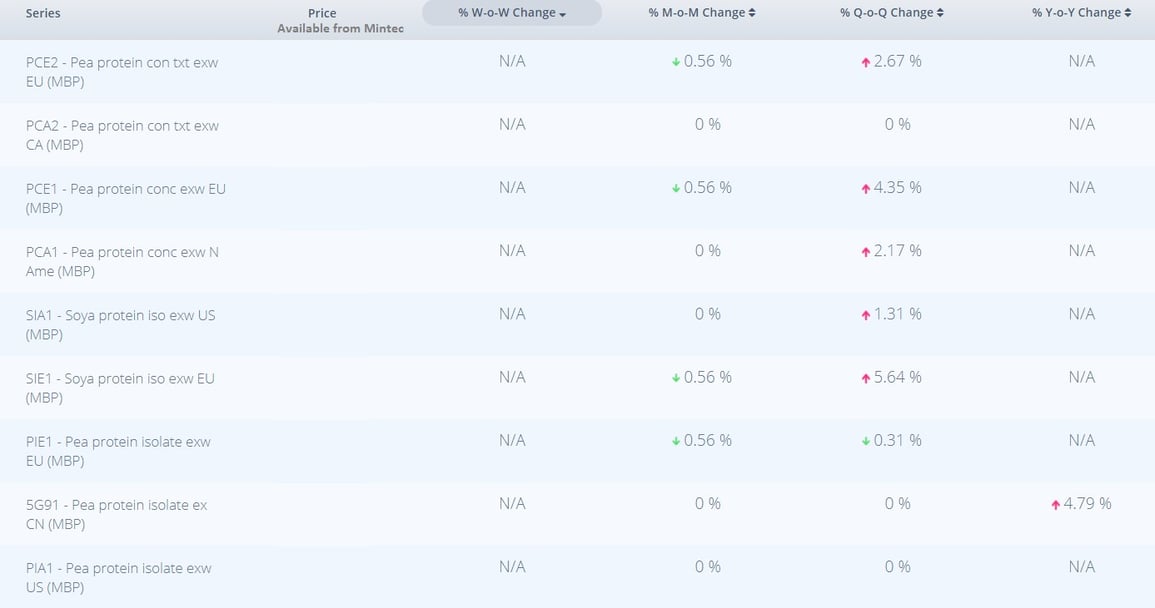 European Pea Protein Prices
As shipping container availability relaxed during the second half of the year and restaurants reopen across Europe, all European Pea Protein assessments shed most of the gains realised during the early half of 2020 again, with the MBP for European Pea Isolates shedding almost 7% between July and December 2020.
North American Pea Protein Prices
As North America never went into as strict a lockdown as most of the rest of the world, the pricing impact, as a result of COVID-19, was also much more muted in North America in 2020. While MBPs in Europe were volatile, the North American MBPs showed a less volatile upward trajectory in 2021. Price support for North American Pea Proteins also stemmed from substitution away from increasing Soya Protein prices.
European Soya Protein
The MBPs for European Soya Protein Concentrates and Isolates have marginally increased throughout 2020 mainly due to a 51% increase in the underlying Soybean Price which more than offset the substitution effect as procurement specialists tried to move from Soya Proteins to Pea Proteins. Driven by the uncertainty over the Brazilian soya crop, strong soya demand from China & tight soybean stocks in the US, the soybean price – which is a significant component of the Soya Protein price – rose to a 6 year high in 2020.