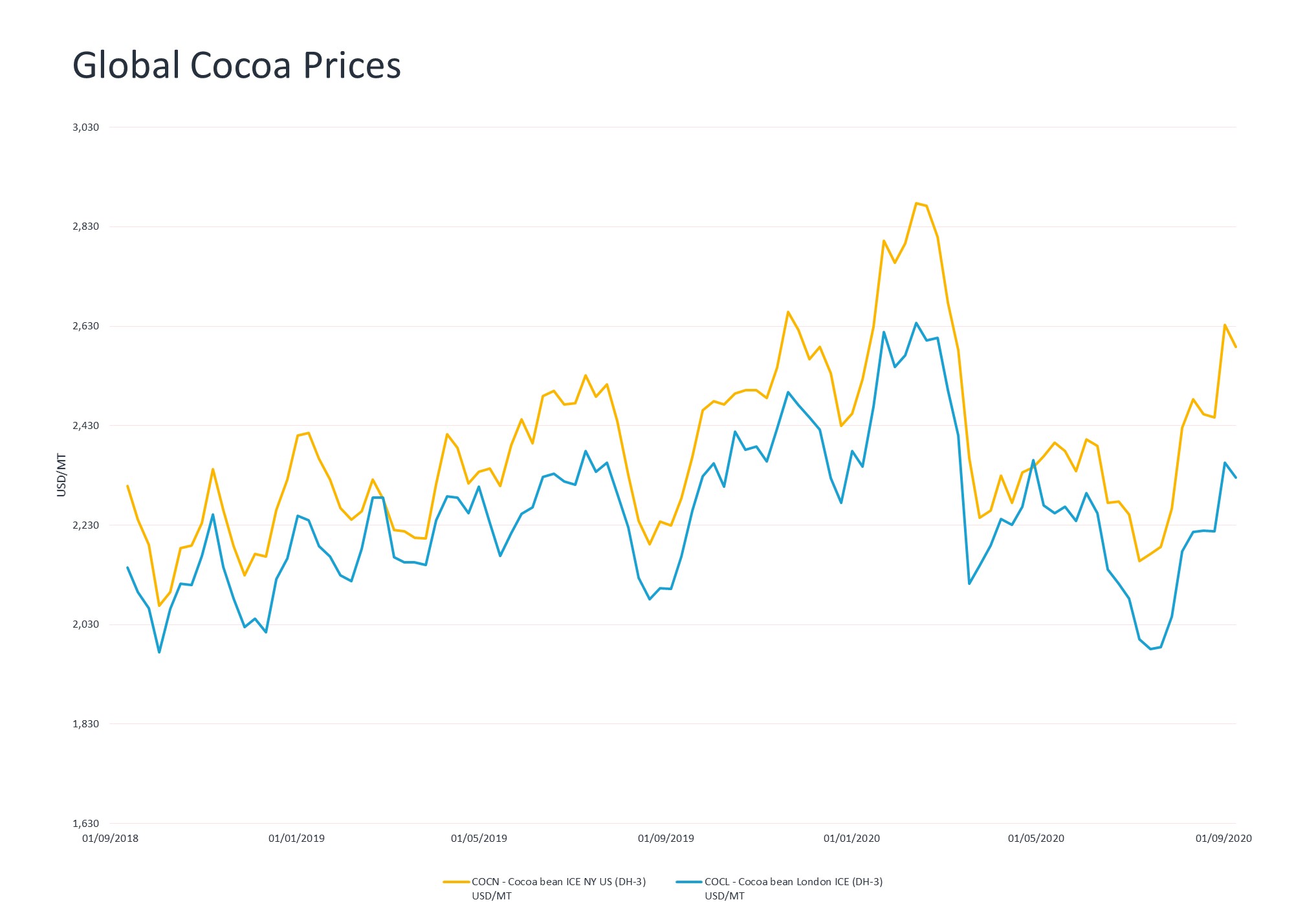 Cocoa port arrivals in the world's top producer and exporter, Cote d'Ivoire, reached 2.053 million tonnes in the 12-month period ending 6th September 2020, according to Reuters. This represented a 5.4% contraction against the same period the previous year, attributable to sub-optimal growing conditions and lower yields. However, potential price volatility relating to the upcoming Cote d'Ivoire presidential elections in October, and a likely domestic price rally for the 2020/21 season, could fuel a short-term demand spike with importers rushing to secure tonnage.
Industry sources report that Cote d'Ivoire plans to increase the fixed farmgate price paid to local cocoa farmers by over 20% to CFA 1,000/kg ($1.84/kg) for the 2020/21 season, starting in October. The rumoured price hike revelations coincided with the news that incumbent President Alassane Ouattara will be running for a third term in office, suggesting that this could be a political tactic to gain support among the majority smallholder farmer population.
Notwithstanding, firmer prices are likely in the run-up to the elections and beyond, with the global market expected to tighten, as large importers strive to place beans in warehouses. Indeed, approximately 10,000 tonnes of beans were reportedly delivered to Abidjan and San Pedro ports in the week ending 6th September 2020. Latest results from the week of the 1st September 2020 shows the European cocoa market in contango, while net long managed money positions increased by 8,953 week-on-week, implying that investors expect firmer prices. At GBP 1,787/MT, cocoa bean futures at the InterContinental Exchange (ICE) in London remain over 15% above mid-July 2020 levels, while the New York ICE price is around 20% higher over the same period, at USD 2,588/MT.