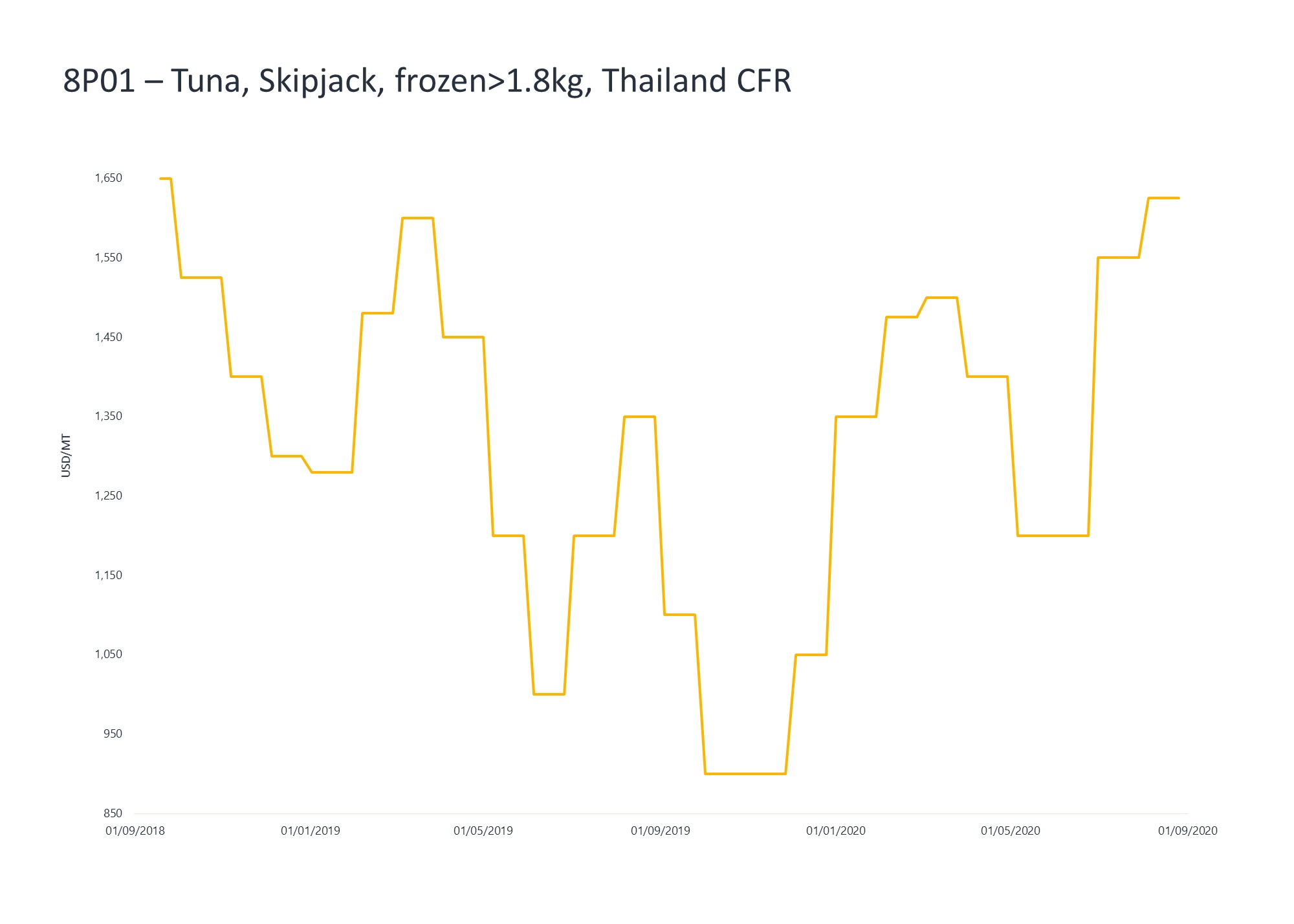 Since early-August 2020, the delivered cost and freight (CFR) price to Thailand, the world's top tuna processor and re-exporter, has stabilised at USD 1,625/MT. This latest price represented a 35% increase from the lowest price point of 2020 – USD 1,200/MT – recorded in the seven-week period to 24th June 2020, and the highest recorded weekly price since March 2019. However, recent reports suggest that skipjack prices may come under pressure over the coming months, on the back of firm supply expectations against a demand drop-off.
Skipjack price firmness evident since late-Q2 2020 is attributable to the versatility of the fish, particularly for canned retail sales for home consumption. Conversely, demand for higher-bracket varieties, such as bluefin and yellowfin, has plunged through the COVID-19 pandemic, due to weak out-of-home demand from restaurants and sushi bars.
However, global skipjack supply is anticipated to increase from October 2020, with the end of the seasonal ban on fishing aggregate devices (FAD) in the West Central Pacific Ocean. The use of FADs substantially increases catch volumes, while global demand appears to be waning due to the high prices, setting a bearish outlook.
Thai canneries are increasingly struggling to move volumes and maintain margins at current price levels. Some observers anticipate USD 1,400-1,500/MT CFR for October deliveries and potentially lower. Mintec envisages support around USD 1,400/MT, in light of the impending Western Hemisphere winter, and likely re-imposition of COVID-19-related lockdowns. This scenario should support demand for home-consumed canned tuna and help balance some of the additional FAD-caught supply. Notwithstanding, based on the firm supply expectations, Thai skipjack prices are expected to trend below USD 1,600/MT through the remainder of 2020.