Sugar futures prices at the Intercontinental Exchanges (ICE) New York (NY) continued to trade near four-year highs into mid-June reaching USc 17.44/Ib, during the period ending 16th June 2021. The strength of the ICE NY benchmark coincided with a strengthening BRL, which hit a one-year high of BRL 5.0 per USD during the same week. The BRL gained support from the Brazilian Central Bank's decision on 16th June 2021 to increase the base interest rate from 3.5% to 4.25% in its continued bid to curb rising inflation.
The ICE NY sugar price typically moves with the USD/BRL exchange rate, with a strengthening BRL reflected in a falling ICE NY price, and vice-versa. Brazil, as the world's largest sugar exporter, accounting for approximately 40% of global shipments in a typical year, has substantial influence on the traded market; Brazilian sugar sold to the ICE NY during a bullish BRL market will convert into lower USD-denominated warehoused prices, and vice versa. Thus, the 15.6% increase in the ICE NY sugar price recorded over the 2021 year-to-date coincided with the BRL gaining 5.4% on the greenback during the same period.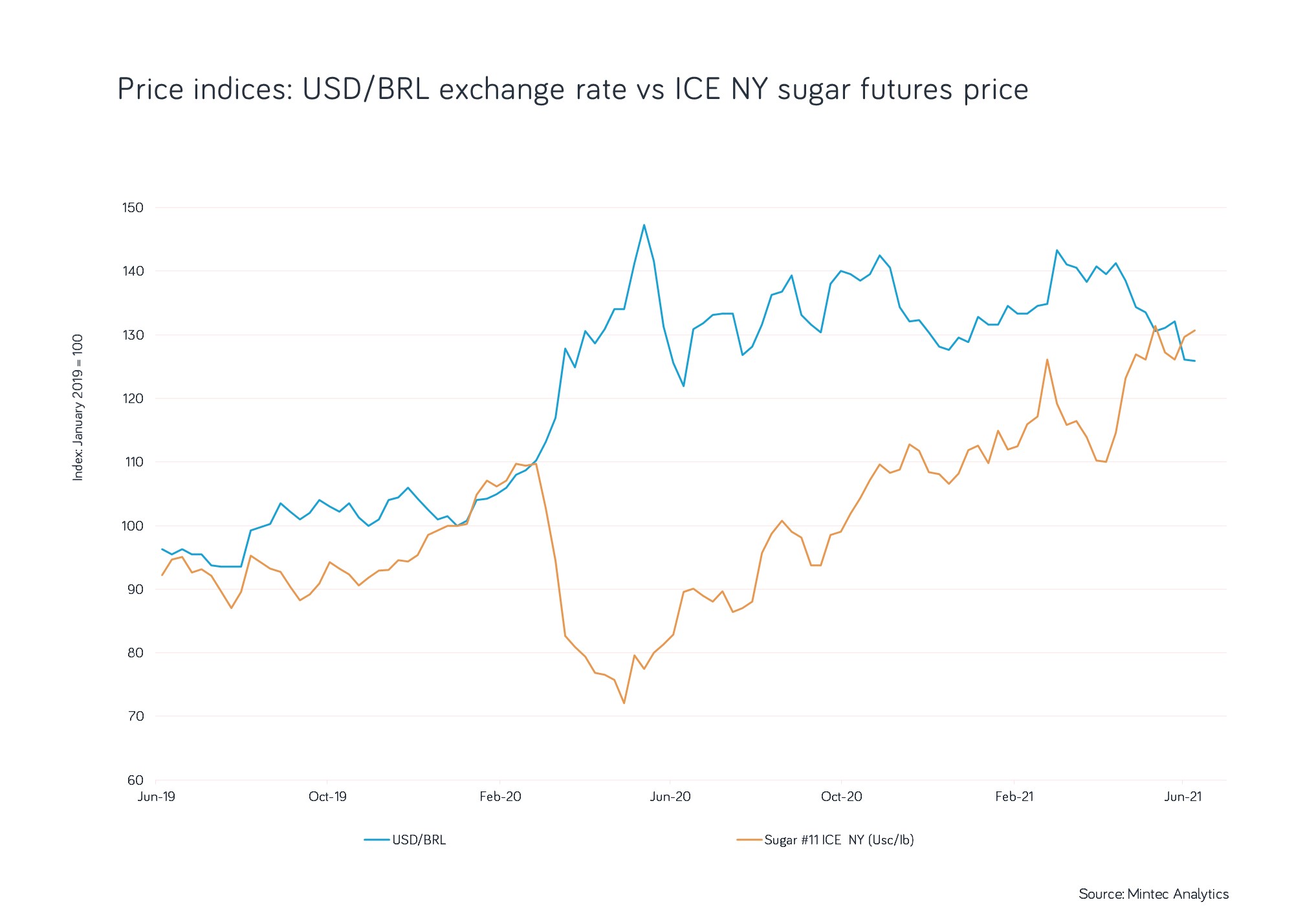 The Brazilian government appears committed to using aggressive monetary policy to counter inflation, which increased by approximately 8% during the year to May 2021, and significantly above its 2.25-5.25% target range. However, official data shows that the Brazilian economy returned to pre-pandemic levels by late-Q1 2021, with strong GDP growth projections for the remainder of the year presenting considerable hurdles to achieving the low-inflation target. Moreover, the BRL is expected to average 5.15-5.25 per USD average during H2 2021, compared to around 5.41 per USD average during H1 2021. This potentiates further bullishness for the ICE NY benchmark.