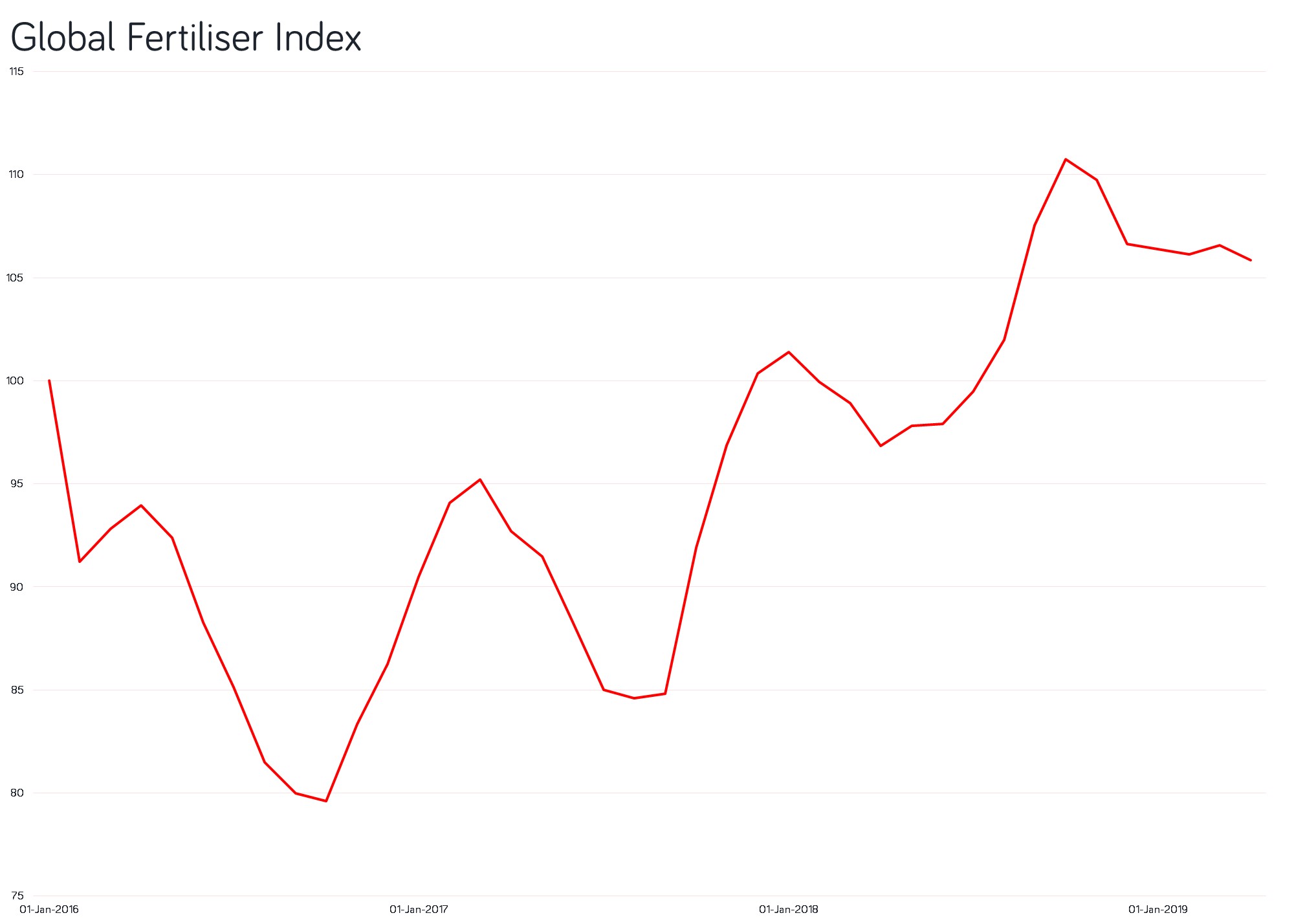 The Mintec Fertiliser Index tracks a range of global fertiliser and raw material prices, including ammonia, urea, phosphate rock, DAP, potash and sulphur. In April 2019, the Mintec Fertiliser Index dropped 1% m-o-m but is 9% higher compared to April 2018, continuing the long-term upward trend in fertiliser prices. The declining prices of ammonia in the US and Europe, as well as lower sulphur and potash prices have offset rising prices of DAP and urea in April 2019. Phosphate rock prices remained relatively stable through April.
Ammonia
Ammonia prices in the US and Western Europe have been declining towards their lowest rate since April 2018. Wet weather has delayed spring application in the northern Hemisphere leading to an oversupply, while lower natural gas prices also contributed to price declines. Conversely, in Asian markets, namely India and China, prices have been rising due to supply tightness.
Sulphur
Sulphur prices in China maintained their bearish trend in April 2019. Amid US-China tensions, weak demand has continued to deter trade and undermined market confidence. Furthermore, inventories are high at the Weifang, Longkou and Liangyungang ports. In India, new production has recently come online, and end-user demand is falling, causing an oversupply in the domestic market.
Urea
International urea prices edged higher as global demand remained strong. The cold and damp weather in the Northern Hemisphere and the relative value to ammonium nitrate led farmers to use urea for their second applications of the fertiliser. Meanwhile, an Indian tender occupied a considerable amount of the manufacturers' availability while shortages in Pakistan have also diminished urea supplies, strengthening prices.