The Mintec Category Index for (MCI) global confectionary averaged 101 points in March 2021, which is the highest total since the start of the global pandemic in February 2020. The March 2021 average index exceeded the February 2021 average by two points, attributable to firm cocoa bean and US glucose syrup prices, outweighing weaker prices for European and Chinese sweeteners.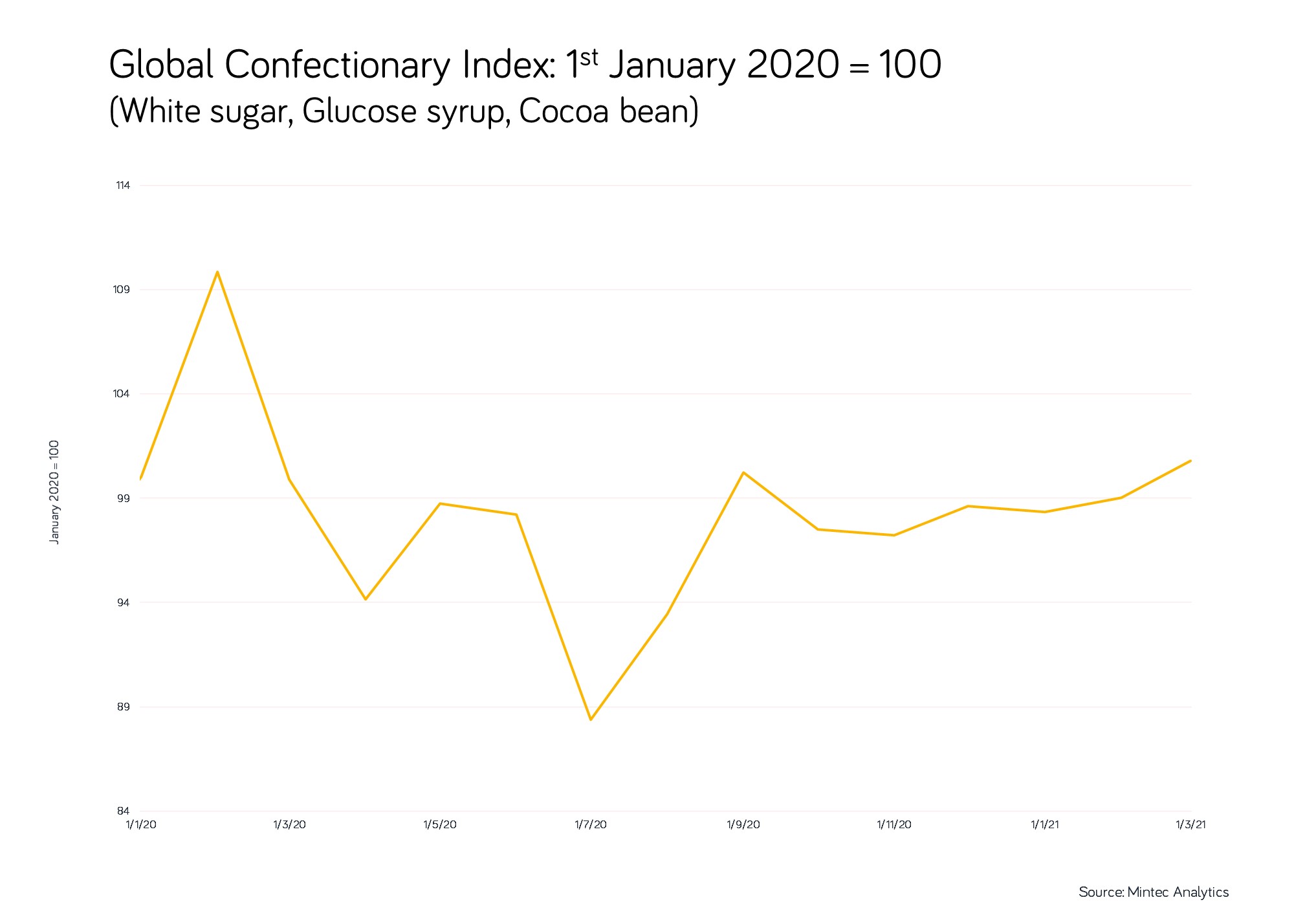 Average USD-denominated prices of cocoa beans at the respective InterContinental Exchange (ICE) terminals in London and New York increased by USD 36/MT (+1.5%) m-o-m to USD 2,372/MT and USD 62/MT (+2.5%) m-o-m to USD 2,533/MT during March 2021. Terminal prices found support from higher-than-anticipated Q4 2020 grindings data, and speculation on a global demand-bounce, as COVID-19 vaccine rollouts began. However, strong supply expectations are foreseen to dampen cocoa bean and derivative product prices through Q2 and Q3 2021, reflecting plentiful availability from Cote d'Ivoire, the world's top producer. Demand concerns are also likely to weigh on cocoa prices with several key European countries extending lockdown restrictions in attempts to curb re-escalating infection rates.
Mintec's USD-denominated price of #5 white sugar (3-months forward) at the ICE London fell by USD 21/MT (-4.5%) to USD 439/MT m-o-m during March 2021. This contrasts the preceding month, where the London benchmark peaked at a 44-month high of USD 330/MT. The February 2021 peak culminated a general upward trend that began in July 2020, reflecting tight supply expectations and rising demand for ethanol feedstock. However, the slow and uneven pace of COVID-19 vaccinations continues to constrain demand, potentiating a widening production surplus. This is accentuated by surging cases of COVID-19 in Brazil since mid-March 2021, where public sentiment is turning against President Bolsonaro for perceived poor handling of the pandemic. Social unrest and further Brazilian lockdowns presents bearish sugar price risk, due to waning fuel demand.