On 5 March the EU and US announced the decision to suspend tariffs which had been imposed in the Boeing – Airbus trade dispute for four months. The temporary suspension was enacted to "allow the EU and the US to ease the burden on their industries and workers and focus efforts towards resolving these long running disputes at the WTO."
The list of tariffs lifted includes the current 25% EU tariff on shelled and inshell US peanuts which has been in place since November 10 2020. The joint statement addressing the suspension can be found here.
The removal of these tariffs means that US peanuts are competitive once again in the European market. For reference on 5 March 2021 the Mintec Benchmark Price for US peanuts CIF Rotterdam was assessed at $1,420/mt. This compares to $1,530/mt and $1,550/mt for the Mintec Benchmark Prices for equivalent Brazilian and Argentinian origin peanuts.
The US has been the most competitive into Europe on a CIF basis for many months, however the tariff pushed DDP pricing above South American alternatives. This allowed Argentinian and Brazilian exporters to move up prices and remain the most competitive origins. The yellow point on the graph below shows the impact that adding 25% onto the US peanut price has compared to the other major origins. With the 25% tariff removal the US has once again set a floor to the European market limiting upward movement in South American prices until US stocks are depleted.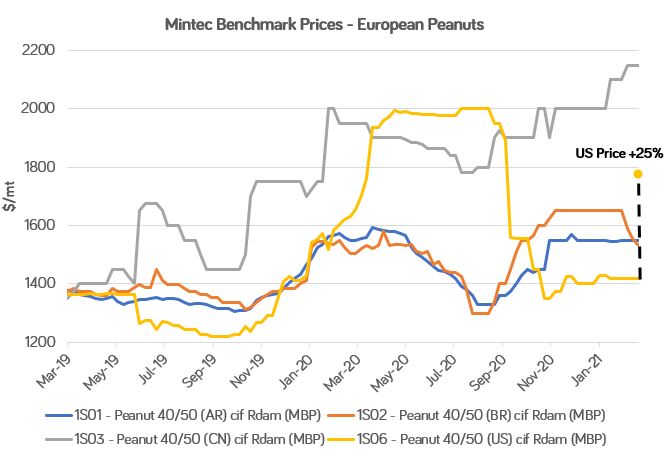 One European based trader stated – 'With strong Chinese buying activity and the expected cuts to US planted area I still think the underlying fundamentals are bullish for peanuts now. This being said, the tariff removal definitely puts pressure on South American prices if they want to be able to sell to EU buyers. Unless US prices move up, it seems likely that new crop prices from Argentina and Brazil will have to move down.'
We will continue to monitor the impact of this news on the market as it develops and will release an update in the weekly Mintec Peanut Market Report released each Friday.