The negotiations over a free trade agreement between the EU and Mercosur (Argentina, Brazil, Paraguay and Uruguay) were concluded on the 28th of June 2019.
The beef sector is one of the most contentious areas of debate surrounding the EU-Mercosur FTA. Several farming groups and EU agricultural representatives have voiced opposition to the deal, saying the surge of South American beef exports to Europe threatens the livelihoods of EU farmers.
EU farmers have raised concerns that EU beef will not be able to compete with South American beef, taking sales away from EU farmers. At the same time, they have also signalled that South American beef imports can fail to meet EU standards on traceability, food safety, animal health, environmental and labour law. The cheaper methods used to produce South American beef means that it is likely to undercut beef prices produced in the EU.
Click here for a summary of the new quotas and tariffs.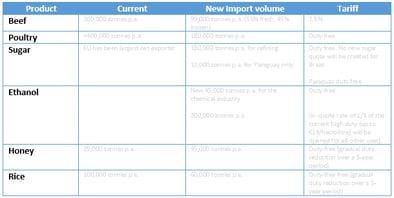 The EU-Mercosur deal allows for 99,000 tonnes of South American beef to have free access to the EU market, which is down from the 300,000 tonnes that EU officials claim South American countries initially sought after in early negotiations. EU sanitary and phytosanitary standards will also not be relaxed and remain non-negotiable in the agreement. This means that no hormone beef or genetically modified organisms (GMOs) will be accepted.
Regardless of the conditions of the deal, EU farmers already compete with South American beef within their import quotas. The influx of more beef will prove a challenge to EU beef sales. Furthermore, with the imminent Brexit deal which is set to limit the UK as an export market for EU beef producers, especially in Ireland, many are concerned about the future of their beef exports.