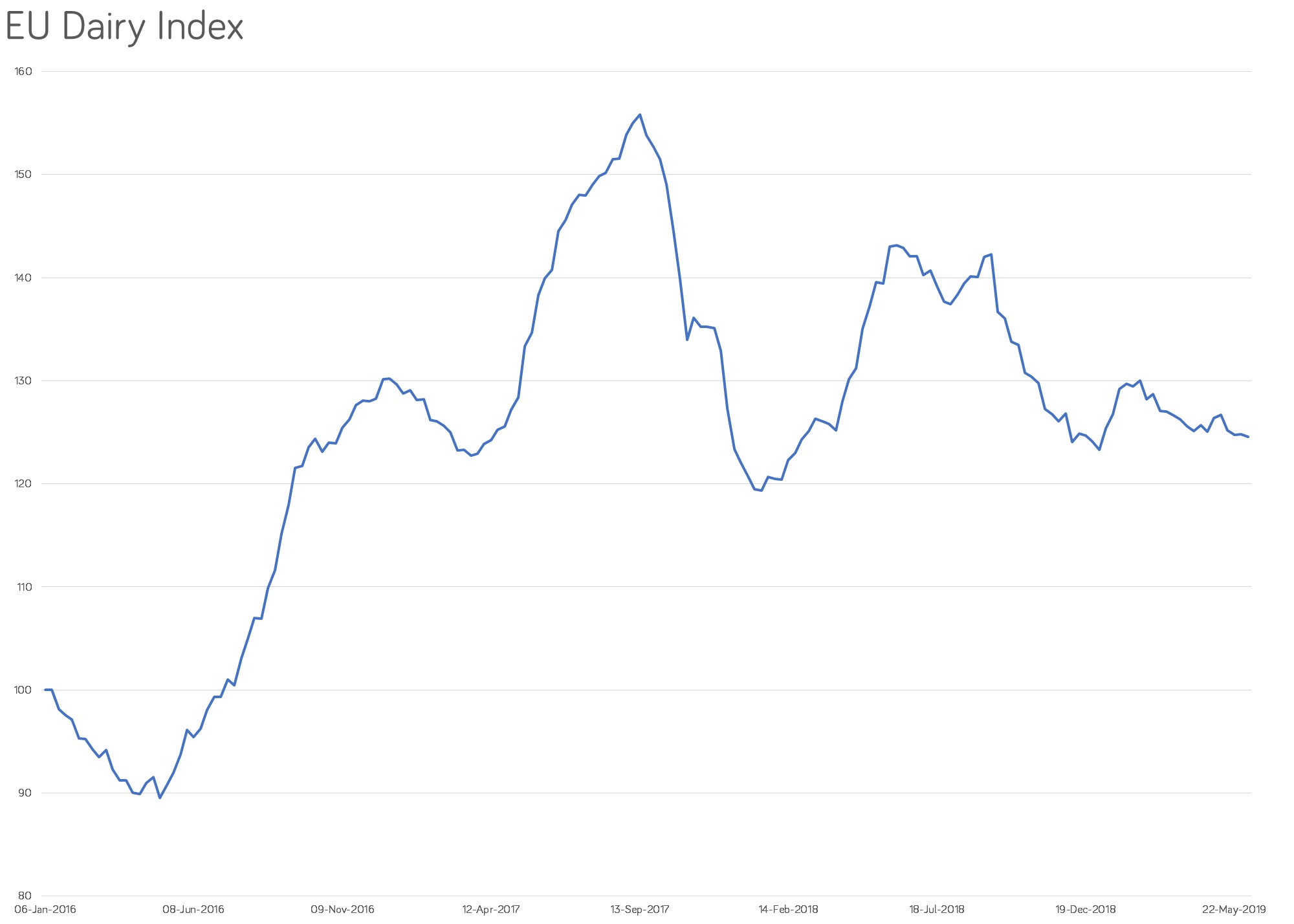 After steadily rising through April, the Mintec EU Dairy Index dipped slightly through May, driven by the decline in butter and cheese prices. However, EU SMP prices continued their revival by increasing through the month.
Butter
EU butter prices dropped 0.8% m-o-m in May because of lower buying interest. The unseasonably cool weather in Europe has dampened demand for butter, leaving EU butter stocks to be estimated up 20% y-o-y. At the same time, the premium of EU butter over Oceania butter prices in Q1 2019 reduced export interest, pushing prices down. However, the low production levels and drought in Australia and New Zealand have caused Oceania prices to recently rise above EU butter prices, meaning export interest is more likely to return now EU butter prices are competitive.
Cheese
EU cheese prices dropped 2% m-o-m in May to continue their downward trend since the start of April. Between January and March, prices consistently rose upward as production dipped in February while exports between January and March grew 2% y-o-y with export growth seen in the US (+6%) and Japan (+27%). The traditionally high production month of May has contributed towards the reversal of this trend.
SMP
EU SMP prices jumped 7% m-o-m in May and are up 13% y-o-y. Strong demand for SMP has been behind the rise with domestic contracting active within the EU. This has been accentuated by the tightening volumes of SMP available on the spot market. The tender for EU intervention stocks on the 21st May sold 925 tonnes, leaving only 162 tonnes left in stocks.