Global salmon prices continue to gain support from easing lockdown restrictions across key western hemisphere consumer markets.
At NOK 69.7/kg (EUR 6.85/kg), the average spot price (FCA) of Norwegian farmed salmon reached a three-year high, increasing respectively by NOK 8.22/kg (+13.4%) month-on-month (m-o-m) and by NOK 11.1/kg (+18.9%) year-on-year (y-o-y) in May 2021. This is largely attributed to robust demand from Europe, most notably France, the UK, Poland and Denmark. Consumption growth in the former two countries is largely attributed to COVID-19 restrictions easing, thus supporting demand from restaurants, hotels and other foodservice vendors. Poland and Denmark, on the other hand, are key hubs that process imported salmon into value-added cuts, such as fillets and smoked fish for re-export, further supporting European out-of-home demand.
At USD 6.85/kg, May 2021 average monthly price of Chilean farmed salmon reached the highest level recorded since Mintec started tracking the series in February 2012. The latest price average surpassed the 21-month high of April 2021 by USD 1.8/kg (+27.7%) m-o-m, while also gaining USD 3.8/kg (+99.3%) y-o-y. The upward price momentum of 2021 reflects tight Chilean supply, caused by high fish mortality rates, in conjunction with improved demand sentiment, most notably, bullish export demand to the US, Chile's largest salmon market.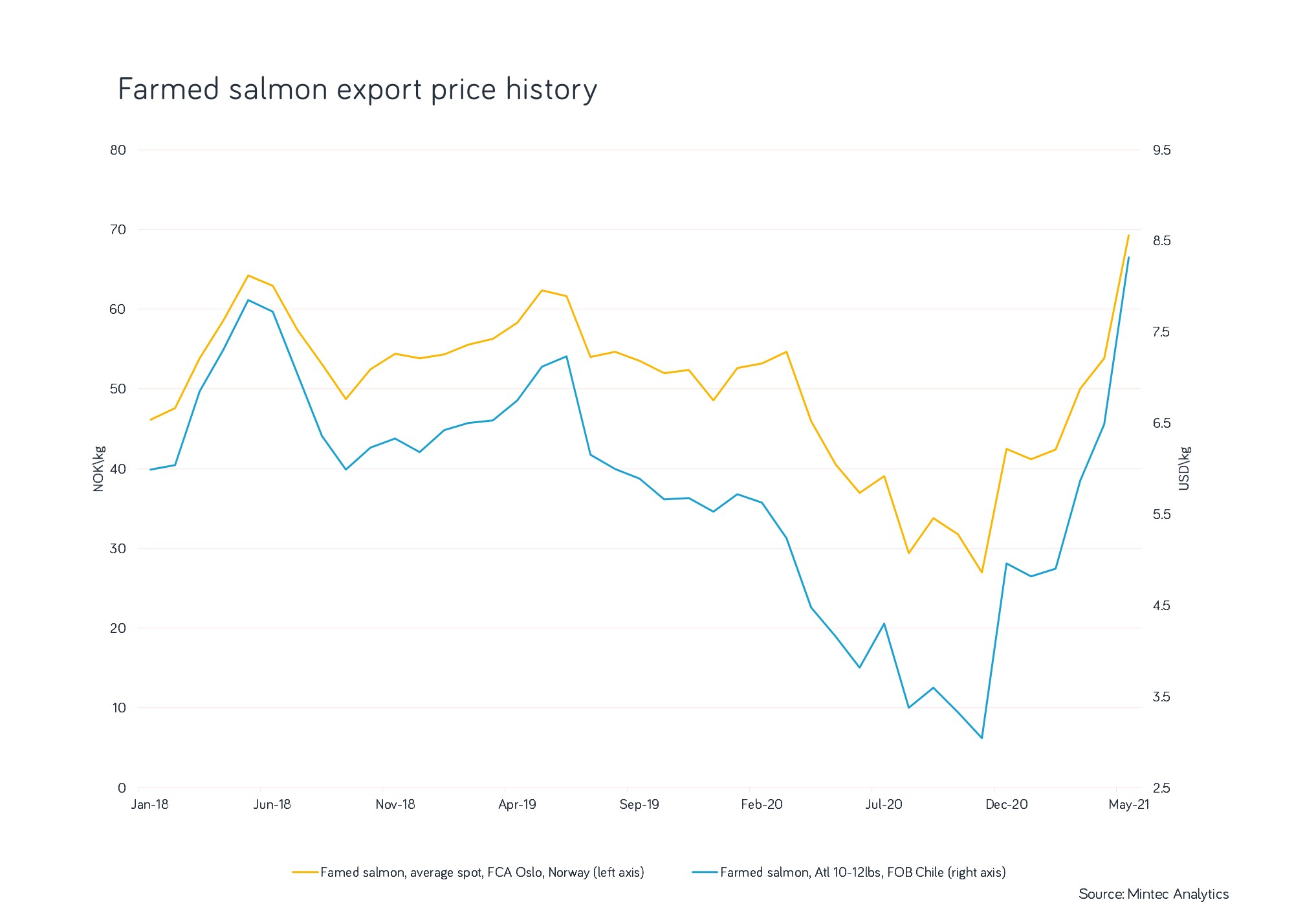 Tight supply, coupled with improving export demand, is expected to fuel a bullish salmon market during H2 2021. The upside price potential is heightened during the summer months, due to warmer nights, and COVID-19 vaccination programmes, shielding infection rates. Thus, supporting salmon demand for barbecues and al fresco dining, as well as indoor foodservice demand.