Coffee diffs across the board remain firm compared to this time a year ago. Weaker terminal markets are combining with limited old crop at origin and large roaster inventories to suppress demand in the forward market, meaning that most trade continues to be predicated around the spot market.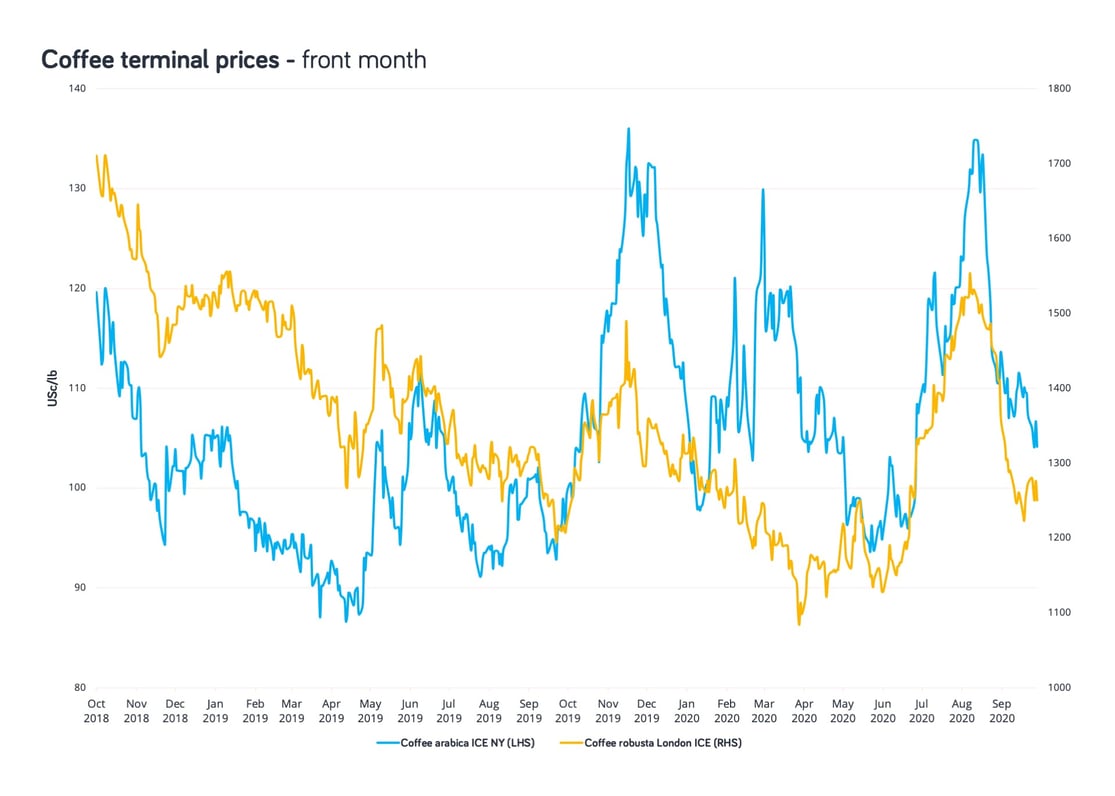 In Central America, many countries are approaching their main harvests, and general expectations in the market are that we may see diffs start to ease looking ahead into 2021 as more supply becomes available, despite some of the challenging COVID-related labour issues that could impact total production. In Peru, for example, there is little to no coffee available right now ahead of the main shipping period, and therefore few forward quotes for certain varieties. As a result, our MBP for Peru MCM organic remains at +52c/lb above the 2nd futures month in NY (MAR21).
Having said that, we are already seeing the diffs price in new crops in early 2021 in many origins. As a reminder, Mintec's benchmark price coffee diffs are assessed above the second futures contract, which has recently rolled to MAR21 in NY and JAN21 in London. Because of this, many diffs are showing decreases in the forward market that would not be seen in the spot market.
◦ MBP Brazil Santos 2/3 17/18 has fallen from -8c/lb last week to -14c/lb this week as we roll from DEC20 to MAR21.
◦ Colombia Excelso EP has fallen from +52c/lb over DEC20 to +47c/lb over MAR21.
◦ Honduran organic SHG is down from +54c/lb over DEC20 to +40c/lb over MAR21.
◦ Vietnamese grade 2 (5% b&b) robusta is down from +$270/mt over NOV20 to +$180/mt over JAN21.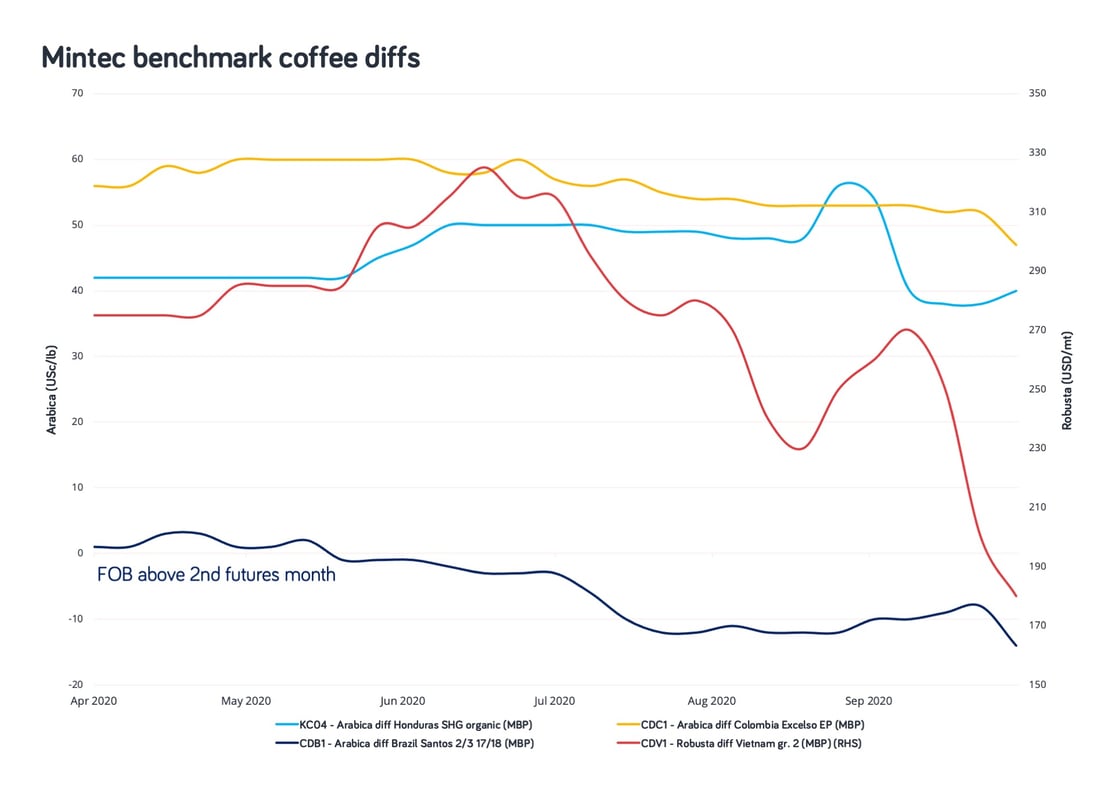 Another data point that has captured the attention of traders is the stock levels – GCA stocks in the US continue to draw down to 6.4m bags from a high of nearly 7.0m bags in June; this could be interpreted as a sign of additional demand coming back to the market, but could also simply be seen as less supply making its way from origin to the US, with most traders we speak to favouring the latter interpretation. On the other hand, certified stocks, most of which are held in Europe, have begun to slowly increase this month from near twenty-year lows, buoyed by grading and acceptance of shipments of semi-washed arabica from Brazil. Current ICE stocks sit around 1.1m bags, with Brazilian deliveries having increased by around 36,000 bags since the beginning of October. As diffs remain generally elevated, particularly in the spot market, there is little incentive for producers and exporters in traditional Central American regions to deliver to the exchange and forego the premiums they could currently command (assuming that there are buyers to be found). One quandary facing exporters is whether to trade new crop from producers when it becomes available and continue to sit on inflated stock levels, or prioritise selling current inventories, which could come at a material disadvantage to farmers.
In addition to the stock levels, recent dry weather in Brazil has captured traders' attention, with recent rains in late September not able to boost soil moisture before the hot temperatures caused most of it to evaporate. We are now seeing good rains in the forecast which has seen managed money in NY trim their net long positions from +51.2k lots in mid-September to +18.5k lots last week. As always, a weaker terminal price will tend to support diffs.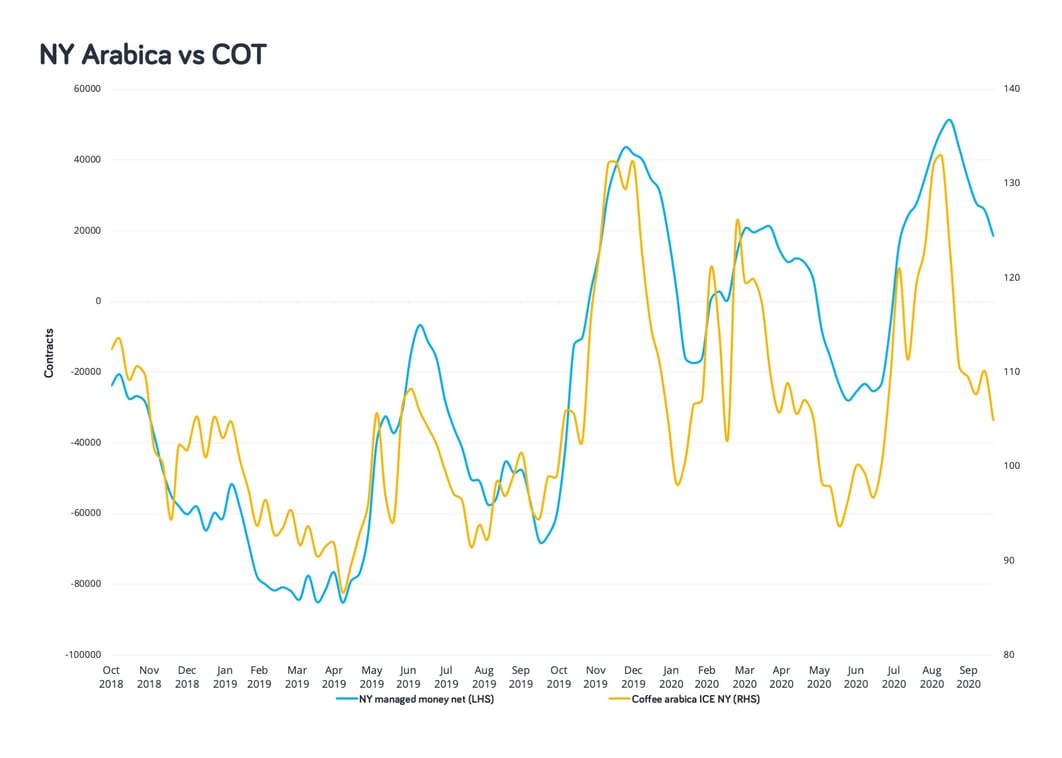 If you have any additional questions, please feel free to contact me at andrew.moriarty@mintecglobal.com.