For the month of September 2020, average cocoa futures prices at the respective InterContinental Exchanges (ICE) in New York and London increased by 5% and 8% month-on-month (m-o-m) to USD 2,598/MT and GBP 1,828/MT (USD 2,362/MT). These latest prices reflect bullish investor sentiment, amid poor growing conditions in West Africa and low ICE warehouse stocks, in addition to uncertainty surrounding the upcoming presidential election in Cote d'Ivoire, the world's top cocoa producer and exporter. Indeed, the respective September price average at London and New York were 16% and 17% higher than the price floors of July 2020.
Despite charting strongly upwards since mid-July 2020, supply and demand fundamentals suggest the firm price momentum will soon reach its ceiling. Improving weather conditions in West Africa at the start of the 2020/21 season (October to September) are expected to offset low production in the 2019/20 season. The COVID-19 pandemic continues to weigh on cocoa consumption in the major western hemisphere markets, due to its impact on tourism and retail demand, and fewer impulse buys.
The IMF predicts an economic rebound in the year ahead leading global GDP to increase by 5.4% year-on-year (y-o-y), which may support improved demand through higher disposable incomes. However, the GDP growth projections should be contextualised from a recessionary base level that is significantly below the ten-year average. Thus, any potential demand growth is likely to be outpaced by supply, supporting the view of a growing global surplus and bearish price outlook.
Notwithstanding, firm price potential is seen to late-October 2020 in the run-up to the Ivoirian presidential election that will take place on 31st October 2020. If elected, incumbent president Alassane Ouatarra has promised to increase the fixed farmgate price paid to local cocoa farmers by over 20% to CFA 1,000/kg (USD 1.84/kg) for the 2020/21 season. While this could be a political tactic to gain support among the majority smallholder farmer population, the announcement coincided with a spate of buying from mid-September and large importers may strive to place beans in warehouses, anticipating further price increases. Thus, the current upward momentum may persist up until the election result, before softening thereafter, as the west African supply outlook improves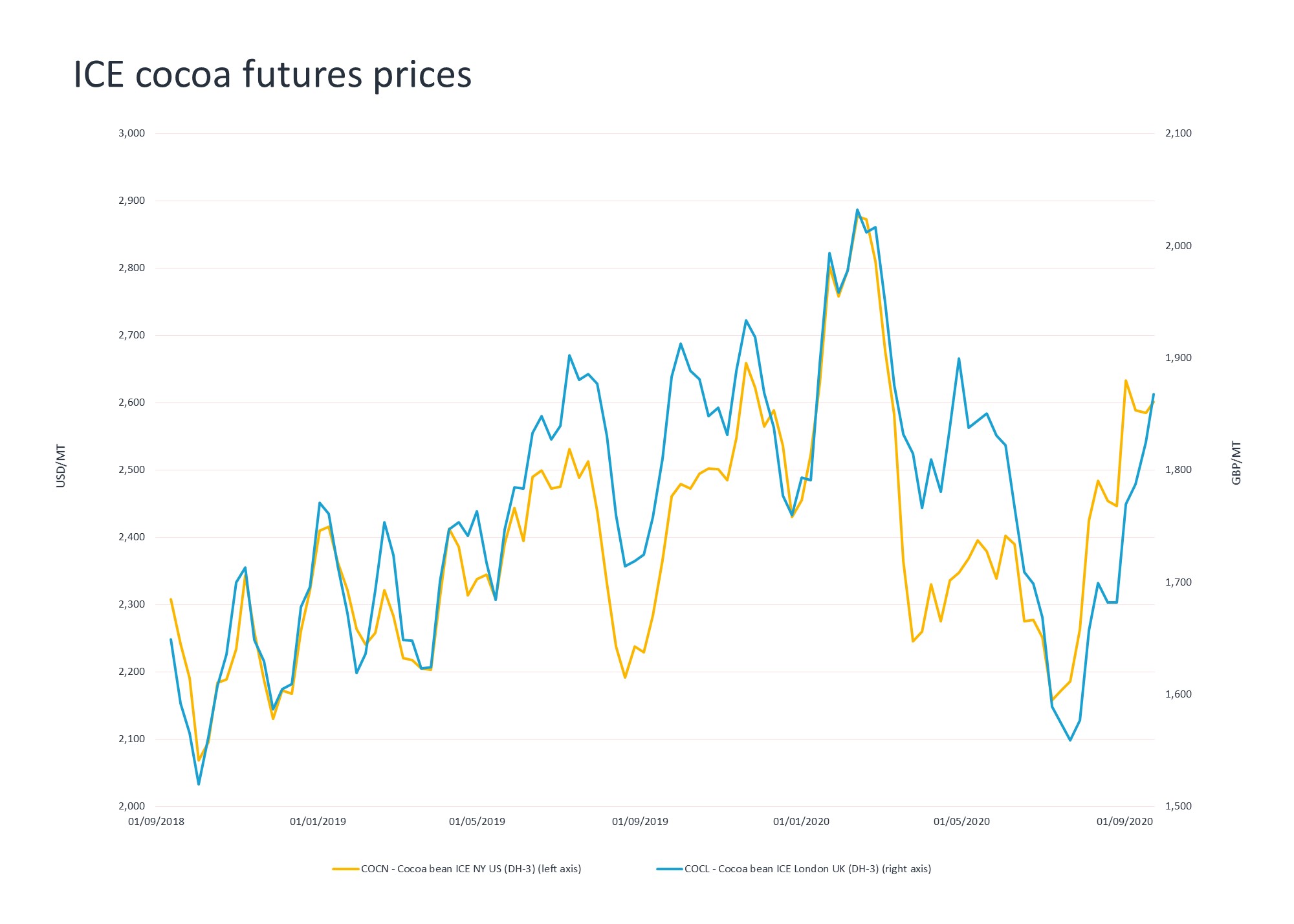 .