Exchange-traded cocoa prices have been on a wild upswing, rising $429/mt between November 13th November 25th as a result of a big chocolate manufacturer (later reported by Bloomberg to be Hershey) buying significant volumes of contracts in New York with the intent to take physical delivery. On the back of this, funds bought heavily into the market which further fuelled the price rise and trickled down to the London market. While the Commitment of Traders report published during the week of November 23rd in the US will be delayed due to the Thanksgiving holiday. Nevertheless, look to next week to get a sense of just how large the movements have been.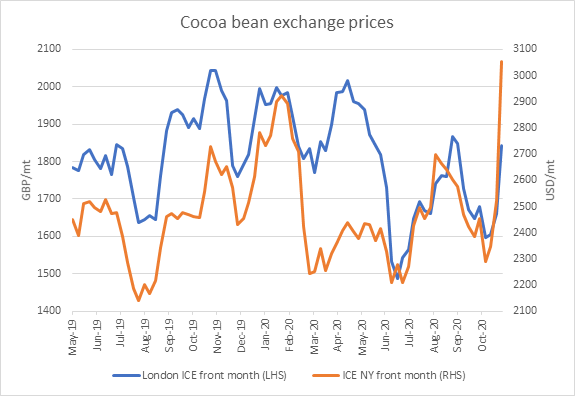 The reason given for Hershey's initial decision to take delivery from the exchange was to avoid paying steep origin premiums on the beans which will also have no Living Income Differential attached. These two concepts are similar but separate price functions.To elaborate, beans exported from either Cote d'Ivoire or Ghana, the world's two largest producers, have a $400/mt Living Income Differential (LID) added to the market value of the beans. Bear in mind that although the exchange does not specifically include the LID, all African origins are delivered flat against the London exchange, so in principle at least, London should reflect the cost of African cocoa. However, let us work through an example to see why Hershey did what they did:
On November 25th, the Conseil du Café-Cacao in Cote d'Ivoire is selling beans spot for CFA 1,643/kg (USD 2,982/mt). The front month contract in London (DEC20) is currently trading at £1,844/mt (USD 2,462/mt)[1]. This leaves a gap of $520/mt between the physical and the financial price. If we know the LID to be $400/mt, we can then deduce that the origin premium for Cote d'Ivoire beans today is an additional $120/mt.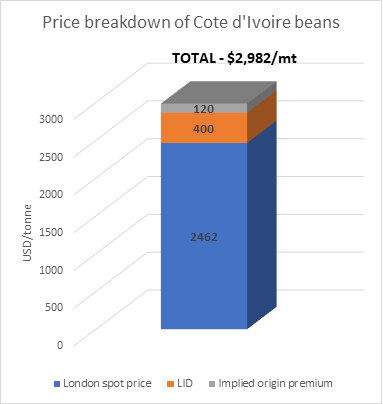 This implied origin premium of $120/mt today is the basis of the dispute widely reported, with processors reaffirming their commitment to the LID yet imploring the government bodies in Cote d'Ivoire and Ghana to minimise or eliminate this implicit origin premium. However, in practice this would come close to a pricing mechanism whereby beans are sold at a $400/mt premium to London.[1] This has already been roundly rejected by these governments, a move which should surprise few.
In the semi-finished markets, the European butter ratios have been falling consistently, but have flatlined over the past week, with the result that the butter price has leapt commensurately with the London price, as has the liquor price. The following are Mintec Benchmark Prices, assessed weekly using data points from market participants: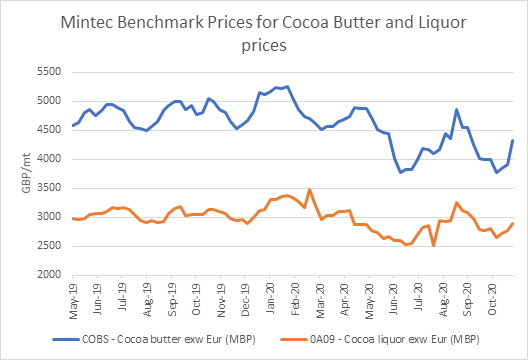 Fundamentals still remain slightly bearish. Arrivals in ports in Ghana are lagging by 10% YTD compared to last year, but in Cote d'Ivoire are running around 11% ahead year-on-year. The ICCO still forecast a 42,000 mt surplus in the 19/20 year, though many industry sources put that figure well above 300,000 mt. Estimates for 20/21 production vary, but again industry sources see it being generally in line with, if not higher than, 19/20 production. Recent political unrest in Cote d'Ivoire, where President Ouattara won re-election to a controversial third term, have led to sporadic violence that has forced some road closures. However, this has so far had minimal effects on the cocoa industry, with some bean arrivals slightly delayed but overall no appreciable impacts. The only concern right now is the slightly dry weather as the Harmattan winds come through – soil moisture remains good, but more rain soon would put the midcrop yield in a better position. The trend is thus very similar to last year, with strong port arrivals in the main harvest pairing with drier weather late in the year that slightly reduced the size of the midcrop.
If you would like to discuss any of the points above, please feel free to get in touch at andrew.moriarty@mintecglobal.com or on +44 7776 211272.
[1] All prices converted to USD on 25 Nov to more easily show the application of the LID.
[1] West African beans are part of 'Group A' in New York, which are delivered at a $160/mt premium to the NY price. 'Group C' beans in NY, which are delivered at parity, mainly consist of Southeast Asian origin beans. This would imply that, if origin premiums were excluded, Cote d'Ivoire and Ghana beans would be $560/mt more expensive than NY, all else being equal.