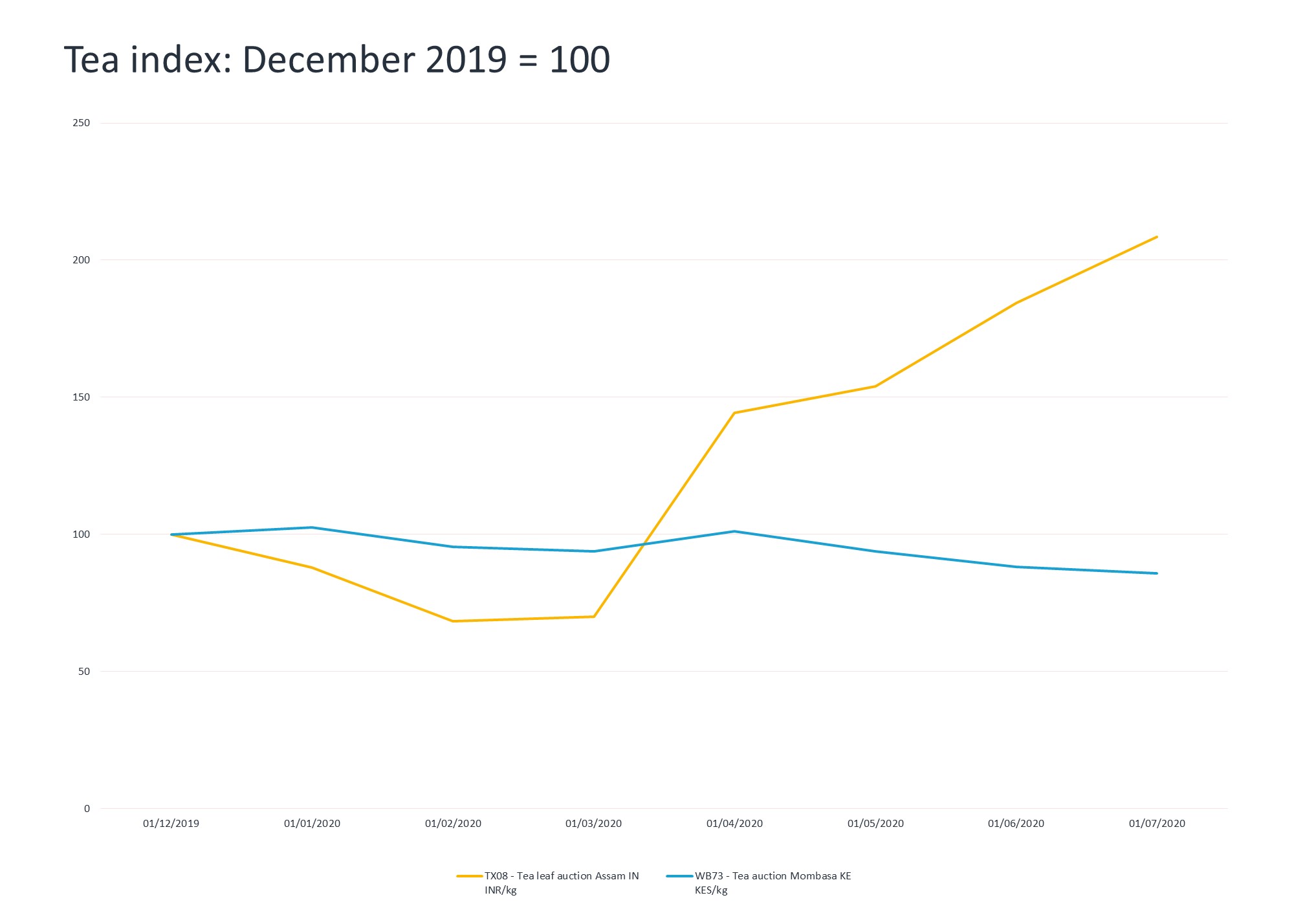 Supply tightness in Indian tea production continues to support firm domestic prices, as has been the trend since early Q2 2020. The Mintec auction price of Assam tea leaves averaged INR 3.71/kg in July, representing 59% year-on-year (y-o-y) growth and almost 200% above the INR 1.25/kg floor recorded in March 2020. This is Mintec's highest recorded price, underpinned by a significant y-o-y shortfall in production this year. The Indian supply situation is so dire that the world's second largest exporter is considering supplementing domestic production with imports for the first time.
Mintec reported in April that the Indian Tea Board expects domestic output to fall by around 10% y-o-y in 2020 (roughly 150,000 tonnes), due to the COVID-19 impact. The lucrative 'first flush' harvest in the main producing region of Assam, which typically starts around mid-March, coincided with the start of lockdowns across India. Late and incomplete first flush harvests carried over into the June 'second flush', further denting output. The shortage is being compounded by severe flood damage in Assam, which typically comprises more-than half of India's annual tea supply.
The severity of the shortfall makes it increasingly likely that India will import tea for the first time, in order to maintain exportable supply levels, particularly for packet tea exports. The Indian Tea Traders Federation (FAITTA) is awaiting governmental permission to begin import activities, with Kenya and Vietnam seen as the most likely source partners. Interestingly, Kenyan tea prices have remained relatively flat during the pandemic, on the back of robust production. Conversely to India, Kenyan tea can be harvested all-year round and output has increased by 28% y-o-y thus far in 2020. At the same time, thin global demand is contributing to record Kenyan stockpiles. Consequently, duty-paid Kenyan tea imports into India remain comparatively cheaper than Indian auction prices.
Despite firm export prices, Mintec expects high production costs to keep a lid on any potential margin gains for Assam tea exports during the remainder of Q2 2020. At the same time, Indian export market share will likely be eroded by strong competition from lower-cost Kenyan and Vietnamese product.