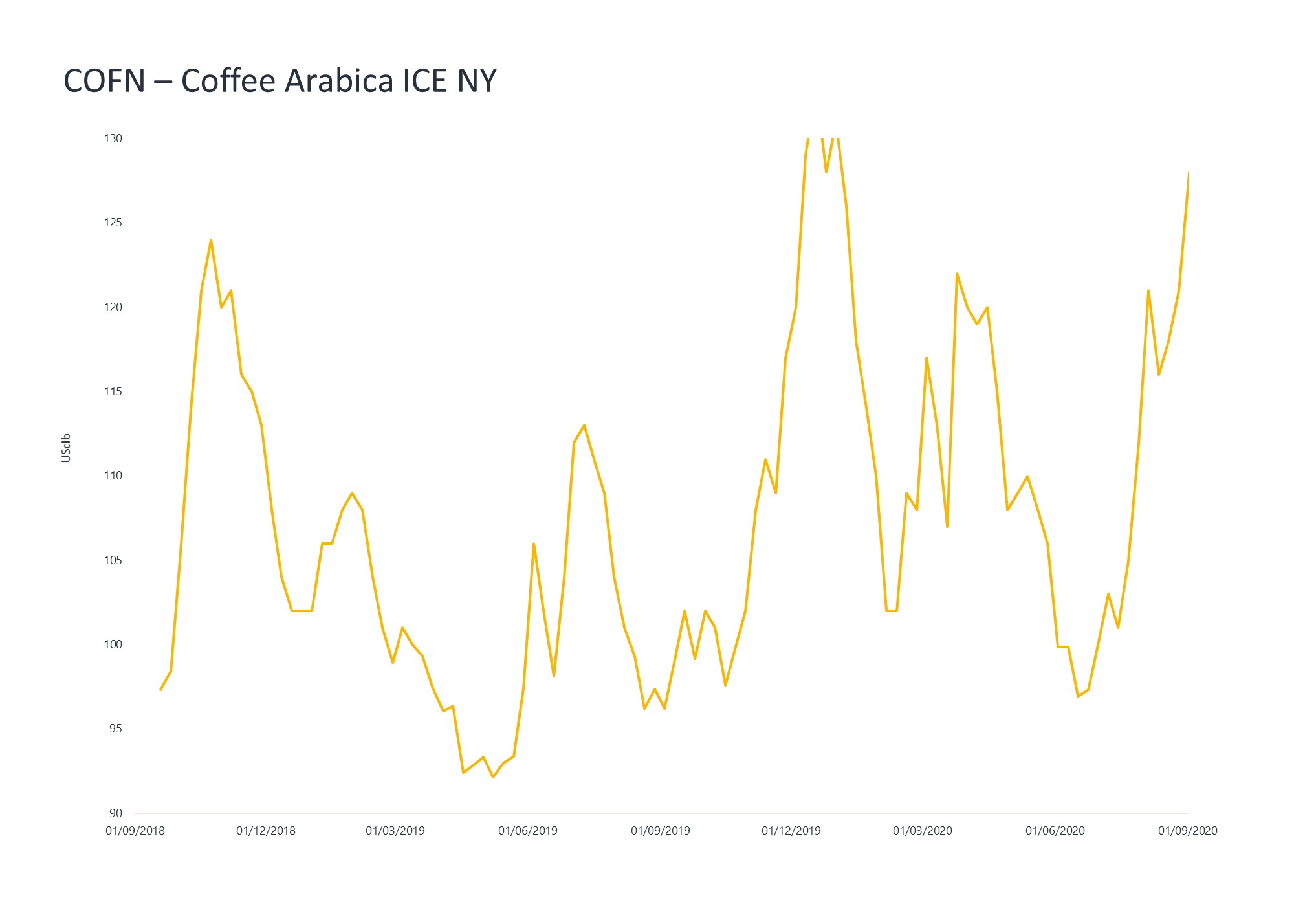 Brazilian coffee farmers anticipate production losses to the 2020/21 crop, as a result of dry conditions afflicting the main growing regions. Unseasonable aridity is noted in Minas Gerais, Brazil's top coffee-growing state, with 23mm total precipitation recorded in the two-months to 11th September, compared with 68mm historical average levels during this period. At this level of dryness, fruiting trees are close to maximum stress levels, according to coffee experts, ultimately reducing yield potential. Soil dryness was one factor contributing to Arabica futures at the NY InterContinental (ICE) increasing by USc 12/Ibs to USc 128/Ibs in the three-weeks ending 2nd September – the highest price recorded since January 2020. Other factors supporting the price rally include relatively firm demand and increasing levels of investor speculation.
On the supply side, there is ample time for Brazilian growing conditions to improve, as the bulk of the main Arabica crop is typically harvested from May/June. The more optimistic stakeholders anticipate Brazilian soil moisture replenishing on the back of expected higher rainfall from late-Q4 2020 onwards. As of 10th September 2020, the US' National Oceanic and Atmospheric Administration (NOAA) reported a La Niña weather pattern developing across the Americas region, which is likely to persist through February 2021. La Niña is characterized by above-average precipitation over Brazil from November to February, which may be enough to offset the current low rainfall levels.
Brazil has now entered the 'on-year' of its biennial Arabica cycle with output expected to reach 2.9 million tonnes in 2021, according to the US Department of Agriculture (USDA). This would represent a 17% year-on-year (y-o-y) increase and record production. Record Brazilian Robusta output is also forecast in 2020/21 – around 1.2 million tonnes – 10% above the previous year, to offset an anticipated shortfall in Vietnamese Robusta output. Overall, fundamentals suggest global coffee supply to outweigh demand over the next year, with global ending stocks predicted to rise sharply by 18% y-o-y in 2020/21 to six-year highs. Thus, a downturn in global exchange prices appears imminent, as the market is over-supported at current levels.
Non-exchange price differentials (diffs) have fallen during the recent futures rally. The premium for Colombian Arabica (Excelso EP, washed, FOB) against NY ICE Arabica fell by USc 7/Ibs in the eight-weeks ending 9th September according to Mintec's Benchmark Price (MBP) series. However, at USc 53/Ibs the Colombian diff sits significantly above typical values, which normally average around USc 30/Ibs. This is due to comparative supply tightness for LatAm producers outside of Brazil, attributable to low stock levels, in addition to freight disruptions and a lack of producers committing volumes forward. High quality Colombian coffee has continued to attract firm at-home consumption demand through the COVID-19 pandemic, further supporting the high diffs. The Brazilian diff (Santos grade 2/3, unwashed FOB) stabilised around USc (-)12/Ibs discount to NY in the first nine days of September 2020, compared to a premium of USc 3/Ibs in early May 2020. The higher discount seen in September is largely the result of higher terminal prices, despite the USD weakening 12% against the BRL during the six-months ending 9th September 2020