The weekly average price of Russian-caught Alaska pollock reached RUB 129/kg on 16th February 2022, which is the highest weekly price since 22nd April 2020. Indeed, the Russian pollock price has increased gradually, since flooring at RUB 96.5/kg in early-August 2021. The rally may be attributed to subdued export availability, due to a slowdown in Russian landings, against an improving demand backdrop.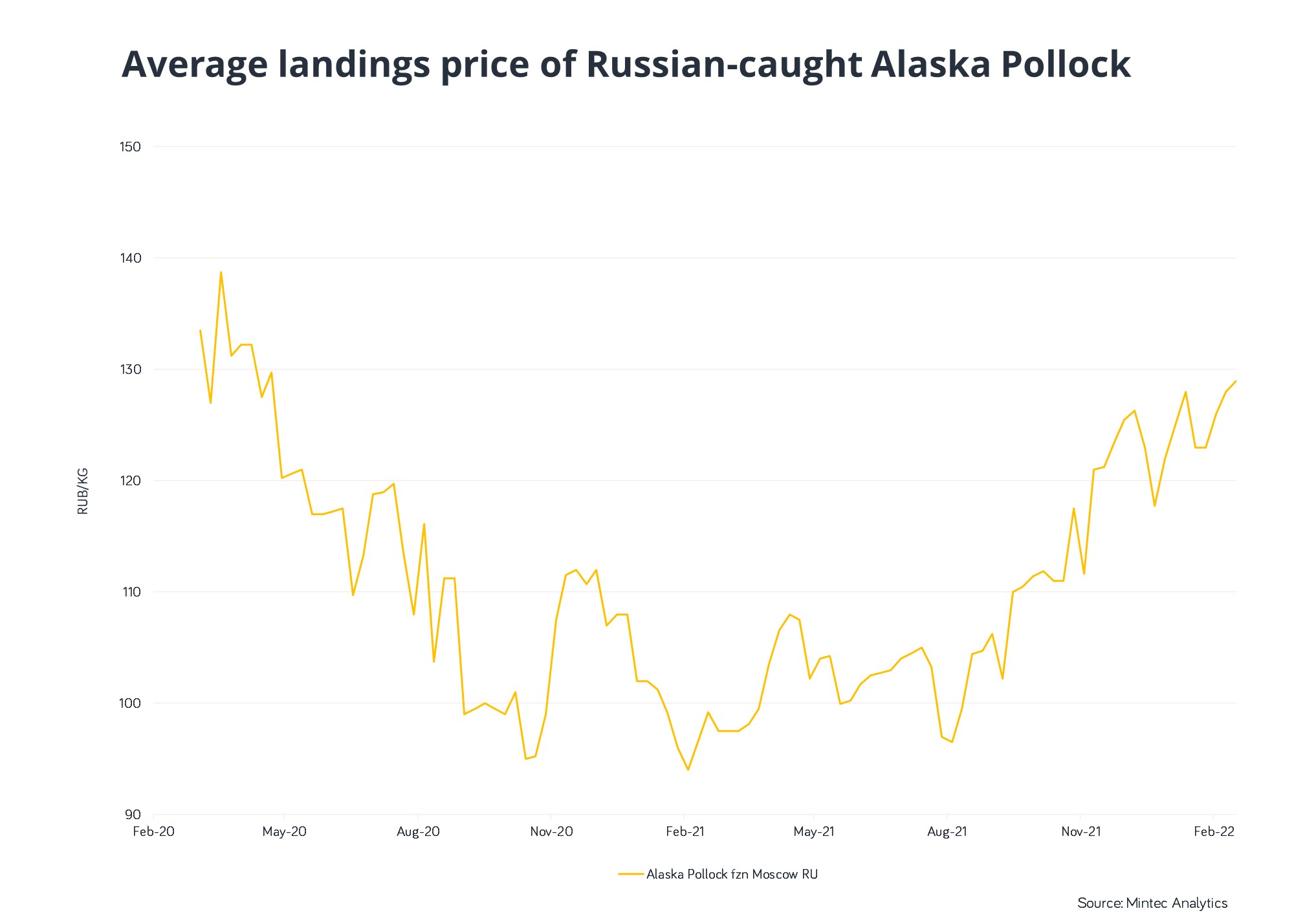 Russia is the world's largest producer and exporter of Alaska pollock, a versatile white fish that is popular for human consumption, as well as an animal feed ingredient. Russia typically exports Alaska pollock to China for further processing into fillets, mince, and surimi (a paste that is used in sushi, fish-fingers, and crab sticks, for example). Thereafter, these value-added products are re-exported to consumer markets around the world, including Europe and the Americas. However, China implemented a ban on Russian seafood imports in January 2021 due to concerns regarding COVID-19 traces detected on inbound packaging. The lack of Chinese demand prompted Russian fleets to slow fishing activities, which incrementally tightened Russian supply, prompting the price rally.
Russia has also invested substantially in building domestic processing capacity since 2020, as a strategy to increase local manufacturing, thus reducing reliance on Chinese pollock factories. This also enabled Russia to diversify its global footprint by increasing processed pollock exports directly to Western Hemisphere markets. However, the Ukraine-Russia conflict will likely curtail the supply of Russian pollock to Europe and the Americas, intensifying inflationary pressures on pollock sourced from the US and other origins. China lifted the restrictions on Russian seafood imports in January 2022, fuelling robust demand, while also providing Chinese exporters the opportunity to increase pollock volumes and margins to Western buyers.