In November 2021, Mintec's US Christmas Dinner Index indicated an upward movement in the run-up to Christmas amid rising key commodity prices. The index shows that US consumers will be paying more (+ 15.4% year-on year (y-o-y)) for the commodities that typically go into their Christmas dinner. The movement of the index is largely driven by the significant price increase in the commodities part of the main meal (+14.2% y-o-y), whilst also being supported by the dessert ingredient prices (+35.8% y-o-y). Mintec has also developed Vegan Christmas Dinner Index for 2021, using its proprietary prices for plant-based proteins, which rose by 7.3% y-o-y.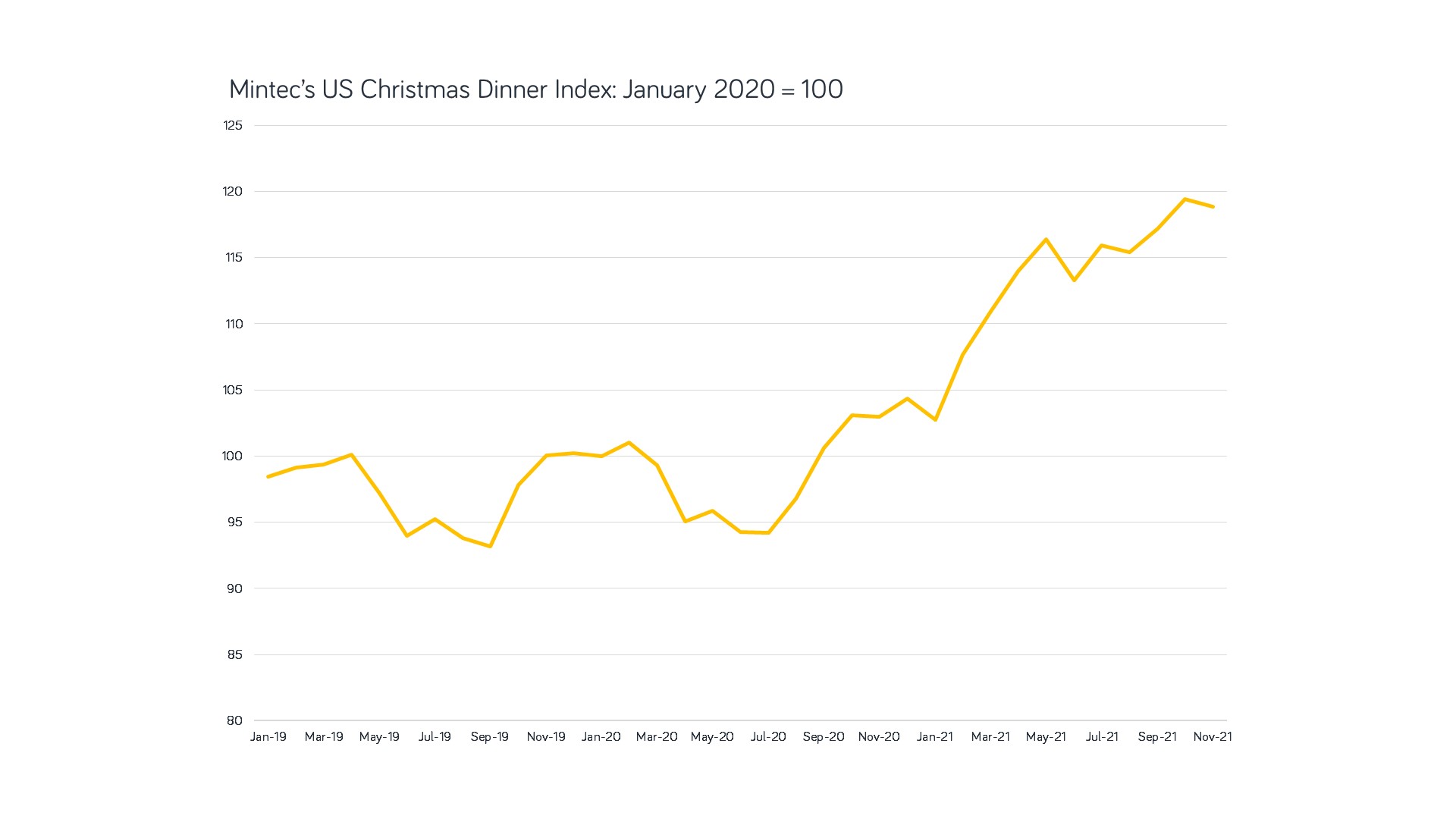 Source: Mintec Analytics

Breakdown by Components

Main Meal Index (turkey, pork, potatoes, carrots, turnips)

The main meal price increased by 14.2% y-o-y in November 2021. Turkey and pork comprise approximately 56% of the share in the US Christmas main meal. Turkey and pork prices have been trending upwards recently, thus, driving the cost of Mintec's US Christmas Dinner main meal higher.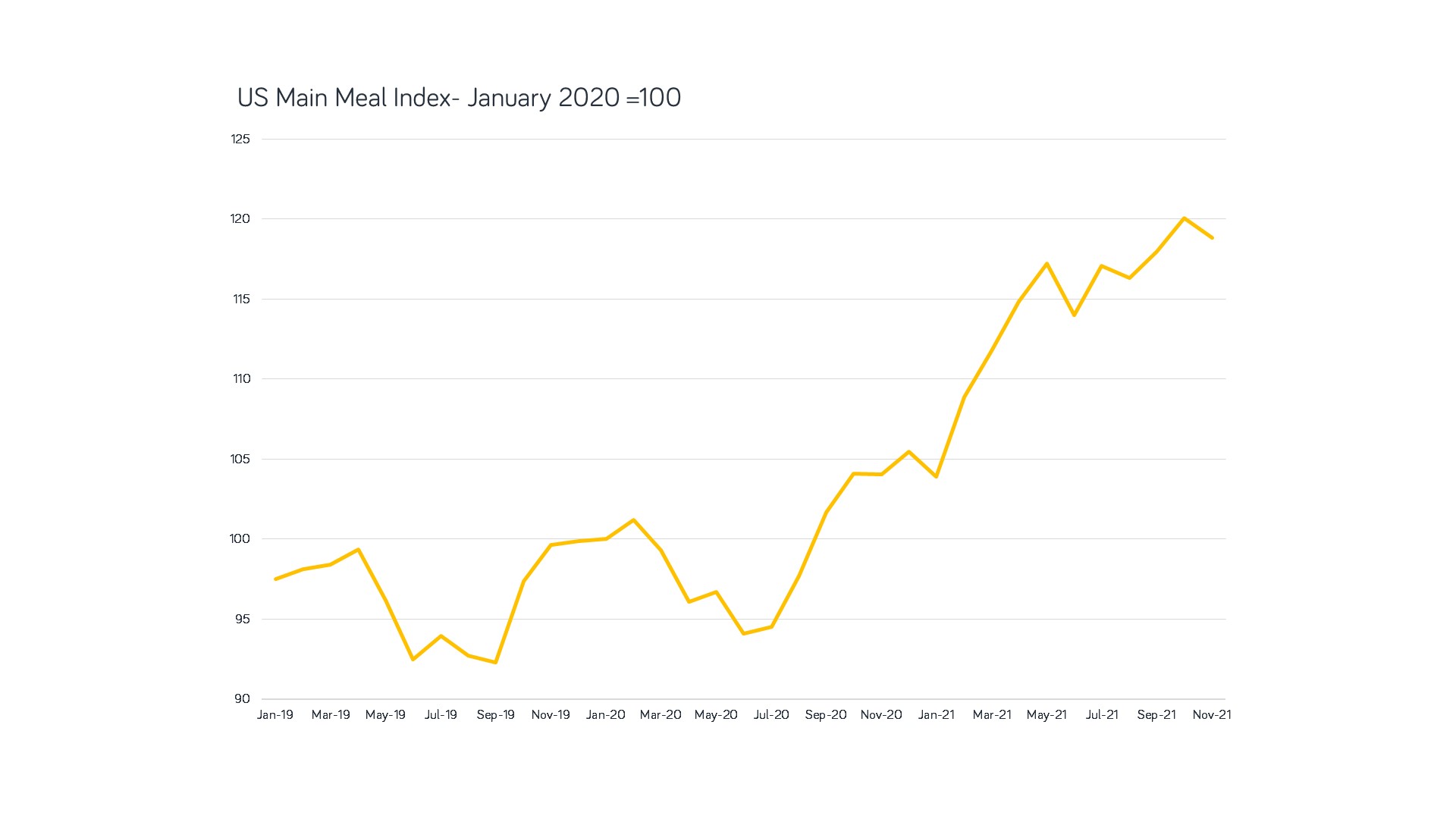 Source: Mintec Analytics


Turkey

The US monthly average turkey price rose by 11% y-o-y to USD 3.2/kg in November 2021, in line with a decline in slaughter rates and a y-o-y decrease in average bird weights. In Q3 2021, US turkey production totalled 1.4 billion pounds, down 3% y-o-y. Furthermore, turkey meat stocks in cold storage typically follow a seasonal pattern, meaning frozen stocks build up throughout the year until the fall (autumn). However, in 2021, this build-up has been slower than usual amid high turkey demand in the international market, thus exerting upward price pressure. At the end of August 2021, the National Agricultural Statistics Service (NASS) reported 425.6 million lbs of turkey meat in cold storage, a 20% decrease from the same month last year and a decline of about 10 million lbs from the end of July 2021.

The average US turkey price is estimated to remain firm in December 2021, following a decline in year-end projected stocks to 195 million lbs. Prices are likely to ease in early 2022 with a 1% y-o-y rise in turkey bird placement earlier in September this year, indicating an increase in turkey meat supplies in Q1 2022.


Pork
The Mintec price of US pork trended downwards since July 2021 on the back of lower demand from China, one of the most prominent export destinations for US pork. In July, pork exports to China declined by 62% y-o-y and fell by 49% y-o-y in August. US pork prices fell in Q3 2021, and the bearish trend continued in October when the monthly average price of pork loin and ham reached USD 3.3/kg and USD 1.1/kg, down 11.8% m-o-m and 13% m-o-m, respectively. However, US pork prices have been gaining strength since the end of October and increased by 21.9% y-o-y in November to USD 1.8/kg due to supply tightness in the US market. Labour shortages across the US meat industry have reduced pork supplies on the US market, thus resulting in high pork prices. Also, the subsequent increase in wages for the available processing workers supported the price firmness.
The average US pork price is expected to rise in the short term, driven by high US pork exports. Labour shortage across the meat processing industry could weigh on the pork throughputs and support US prices. Overall, this year, US consumers will face higher costs for the main Christmas meal components.


Potatoes

The Mintec price of US potatoes rose by 17.8% year on year (y-o-y) to USD 0.84/kg in November 2021, driven by declining production following a severe drought that hit key potato producing areas, including Idaho, the top producing state in the US. The overall impact of the drought led to lower yields and a supply shortage, causing a spike in prices in early August, with the upward trend continuing throughout the harvest (September-October) and into November. Excess heat caused a lack of soil moisture, which is a critical condition for the growth of potatoes. As a result, US growers reported lower yields, quality issues and more potatoes of smaller size.
As the festive period approaches in the US, table potato demand is expected to rise following a change in consumer purchasing habits. More consumers opt to purchase potatoes for home-cooked meals such as Christmas dinners, potentially exerting a temporary additional upward pressure on prices.


Carrot & Turnip

The Mintec price of US carrots also increased, by 27.7% y-o-y to USD 1.29/kg, in November 2021, in line with tighter supply following a severe drought and irrigation restrictions in California, the largest carrot producing state in the US. High temperatures on the West Coast during June-September damaged carrot yields as they require a sufficient moisture supply during the growing season. The warmer weather led to supply shortages, which has driven carrot prices higher y-o-y.
In addition, the Mintec price of US turnip rose by 8.9% y-o-y to USD 1.34/kg, in November 2021. The price has recently risen up 20.7% from August 2021 following a rise in input costs.
The current challenges for many US vegetable growers are rising labour, fuel, and freight costs, which are driving production costs higher, thus translating into elevated vegetable prices. The proportion of farm workers willing and able to work significantly declined amid concerns of the pandemic, forcing many farmers to raise wages in attempt to incentivise new workers. A shortage of long-haul truck drivers led to delays with deliveries throughout harvest in October for some farmers, meaning they were unable to transport fresh produce to the shelves, causing high wastage. If the current supply chain disruptions are not resolved, manufacturers will inevitably continue passing the higher costs along the value chain, likely keeping vegetable prices firm in the short term.

US Gingerbread Index (wheat flour, sugar, butter, eggs, ginger)


The blended gingerbread cost rose by 34.8% y-o-y in November 2021.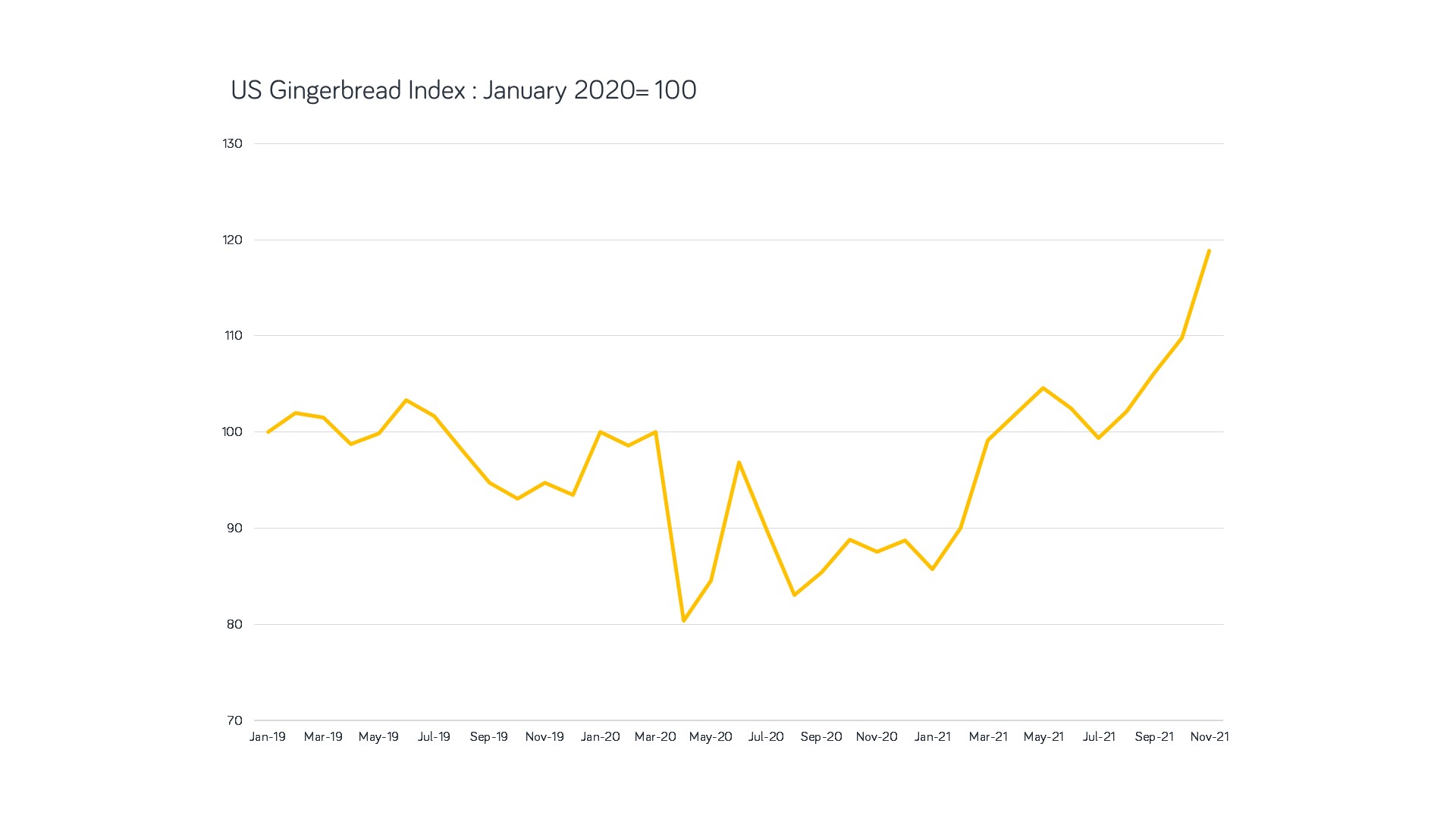 Source: Mintec Analytics


Wheat flour

US wheat flour reached a record high level this year, with the November 2021 monthly average price at USD 0.52/kg, up 51.1% y-o-y. On the demand side, there has been an increase in the home-baking trend spurred by the pandemic and festive baking, resulting in robust flour consumption.

According to the United States Department of Agriculture (USDA) November report, global 2021/22 marketing year (MY) wheat production is estimated at 775.3 million tonnes, down 0.6 million tonnes from October estimate, but remains at the highest on the record. However, in comparison to last season, there are significant production cuts for Canada (-14.2 million tonnes), the US (5 million tonnes) and Russia (10.9 million tonnes), major wheat producing and exporting countries. In addition, the US ending stocks were revised lower in November and are at their lowest since the 2007/08 MY, thus supporting the CBOT wheat price.

Supply chain disruptions, amid strong global demand, due to limited container availability, port congestions, partial regional lockdown restrictions and high shipping costs are likely to impact the availability and transportation of wheat. US farmers are facing higher prices for key inputs, such as fertilisers and energy. Some are likely to opt for planting crops such as barley or sunflower seeds, which are less fertiliser intensive. Consequently, wheat flour prices are likely to remain firm in December 2021. Nevertheless, supply bottlenecks should improve in Q1-Q2 2022, which would cause US wheat prices to edge lower from the current high levels.



Sugar
At USD 0.44/kg (USc 19.75/Ib), the average ICE NY #11 raw sugar (three-month ahead) price increased substantially by USD 0.11/kg (+32.3%) y-o-y in November 2021. This follows a peak in the benchmark which in September 2021 reached its highest price since February 2017.

The NY Sugar price sustained a lengthy rally since April 2020, underpinned by firm demand, combined with tightening supply and rising inflation. Volatile sugarcane yields in Brazil and Thailand, the world's top exporters, and lower total recoverable sugars (TRS) per tonne of sugarcane, have also supported the NY benchmark. Surging crude oil prices have also triggered demand for fuel ethanol, placing further pressure on supply, as sugar mills become more incentivised to produce fuel-ethanol rather than white sugar.

Firm global sugar demand is expected over the festive period, where consumption of confectionary and desserts typically increases. Global sugar stocks are also depleting, as key consuming countries are increasingly drawing from domestic inventories, rather than opting for expensive imports. This is likely to drive further inflationary pressures. However, a relatively bullish short-term price outlook is caveated by the escalating threat of the COVID-19 Omicron variant, which may weigh on buying sentiment, due to rising market uncertainty.


Butter

US butter prices have remained firm in the run-up to Christmas. The November average price significantly increased by 9.6% m-o-m to reach USD 4.35/kg. Overall, the US butter prices have strengthened since November 2020, up by 42.2%, due to the combination of lower butter supplies, in addition to higher demand, both domestically and internationally.

US butter production declined by 1.6% m-o-m in October 2021, bringing the butter production for the January-October 2021 period to 1.75 billion pounds, down by 2.2% y-o-y. Butter production has been trending downward since July 2021, as expected, with downtime due to difficulties finding cream for butter making and labour shortages. Milk processors are channelling more milk to cheese vats, driven by the additional capacity that has recently come online.

Moreover, US demand outpaced supply with the US butter inventories falling for the fourth consecutive month in October. There were 127,680 tonnes in cold storage at the end of October 2021, over 20,0000 tonnes less m-o-m, and a decline of 6.1% y-o-y. However, butter inventories remain ample and are available for near term commitments. In addition, the US butter domestic consumption is forecast to grow by 1.7% y-o-y in 2022, driven by foodservice sales, which held up relatively well during the Delta variant wave, while retail demand was weaker. Also, ample US butter inventories and a prolonged period of US butter price competitiveness in the global markets have boosted US butter export sales, which skyrocketed by 124% y-o-y during January-August 2021 period.
Eggs

The average price of US eggs rose by 2.5% y-o-y to USD 1.2/kg in November, driven by a downward revision in Q4 production from Q4 last year. In addition, egg prices increased in line with seasonality ahead of Christmas, with higher demand stemming from the holiday baking season. Egg prices are likely to remain firm in the short term due to high feed grain prices and as producers accommodate to cage-free system in the US, which will drive production costs higher.


Ginger

The Mintec average November 2021 market price of Chinese origin ginger in Chicago, US, fell by 18 % y-o-y to USD 1.45/lbs. The downward trend continued into December, with prices falling to USD 1.23/lbs on 8th December, down 23% compared to the same time last year.

The decline follows plummeting prices in China, a major producer and exporter of ginger, where the wholesale price descended to CNY 7.09/kg on 1st December, a decrease of 47% y-o-y and 7% month-on-month (m-o-m). The Mintec price of ginger in China sustained a 13-month-long bearish run, after peaking at CNY 14.73/kg on 28th October 2020.

The fall in prices is attributed to plentiful supply in China, following expansion in planted areas as farmers shifted more acreage to ginger, trying to take advantage of attractive ginger prices last year. The land devoted to ginger cultivation is estimated to have increased by between 10-30% y-o-y in 2021/22. Weather has also been generally favourable throughout the growing season, and yields are expected to increase y-o-y.

Amid the falling prices, ginger trade was relatively slow in China in November, and stocks started piling up with producers, according to trade sources. Some of this ginger will be stored at cold storage facilities and farmers will attempt to market it next year, hoping for prices to increase.
Prices in the US have decreased despite the shipping disruptions and soaring ocean freight costs. Freight costs of a 40-foot container on a route between Shanghai and Los Angeles rose by USD 6,000 (+146%) between December 2020 and December 2021, to USD 10,138/unit.

US Plant-Based Christmas Dinner Index (Pea Protein Isolate, carrageenan, corn starch, tapioca starch)


The blended plant-based dinner cost rose by 7.3% y-o-y in November 2021.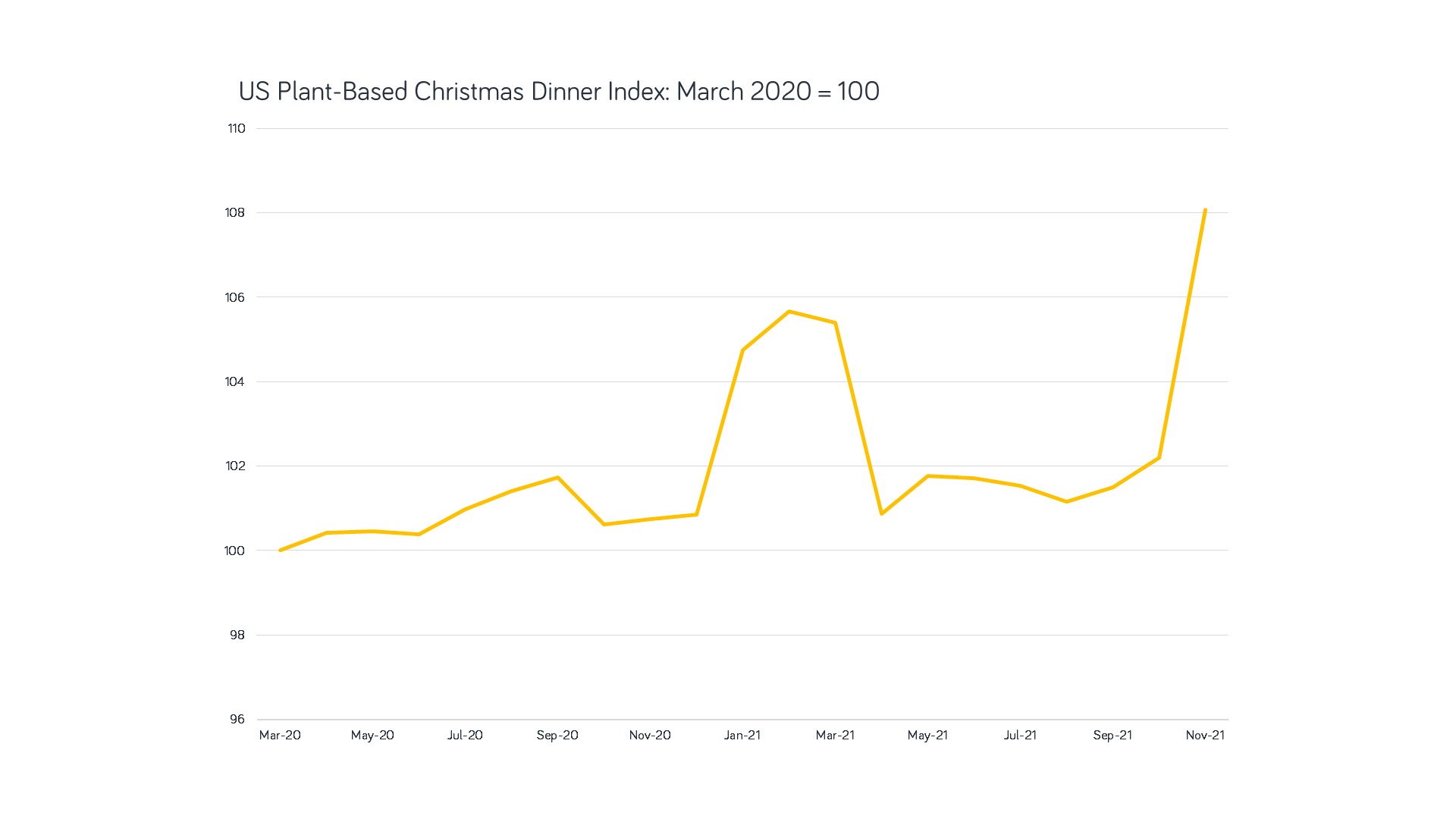 Source: Mintec Analytics


Pea Protein

In November 2021, the Mintec Benchmark Prices for pea protein isolate EXW US increased by 5.2% y-o-y to USD 2.1/kg amid strong market demand. In 2021, there has been rising popularity for plant protein-based meat alternatives, following increased health awareness amongst consumers. During the pandemic, demand accelerated as more consumers opted for vegetarian and vegan options to support a healthier lifestyle.
Moreover, high raw material prices following a short supply forced many manufacturers to increase prices to reduce risk of losses. Furthermore, the pea protein market is facing elevated freight costs, labour shortages and high raw material prices, which will continue to support the bullish market sentiment in the short term.
In addition to pea protein isolate prices, Mintec also publishes global Benchmark Prices for pea protein concentrate, soya protein concentrate, and soya protein isolate.


Maize starch

The Mintec price of maize (corn) starch increased by 41.7% y-o-y in November 2021, to USD 0.34/kg. The US maize starch price follows the CBOT maize price closely, which currently remains firm despite the high production forecast for the 2020/21 MY. The maize price has fallen from the elevated levels seen during summer 2021, but remains high y-o-y, indicating the continuation of robust demand for domestic use, such as ethanol-producing dry mills, wet mills, and livestock feed markets. Additionally, there are concerns about the effects of the probable La Niña phenomenon on South American maize production and the possibility that US farmers may plant fewer acres of maize in the 2022 season, amid high production costs – fertilisers (that make up 40% of maize production costs) and transportation costs, thus support the maize starch price.


Tapioca starch

The Mintec price of tapioca starch increased by 3.1% y-o-y in November 2021 to USD 0.67/kg, driven by robust demand. Tapioca starch is extracted from cassava roots that are used alternative to thicken sauces and gravies in savoury dishes and used as part of a gluten-free diet.


Carrageenan

The Mintec price of carrageenan increased by 3.5% y-o-y at USD 6.29/kg in November 2021. The key upward price driver was growing demand from the food manufacturers with the easing of mobility restrictions during the first half of 2021. However, freight disruptions from China due to COVID-19 screening and port congestions caused problems for exporters in securing container space, leading some food manufacturers to source other alternative food ingredients. As a result, the carrageenan price lost all the gains since September 2021.