Vanilla flavoured chocolates set to deliver higher value for money this year, as consumers are set to pay more for milk chocolates this Valentine's Day
As Valentine's Day approaches, the Mintec Valentine's Day EU and US Indices have been put together to highlight the price trends across selected commodities that are usually in high demand towards this day. The EU Valentine's Day Chocolate Index shows that milk chocolate prices are 26% more expensive than a year ago, following significant increases in the prices of cocoa, sugar and skimmed milk powder (SMP). However, chocolates that have vanilla included are set to be 14% cheaper than last year, as the decline in vanilla prices more than offsets the increases seen in cocoa, sugar and SMP prices. The same trend is seen for the US Valentine's Day Chocolate Index, which has increased by 18% y-o-y, while the vanilla flavoured chocolate index has declined by 17% y-o-y. So, to get better value for money this Valentine's Day, vanilla flavoured chocolates are recommended.
For consumers that will strictly choose healthier options this Valentine's Day, EU and US strawberry price movements have been analysed, and better still consumers could have the best of both worlds, by having chocolate covered strawberries.



Source: Mintec Analytics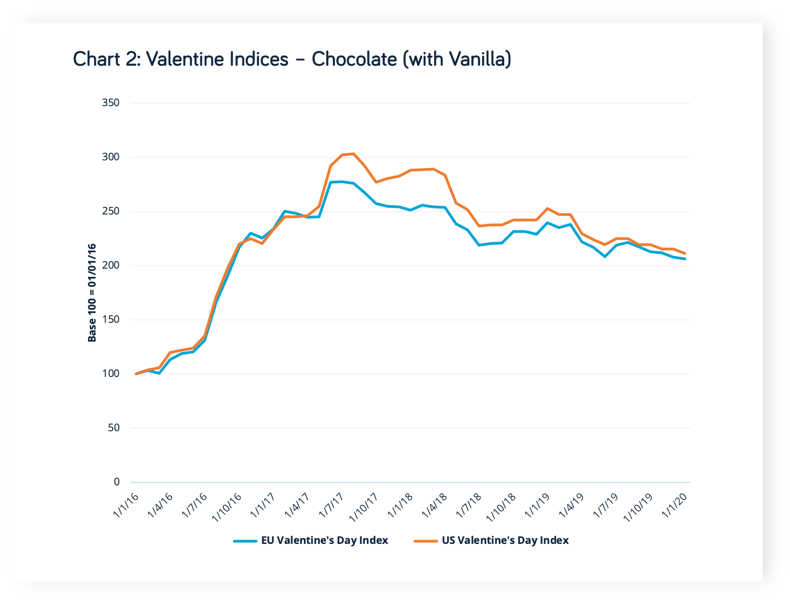 Source: Mintec Analytics
Chocolates are generally in high demand during festive seasons, as consumers associate these holiday periods with indulgence. Beyond the festive seasons, the build up to Valentine's Day is another period that experiences a high demand for chocolates, mainly due to tradition and tailored marketing initiatives during this period. However, changing consumer trends means that the chocolate industry continues to face growth restraints, as words such as 'health and wellness', 'natural ingredients', 'free-from' and 'sustainability' remain dominant across the whole food industry. For the chocolate industry in particular, the demand for sustainably sourced raw materials remains vital, thus reflecting on prices, as manufacturers respond to this trend. For example, the premium chocolate market is expected to continue to grow considerably in the developed regions, supported by the benefits associated with these premium products and even health benefits in the case of dark chocolates.
While it is recognised that manufacturers react to consumer trends by delivering innovative solutions such as sugar free, gluten free and dairy free chocolates, Mintec's Chocolate Indices are made up of a blend of cocoa beans, sugar, and SMP prices. Vanilla prices are also included alongside all these ingredients in the vanilla flavoured chocolate indices.
As expected, the price movements of these commodities have not been limited to consumer trends, as discussed in the following sections.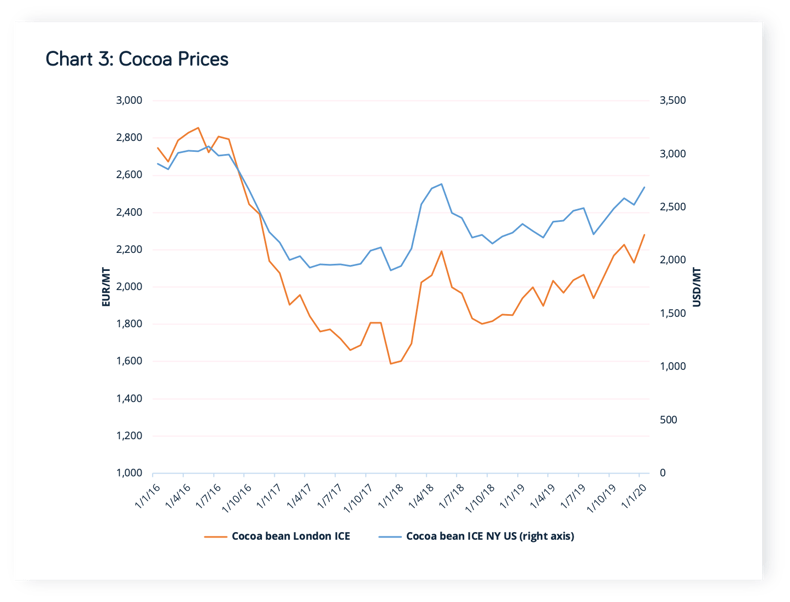 Source: Mintec Analytics
Cocoa bean prices on the London ICE have risen by 18% y-o-y and by 24% y-o-y on the US ICE. Global cocoa bean prices have been mainly supported by stronger demand for chocolate from Asian countries. Concerns over cocoa availability due to downward revisions to Ghana's 2018/19 cocoa crop have also provided further support to prices.
The demand for cocoa from Asia, reflected by the volume of cocoa grindings, resulted in the region's cocoa processing growing by 9% y-o-y in the fourth quarter of 2019. Consequently, the total grindings increased to 876,331 tonnes in 2019, up 12% y-o-y. Ghana (the second largest cocoa producer after Ivory Coast) faced weather and disease challenges in the 2018/19 season, with the output eventually estimated at 815,000 tonnes, down from the initial expectation of 900,000 tonnes, 10% less than in 2017/18.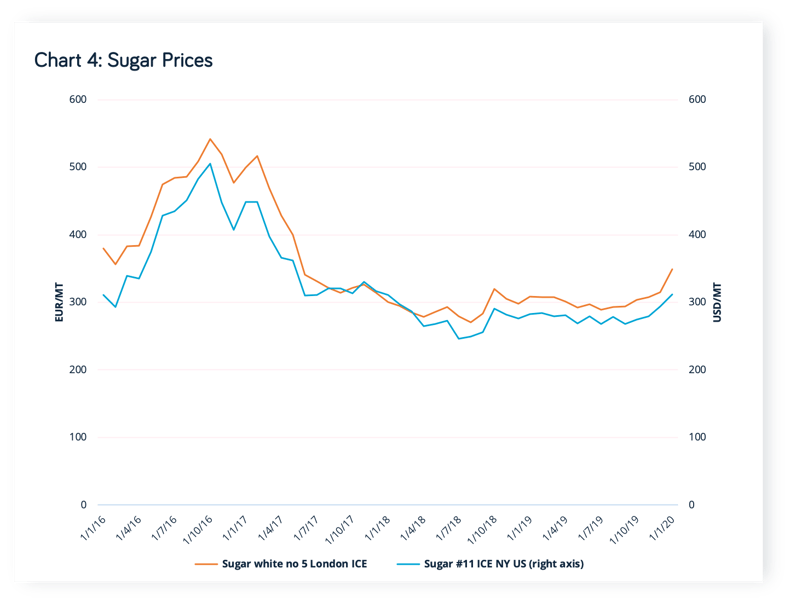 Source: Mintec Analytics
Global sugar prices have experienced moderate increases over the past twelve months, with majority of the growth seen in the last couple of months. The overall increase in prices has been driven largely by expectations of lower crops in India and Thailand and growing tensions between the US and Iran, which was previously anticipated to drive crude oil prices higher.
In India, the sugarcane crop has been negatively impacted by droughts and floods in recent seasons, with the 2019/20 production estimated at 29.3m tonnes, down 15% y-o-y. In Thailand, the latest USDA estimate puts the country's sugar production at 13.5m tonnes, a decrease of 9% y-o-y, but the severe drought experienced in Southeast Asia since the beginning of the year will most likely lead to further downward revisions in the crop estimate.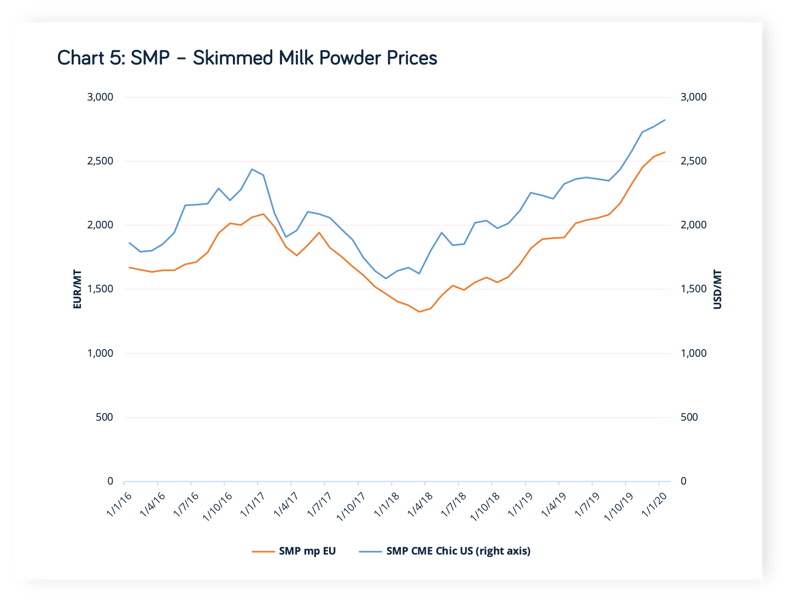 Source: Mintec Analytics
After declining for almost two years, EU and US SMP prices continue the bullish trend, seen since the beginning of 2018. Global SMP inventories are at the lowest levels seen since the start of 2015, mainly driven by the EU eliminating all intervention stocks. Additionally, the EU has been picking up increased demand from Asia at the expense of the US market. As a result, EU SMP prices were up 41.2% y-o-y in January, a significant increase of 53.7% compared to 2016. US SMP prices continue to rise, along with global prices, however at a slower pace than the EU. Besides, prices were also driven by currency movements (the USD) and underpinned by on-going strong export demand. US SMP prices are up 25% y-o-y and 2% m-o-m in January 2020.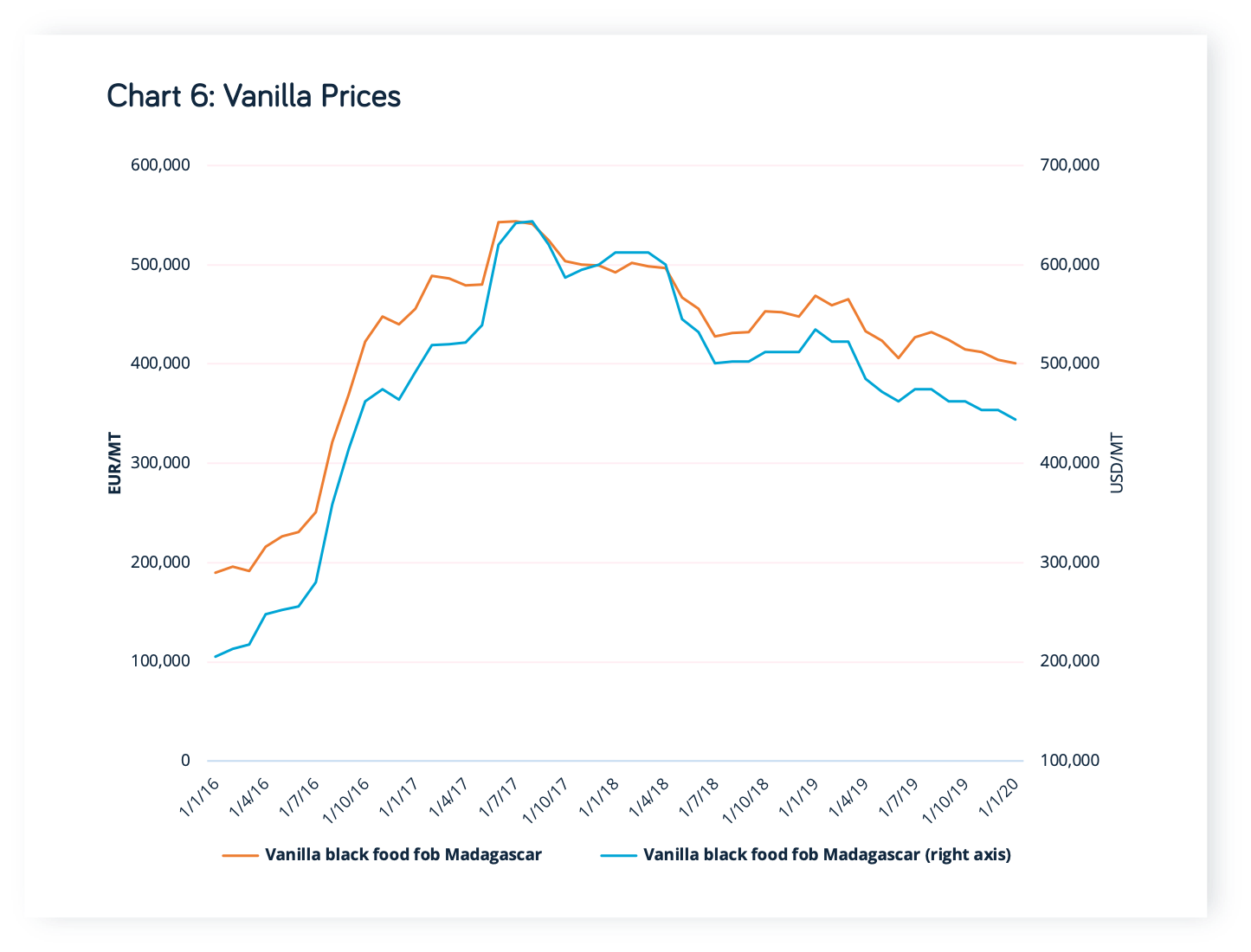 Source: Mintec Analytics
Global vanilla prices continue to decline from 2017's record highs. Madagascar, the largest vanilla producer, saw a very good crop in terms of volume and quality in 2018. Although the output dropped in 2019 due to weak flowering, the rising production from other origins, coupled with a decent carry-in from 2018, boosted the global supplies. At the same time, the global demand for vanilla has been lackluster, as food manufacturers continue to move away from natural vanilla due to previously high prices. Overall, global vanilla supplies continue to outweigh demand, thus pressurising prices down.
Source: Mintec Analytics
The strawberry harvest in Spain, the largest strawberry producing country in the EU, started in December 2019, with smaller volumes harvested compared to the historical average seen at the start of the season. Although Spain experienced favourable conditions throughout the strawberry growing season, temperatures were warmer than expected in December and January, which triggered the ripening process, thus expanding supplies on the EU market. As a result, prices fell 7% and 29% m-o-m in December and January respectively. However, prices have increased by 61% y-o-y, as the previous season's harvest (2018/19) was delayed by a month, which resulted in a supply glut in January 2019, thus weighing prices down.
Similarly, US strawberry prices dropped 41% m-o-m and 57% y-o-y, with high volumes of strawberries arriving on the market, despite a slower start to the season. Cool weather conditions limited the output seen earlier in the season, with smaller than usual sized strawberries arriving on the market. However, the output recovered in December 2019, weighing down on prices.
Conclusion
Consumers in the EU and US are set to pay more for their Valentine's Day chocolate, compared to a year ago, as supply constraints amid strong demand reflects on the prices of cocoa beans, sugar and SMP. However, for those chocolates with vanilla included, prices are set to be lower this year, following the considerable decline in vanilla prices on the back of high supplies and low demand.
For consumers that choose not to indulge in chocolates this Valentine's Day, strawberry prices are significantly higher than a year ago, by 61% in the EU, as prices recovered from the low levels seen in 2019 (due to a supply glut). Conversely, US consumers are set for cheaper strawberries this year, compared to last year, due to a higher crop.