The Mintec 2019 Thanksgiving Dinner Index
As Thanksgiving approaches, Mintec has put together its Thanksgiving index to measure the price movements across commodities that make it to a typical Thanksgiving dinner. The overall index shows that a representative dinner is set to be slightly more expensive than the same time last year by 1.3 %, mainly driven by the main meal index which has increased by 2% y-o-y. Vegetables such as sweet potatoes, potatoes and Brussels sprouts have experienced significant price increases due to unfavourable weather conditions over the year.
Chart 1: Thanksgiving Dinner Index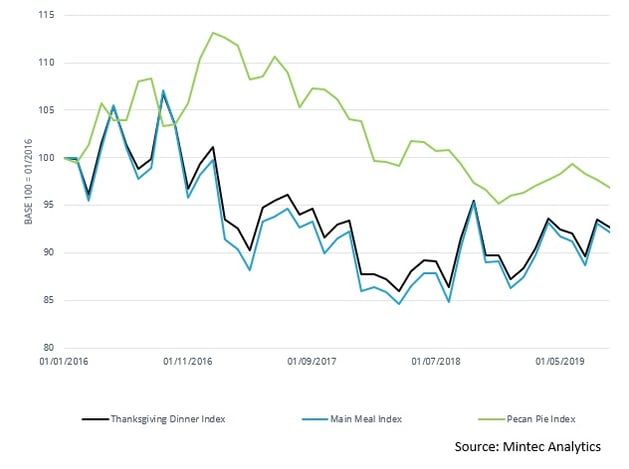 Mintec's 2019 Thanksgiving Dinner Index is made up of the main meal (meat, vegetables, bread, nuts) and the traditional pecan pie for dessert. Selected from the comprehensive Mintec Price Database with more than 14,000 of commodity price series.
Breakdown by components
Chart 2: Main Meal Index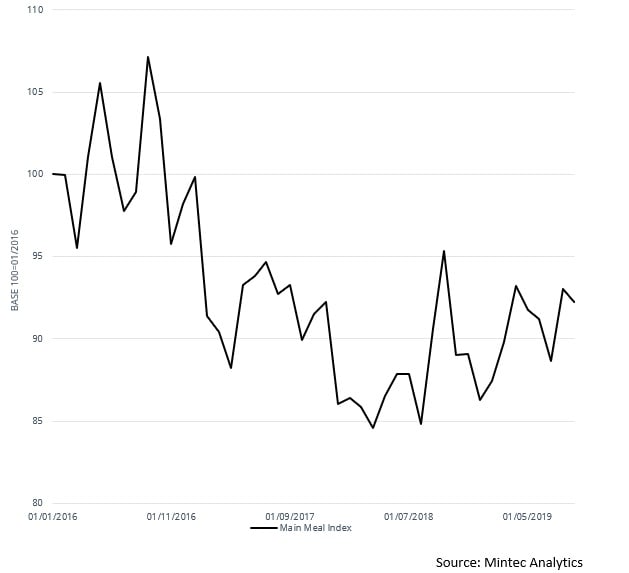 Turkey
Mintec's US turkey prices increased by 11% y-o-y in September, mainly as a result of diminishing ending stocks since April 2019, which were down by 7% y-o-y as at the end of August 2019. Prices were further strengthened by the increase in export demand from countries such as Mexico, which accounts for 60% of US turkey exports. The supply situation has also contributed to price increases, as US turkey production reached 501m pounds in August, down 3.1% y-o-y. However, the number of slaughters and the average weight of live turkey increased y-o-y in August and are anticipated to be high in September, which could increase production.
Pork
Mintec US pork prices have been trending high since March 2019, driven by an increase in demand from China, one of the largest export destinations for US pork. Export sales skyrocketed to 233,242 metric tonnes in July 2019, up 32% y-o-y, due to rising demand from Mexico, Japan and China. A dramatic decline in China's pork production due to the African Swine Fever (ASF) outbreak has stimulated US exports to the Chinese market. The Chinese swine herd plummeted 39% y-o-y in August 2019, and pork ending stocks are estimated to be down 28% y-o-y in 2019, driving up US pork prices.
Potatoes
Strong export demand in 2019 has strengthened US potato prices. Consequently, Mintec's US potato prices were up 29% y-o-y and 9 % m-o-m as at the end of August. In addition, the potato output in Idaho, which accounts for 32% of the US potato production is currently estimated to be down by 15 to 20% due to the recent hard frost in the region, supporting price increases.
Sweet potato
US sweet potato prices increased considerably by 60% y-o-y in September, as a result of the low US crop in Q1 2019. Shipment from North Carolina, which accounts for 50% of the US sweet potato exports was down in H1 2019. Hurricane Florence destroyed the crop in North Carolina while heavy rains affected the crop in some of the Southern states, thus a shortage of sweet potatoes in early 2019. However, the prices have been declining recently and dropped 8% m-o-m as in the third week of October. The recent price decline is due to the peak of the harvest season, which could still be reflected on the thanksgiving dinner plate.
Carrots
Excessive rainfall during the carrot harvest season from June-August in the US impacted the supplies of carrots on the market, supporting the 8% y-o-y increase in prices.
Brussels sprouts
Tumbling Brussels sprout supplies from Mexico to the US market has been considered one of the main reasons for the current price increase in the US. Mintec's US Brussel sprout prices are up 31% y-o-y and 14% q-o-q, as at the second week of October 2019.
Almonds
Almond prices increased throughout the year amid a lower revision to the production estimate of Californian almonds and expectations of a tight supply transition into the new season. However, prices have declined since August, due to speculations of a more abundant 2019/20 crop in California – estimated at 2.3 to 2.4bn pounds.
In its objective measurement report in July, the USDA lowered its production estimate for Californian almonds by 12% from its May forecast, a 3.5% y-o-y decline. However, based on the latest harvest data, especially for the early non-pareil variety, some market participants maintain a view that production will be higher than currently estimated by the USDA.
Chart 3: Bread Index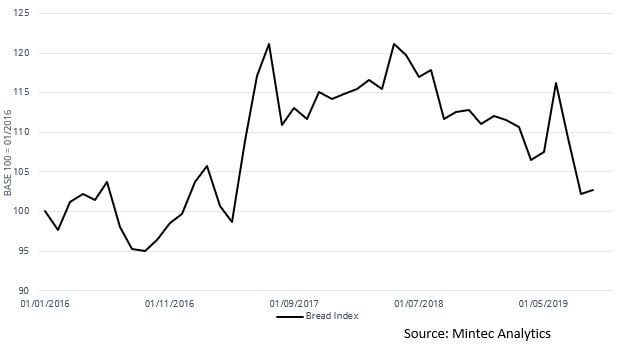 Wheat flour
The US wheat flour price has been trending up since September, following cold temperatures in parts of the US grain belt creating concerns over total output. Wheat prices had been falling since June, due to the ongoing US harvest bringing new supply to the market and anticipations of a larger crop in 2019/20. However, snowfall in the states of Minnesota and North Dakota have contributed to a rapid rise in prices by 10.8% from September to mid-October. It is uncertain how the cold weather has impacted wheat crops, although, market sentiment is of quality potentially being impacted.
Yeast
Yeast prices saw a slight increase at the beginning of the year, but have been falling since February. Prices are currently down 7% y-o-y and 4% q-o-q.
Chart 4: Dessert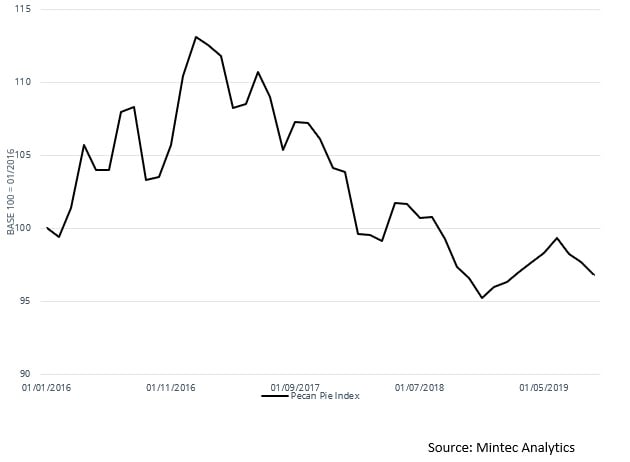 Thanksgiving meals are traditionally followed by a dessert of either a pumpkin pie or a pecan pie, and the Mintec dessert index is made up of a pecan pie recipe.
Sugar
Prices of US sugar (Sugar # 16: ICE – Intercontinental Exchange) have been trending up in the last few months due to a slight reduction of US sugar production (due to a slower harvest pace in Michigan) and lower imports. However, the 2% y-o-y price increase has been partly counterbalanced by the bearish trend on the global market, particularly in Brazil. Prices of US sugar during the 2018/19 marketing year (October to September) remained stable overall, thus has a limited impact on the direction of the Pecan pie index.
Pecan
The price of pecans has declined by 6% y-o-y in USD terms, due to the muted demand resulting from the US-China trade war. In 2018/19, for the first eleven months of the season, the pecan shipments from the US to China and Honk Kong amounted to 13.6 million pounds (in-shell basis), in comparison to 40 million pounds which were shipped during twelve months of 2017/18.
Vanilla
Vanilla prices remain historically very high, supported by robust demand, as food manufacturers have been shifting to natural ingredients, driving demand for natural vanilla instead of synthetic vanillin. However, due to previously high prices, the demand has recently softened. Vanilla exported from Madagascar in 2018/19 between July 2018, and June 2019 reached just slightly over 1,100 tonnes. This is the lowest volume of exports in a season, in the last five years.
Concluding remarks
The Mintec 2019 Thanksgiving Dinner Index shows a slight y-o-y increase, as the rise in the main meal index was more than enough to offset the decline in the pecan pie index. The main meal index shows that extreme weather conditions impacted on vegetable prices in the last year, while supply and demand fundamentals drove turkey prices higher. These factors were enough to counterbalance the decline in bread prices, following the relatively better US wheat harvest, compared to a year ago.
For the pecan pie index, the slow demand for pecans over the year has driven the index lower y-o-y, in addition to the slight decline in sugar prices. So, will desserts be favoured more at the dinner table this year?