For retailers, being able to gauge the true level of price increases, and to have an independent view of costs, rather than relying solely on suppliers is essential.

A lack of transparency makes it hard to identify the real cost. So, understanding the real price of food ingredients and raw materials can be difficult.
The retail sector is complex and diverse, with a large retailer stocking +10,000 products. So the time available to prepare the analyse needed for complex supplier negotiations, is always limited. This means suppliers and customers can't always agree on price. For retailers, making informed decisions on prices during these negotiations, means being mindful of market conditions.
To negotiate successfully retailers, need to have all the relevant market information.
For many retailers, procurement is often seen as the lens on the market, and on the outside world. This makes it increasingly important that it's able to properly understand risks – not only the financial risks, but also sustainability, ethical and risks to reputation.
By understanding risk, retailers are better able to manage their costs, increase efficiencies and maximise their margins, whilst delivering value to customers. Delivering customer value is essential, whilst at the same time maintaining profitability and protecting the company from competitive threats.
To understand risk, procurement leaders, need to have a strong understanding of the market conditions, in which suppliers and distributors are operating. This includes a strong understanding of the primary cost drivers, how these are influencing the supply chain and how these might create risks and opportunities, that could lead to breakthroughs in alternative and new products.
Developing this insight enables retailers to better manage these risks, enabling them to build more effective relationships with suppliers and to evolve their procurement strategy.
Retailers are using digital transformation to introduce innovation into procurement, such as through Spend Analysis, to chart spending and find the opportunity sweat spot. The ability to analyse spend provides the opportunity to performance benchmark the companies costs against market prices so as to draw comparisons with key competitors.
How Mintec helps retailers.
Cost planning is critical, and because suppliers often like to provide their own view on prices & costs, having a trusted independent view of the market and prices is important. Mintec provides a detailed understanding of what is happening in the market, enabling retailers to strengthen their negotiations with suppliers. This helps them to save time and increases internal efficiencies.
"An independent view of price movements and the costs of food ingredients relative to the market - a key tool to help retailers better benchmark and negotiate."
How retailers manage their data.
Retailer procurement teams are able to use market price data as part of their strategic planning process, to consider likely scenarios within the market. This helps them make better decisions about the prices they can offer. Their credibility and reputation, in part, is maintained through the quality of the data and its interpretation by Category Managers.
Providing internal efficiencies
Retail procurement and finance teams can analyse, model and compare data as well as create customised negotiation packs which can be extracted and used as visual aids during supplier negotiations.
As these tools are directly available to the sales and procurement teams they are better able to negotiate contracts or as part of general market updates. Having centralised and automated systems improves accuracy of the information, therefore building further trust with customers.
"Helps to inform retailers procurement policies & purchasing strategies"
Where customers have specific analysis requirements, bespoke dashboards and modules can be created to provide the widest perspective on insight that can be obtained with Mintec data. This combines the robust independent data from Mintec with the specific procurement and sales processes of our customer. The ability for customers to create these modules independently provided them with the ability to do their own discreet analysis to benchmark their performance and establish the value of their contracts.
How retailers use Mintec Analytics insight
Volatility in the food market is challenging. Mintec enables clients to look at data points over time. This can provide some insight into immediate purchase prices or what is likely to affect pricing averages in the future. For example, economic or political instability can wildly effect logistics or raw materials, which in turn affects pricing. In this context, monitoring real-time prices against expected or benchmarked prices is essential.
Providing easy to digest visual interpretation of data can help explain to retail clients why a price may have gone up. Many want impartial evidence, such as that provided by Mintec. Therefore, clarity in the presentation of information using graphs and trend analysis through Mintec is an essential tool in successfully managing existing relationships. If a product is performing well, then visual documentation can highlight how our client is providing added value or market edge to their customer through their procurement routes.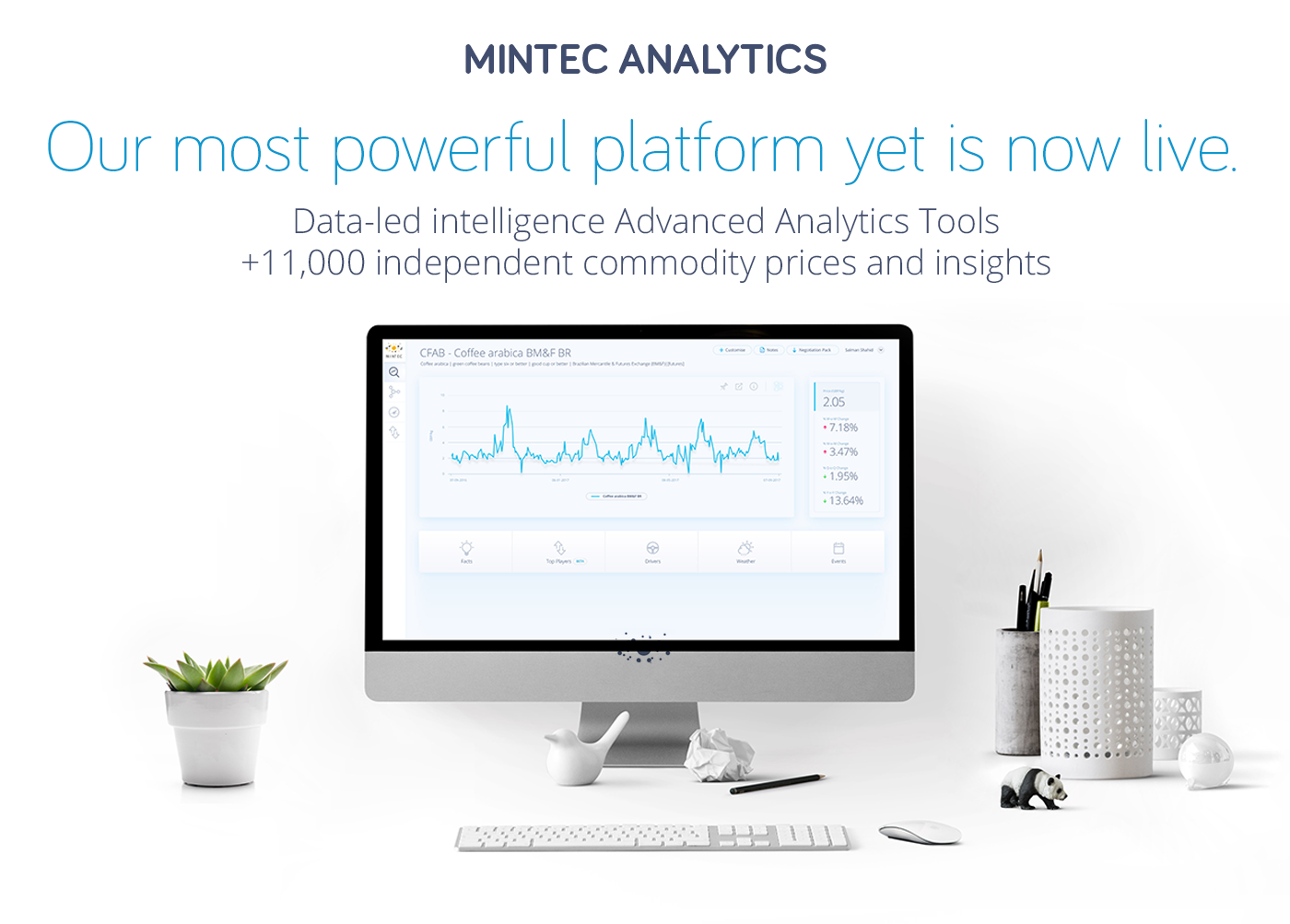 What Retail Category Managers like:
Quality and quantity of independent data
Sophisticated analysis – delivered quickly into negotiation packs
Customised dashboards to communicate pricing points, trends & performance against benchmark
Automated alerts to monitor price thresholds and be mindful of market conditions
Looking ahead in data analysis
The ability to maintain competitive advantage internal and external application of reliable pricing data will continue to be an essential part of the toolkit used by food retailers. Mintec products and services that provide specific leverage with suppliers or help them manage a large client base more effectively will carry favour in the retail industry.