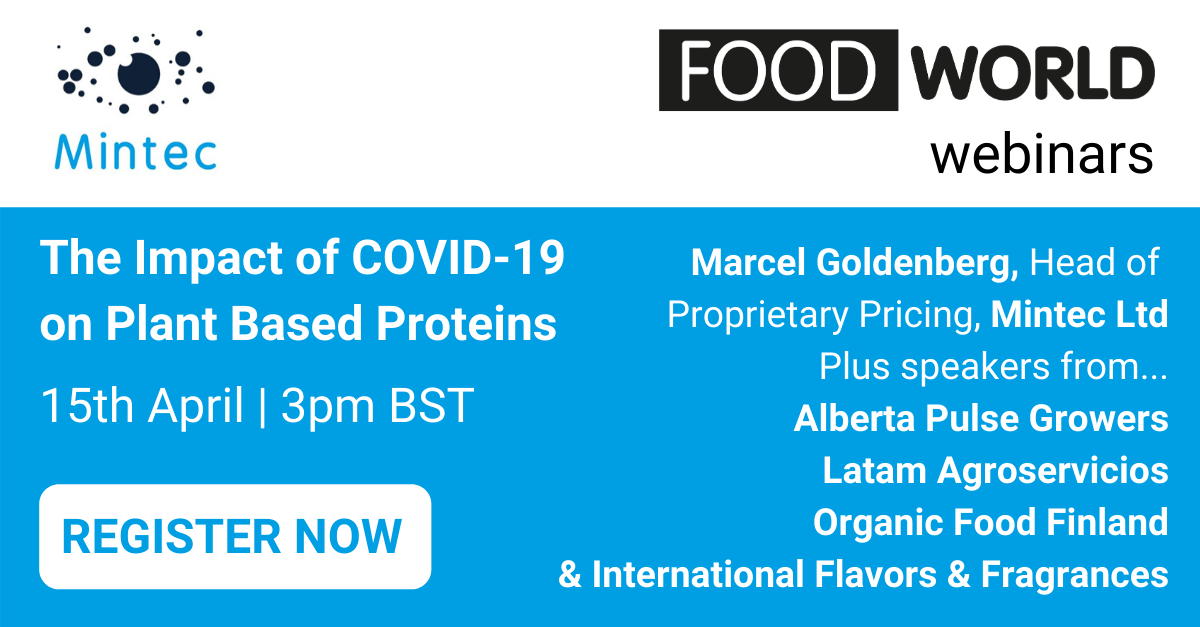 Will 'Plant-Based' be the end of the traditional meat market?
Global meat consumption will continue to increase as the world's growing middle class, particularly in India and China, is spending more money on meat.
So, let's get this straight from the beginning: meat is here to stay.
But, and of course, there has to be a 'but', plant-based 'meat' is forecast to grow in the double digits for years to come as consumers from developed countries become evermore health-conscious. Consumption of pea protein, one of the ingredients Beyond Meat uses in its products, is expected to increase to 570,000 mt in 2025, up by around 60% from current figures according to data from the Financial Times.
Global Protein Demand
In a presentation about "More than burgers: what's coming next" held at the Innovation Summit at Gulfood 2020, Alison Rabschnuk from The Good Food Institute shared that the U.S. plant-based meat market grew 25% in 2017 and a further 10% in 2018. While final figures for 2019 are not yet available, it is estimated that growth continued in the double digits and market value now stands at $900 million in early 2020. This number, however, is a mere drop in the ocean when compared to the US meat market, which is more than 120 times bigger. This shows that even if the plant-based meat market was to continue growing at 10% every year for the next 50 years and the meat market was to not grow at all, the meat market would still be larger than the plant-based market in the US. So, it's safe to say that meat companies are not under an existential threat.
Yet, many mainstream meat companies are not just paying attention to the plant-based revolution but are becoming part of it, as companies such as Tyson, Smithfield, Nestle and Perdue have started to launch plant-based products recently.
So, why is this?
Demand for Sustainability
Diversifying a company's income stream and spotting new trends is on every company's agenda and as Millennials and Generation Z pay increasing attention to sustainability, climate change and wellbeing, the meat industry has started to shift its focus from the Baby Boomers and Generation X towards these new, trend-setting generations that will provide revenues for decades to come.
The global meat supply chain produces more CO2 than all the world's transport combined. So much for electric vehicles being the answer to our climate problems! Further to this, the average red meat consumption in the U.S. is 200 pounds per capita with an ever-increasing amount of forest needing to be eroded to create space for animals to grass: 30% of the world's land surface has been decimated, including 1/5th of the Amazonian Rainforest. Another element being choked through over-farming is our planet's primary resource – water. It is estimated that it takes around 15,000 litres of water to produce 1 kilogram of beef.
Consumer trends
Fully-fledged veganism and vegetarianism remain on the fringes of the mainstream diet choice with 'flexitarian' – where consumers limit their meat intake to several days a week – anticipated to be the mainstream future. Indeed, 22 million people worldwide now label themselves as flexitarians and growth rates are expected to remain in the double digits for years to come. In fact, according to research done by Kantar, 92% of all plant-based meals consumed in 2018 were eaten by non-vegans. But, of course, the vegan share also continues to grow with 5.3 million people in the UK indicating they will go vegan in 2020 according to a finder.com study. At a total population of 66.4 million that would mean another 8% of the UK population will go vegan this year – or the whole population of countries such as Finland or New Zealand.
Overall, 9% of food products launched in Europe in 2018 were classified as vegan – which is almost double that of the 5% produced in 2015. Looking at the UK, Mintel data shows that the fifth largest European country topped the list of nations that launched the most vegan products in 2018, the same year in which a record 42% of current UK vegans made their dietary switch.
In terms of market size, this suggests that the UK meat-free market could grow to £658 million by 2021 and the global plant protein ingredients market is expected to grow to $41 billion by 2025, almost doubling in size. These figures clarify why meat companies are spending large amounts of money and time on getting involved in the meatless revolution. It's also a market that is not yet dominated by private label and still offers a healthy margin.
Market Positioning
The opportunities in the market also beg the question of how meat alternative products should be labelled and how they should be displayed in supermarkets. Should they state VEGAN? Should the products be displayed in different isles as the meat product or right in the middle of the products they are alternatives to?
The US supermarket chain Kroger is currently running a trial where the supermarket is placing 'meat-free' products in-between meat products to enhance visibility and recognition. Marketing departments have long realised that there is more to gain by labelling a product as 'plant-based' rather than just as vegan or vegetarian. The reasoning is simple: vegans and vegetarians don't mind if it says 'vegan' or 'plant-based' on the packaging. Some consumers, however, may not want to admit to buying 'vegetarian/vegan' meals and will feel far more at ease choosing something 'plant-based'. Marketers are being proven right with this approach, as 92% of plant-based meals consumed in 2018 were eaten by non-vegans.
"A lot about choosing food in the supermarket is down to psychology, packaging and personal beliefs and this is particularly important when it comes to the often-emotional topic of meat vs meat-free," Declan Rooney of Ingredion Inc said at the Innovation Summit at Gulfood.
Challenges in Plant-Based
There are still many challenges the plant-based industry needs to overcome. A package of minced meat, for example, typically only has a handful of ingredients and the minced meat makes up most of the product. Yet, for a plant-based product, the average number of ingredients is 21 – more than three times that of a minced meat burger. Moreover, most of the ingredients used in a plant-based product are ingredients which a consumer has never even heard of, Thiamine Hydrochloride anyone?
This means that while one of the reasons for eating plant-based is to eat natural products and to eat healthier, many of the plant-based products could not get its 'meaty' texture, or taste, without additives.
This challenge was clearly addressed and acknowledged at Gulfood in Dubai, and it seems that a clear solution has not yet been found. "As the market keeps growing and as the consumer will want to ensure that when they are eating plant-based, their food is indeed healthier, the pressure on manufacturers to find upgraded recipes will grow and hopefully provide a solution," Declan Rooney stated.
Yet, there is another alternative that addresses some of these challenges...
Lab-Grown Meat
Meat made in a lab, which also sometimes referred to as 'cultivated meat' involves taking cells from living animals and then using these to create man-made meat in a scientific lab. The result is that no animals need to be killed, and no trees need to be felled to create space for the animals to grass. According to Prof. Dr Can Akcali, Chief Scientist at biftek.co, cultivated meat can be produced in several weeks rather than years. Of course, in the lab-grown meat scenario, there would also not be a need to slaughter the animal. "The cells of one cow would be enough to feed all of Turkey for one day, and 400 cows would be enough to feed Turkey forever," Akcali said at Gulfood.
But, of course, there are also challenges and concerns around this. For a start, genetically modified organisms (GMO) are illegal in Europe, but legal in most of the rest of the world, but there are also ethical questions about eating lab-grown meat that each individual needs to consider. It is unlikely that lab-grown meat will see 100% of vegetarians eating meat again.
One of the biggest obstacles of lab-grown meat, however, is the cost. According to Prof. Dr Akcali, it currently costs between $2,500 to $3,000 to make just one kilogram of lab-grown meat. Comparing this to the price of one kilogram of prime beef fillet FOB USA, which stands at $22.61/kg in the Mintec Analytics Platform, it shows that lab-grown meat still has a long way to go to be a viable everyday alternative. Finally, there is also the question about how, and if, lab-grown meat would comply with Halal standards?
So, meat as we know it will not disappear from our shelves and for the die-hard meat eaters among us there is no need to panic that they will not be able to enjoy their favourite part of the meal anytime soon. Instead, it seems, we will all be blessed with even more choice when it comes to eating meat, because we don't already have enough choice!