The role of AI, Machine Learning & Robotic Process Automation
There is undoubtedly an appetite for advanced analytics, Robotic Process Automation (RPA) and artificial intelligence (AI) in supply chain management with more than half of the world's supply chain, procurement, and financial professionals revealing that organisations are set to make major investments in these technologies over the next two years.
Advanced analytics, and the capabilities of RPA in particular, are re-defining procurement. Chief Procurement Officer's everywhere recognize the need to embrace these digital technologies as part of the journey into digital transformation and understand the potential advantages that could be gained.
But what are the tops tools these new technologies enabling sales teams to evidence their pricing and category managers have fact based negotiations right now?
Benchmark your own performance or KPI your buyers
Import you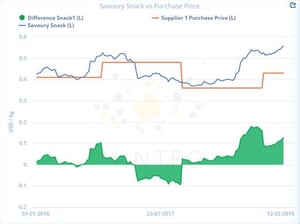 r purchase data to compare to price data, add a "Difference Analysis", to show whether the contract is above or below market. This can be done with a single commodity, a model of a finished product or a category/basket of goods.
Equip your sales team with the right defense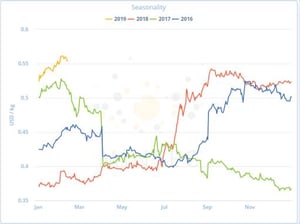 Build bespoke cost models of your products. Add in packaging costs, transport and other indirect costs to clearly visualize how the price changes can influence the overall cost of the product. This can then be used in customer conversations to negotiate a better price.
Negotiate at the best time to maximize cost savings
By understanding how crop yields are affected by weather and using seasonality heat maps help you to visualize the best time to set your contracts.
Understand what drives the future
Get clarification on the cost drivers, weather impacts and events that can influence how price could change in the future. Is the weather perfect for a bumper crop next year? Are there any political risks in the origin country? Has there been changes to trade tariffs? Get all of that information in a one-click Negotiation Pack, that you can discuss with your supplier or just to inform your budget decisions.
Complete a quick substitution analysis or value engineering process
Having your products modeled, will allow you to understand if an ingredient is increasing the overall price. Armed with this information on a granular level you can easily perform substitution analysis with ingredients sourced from another origin, swap an ingredient for a cheaper alternative or change the recipe to value engineer your product. Combining this with volume data means you can understand the overall effect on the business.
Easily identify opportunities to re-negotiate
Creating a Price Change Report with the commodities/models/categories will give you up to date price movements to understand if a price is falling and you can open up a supplier negotiation, instead of waiting for them to come to you.
Combine all of the above to create a robust procurement practice that is self-governing
By using all of the techniques above, you can ensure that your buyers are obtaining the best prices, meaning your products are the best value and your sales team can be confident to achieving the best selling price.
Empowering bottom line savings
Access to more powerful insight is helping to build a solid data foundation to transform the way the supply chain operates whilst demonstrating how they boost the bottom line.
See for yourself the potential insight that these new technologies are delivering right now.