LATEST MINTEC REPORT
COVID-19 continues to impact global supply chains. The price effects across various commodity groups are reflective of numerous factors, many of which are country and/or market specific. China is a key import market for various commodities covered in this report, thus influential in supporting demand and prices. As the Chinese economic recovery continues apace, the noticeable impact of increased trade is cited across various commodities groups, including meat, oilseeds, packaging, and grains. Conversely, the prospect of China re-implementing more stringent border controls remains a pertinent threat. Parts of Europe are again tightening controls on social movement in order to curb localised spikes. With the virus widely anticipated to escalate during the northern Hemisphere winter, commodity price volatility appears increasingly likely during Q4 2020.
In September, Mintec reported on the price impact of the COVID-19 pandemic on a range of commodity categories, highlighting the key price drivers. This report revisits some of these categories, providing analysis of price developments up to mid-October. The following categories are covered – seafood, soft commodities, grains, vegetable oils, meat, dairy, and nuts – with analysis on current market dynamics, key drivers, and short-term price potential.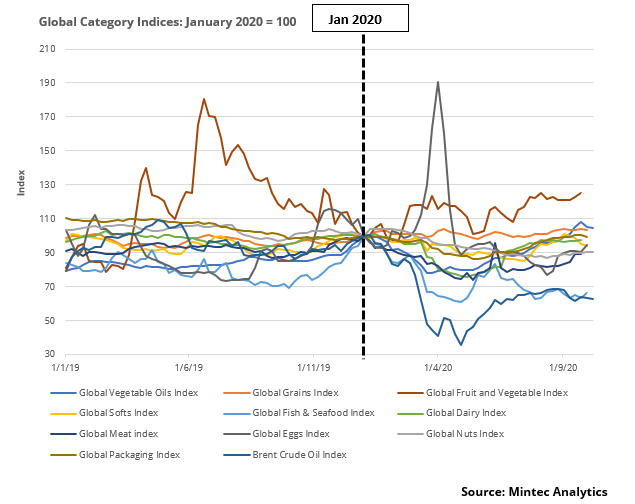 Global Soft Commodities Index
(NY Arabica European Robusta, European Cocoa, European White Granulated Sugar)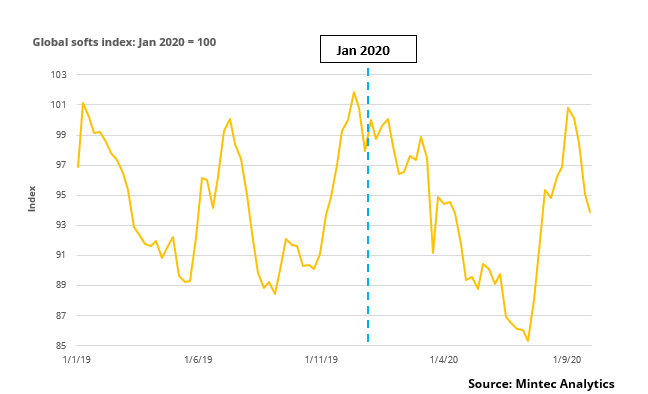 A seven-week softs bull-run peaked at 101 points on 2nd September, which is the highest level reached in 2020, and 16 points above the mid-July 2020 trough. The index charted downwards over the ensuing four-weeks to 94 points on 30th September, and further downward momentum is anticipated to persist through Q4 2020.
The New York InterContinental Exchange (ICE) Arabica futures price fell USc 17/Ib (-13%), from USc 128/Ib on 2nd September to USc 111/Ib on 30th September 2020, representing a 10-week low, as managed money funds increased net short positions. Similar dynamics were evident on the European ICE Robusta benchmark, with investors closing out on weak demand sentiment.
Indeed, Robusta futures fell by USD 86/MT (-6%) during the month to USD 1,350/MT on 30th September 2020, also a 10-week low. Despite weakening through September, average monthly prices in New York and Europe surpassed September 2019 averages by 22% and 5%, respectively. This is primarily due to heightened speculation during Q3 2020 regarding sub-optimal growing conditions. Unseasonable aridity in Brazil's arabica heartlands fueled speculation of lower-than-anticipated yields during the biennial 'on-season.' Meanwhile, Vietnamese Robusta production is also expected to contract by 4% year-on-year (y-o-y) in 2021 due to poor weather.
Cocoa prices at the London ICE increased by 1% through September 2020 to USD 2,387/MT, with the monthly average rising by 7% month-on-month (m-o-m) and 5% y-o-y. These latest prices reflect bullish investor sentiment, amid poor growing conditions in West Africa at the start of the new season, in addition to reportedly low ICE warehouse stock. There is also uncertainty surrounding potential supply disruptions and price hikes in Cote d'Ivoire, the world's top cocoa producer, and exporter. The Presidential election takes place on 31st October 2020, and civil unrest is a pertinent threat, with cocoa-containing freight trucks often thwarted by blockades. Additionally, the incumbent president has vowed to raise minimum farmgate cocoa prices if re-elected.
Mintec remains cautious regarding perceived market tightness across the softs landscape. The dry weather noted in Brazil is too early in the season to significantly affect output in 2021, and La Niña weather pattern is expected to arrive by late-October 2020, bringing heavy rainfall from December 2020 through to March 2021. Thus, record Brazilian sugar and coffee crops are likely to outweigh falling production elsewhere. Despite cocoa prices charting strongly upwards since mid-July 2020, supply and demand fundamentals suggest the firm price momentum will soon reach its ceiling. Improved rainfall has been noted in West Africa at the start of the 2020/21 season (October to September), and the crop is expected to offset the low output of the previous year.
The COVID-19 pandemic continues to weigh on softs consumption across the major western hemisphere markets due to weak out-of-home consumption, falling tourism and retail demand, and fewer impulse buys. Thus, any supply tightness will likely be outweighed through weak buying. On this note, further downward momentum is expected through the remainder of 2020.
Click here to read the full report