Food prices reflect the underlying costs of a combination of food ingredients, often comprising several different agricultural commodities. Together with the raw material costs, the final finished product will include the combined costs of labour, transport, energy and packaging. Together these represent important factors influencing price negotiations between customers and suppliers.
The average price of a particular food commodity can vary globally and across different regions. And because commodities can be derived from multiple sources, as well as from and through different suppliers, their cost can vary still further.
Price data for exchange traded commodities is widely available, however this represents only a fraction of the more than 650 commodity types. In addition, this data often does not represent the specific types and sizes that fit the product or retail specification developed by the category manager. According to Ecratum, one of the most important product related documents is the product specification. Its is used for all kinds of products from raw materials and packaged goods.
The product specification helps inform about the ingredients of each product and it is this that will be used to help source and costs the ingredients. This will contribute to the overall cost effectiveness of the product, help understand its competitive positioning and to influence the selection of ingredients based on cost and available substitution.
Understanding how the costs of ingredients and raw materials change based on market prices and how the costs of ingredients vary across potential substitutes can significantly influence the choice of ingredient and affect the specification.
With more than 650 non-exchange traded commodities, getting insight into price information that fits the specification can be difficult.
Typically, companies buying large volumes of raw materials, or with large product ranges, are exposed to a significant number of price skews. This increased risk through the exposure to price volatility of the underlying commodity which can affect costs.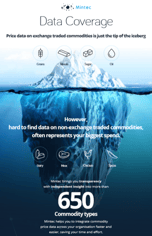 A lack of market price data means it is difficult for companies to carry out analysis or to benchmark the performance of procurement teams or conduct Spend Analysis. This impacts the ability of the procurement team to control costs and manage price risk exposure.
Where possible independent price data should be integrated into systems, to enable business processes and models to be updated quickly and shared with the people who need it. This ensures organisations can stay focused on controlling costs and maintaining margins.