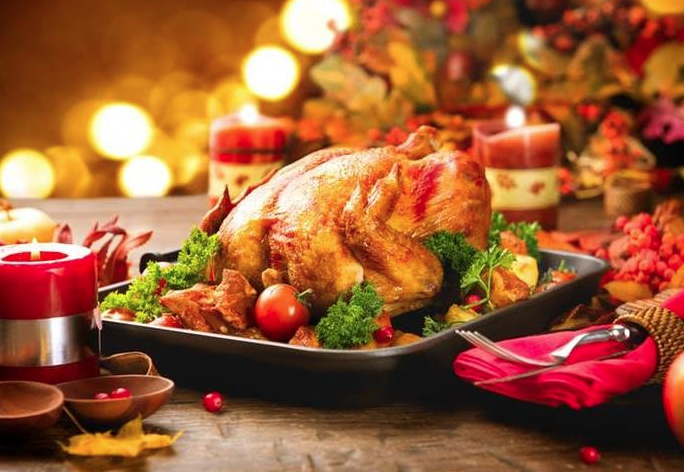 Prices might be key to consumers' decision on sticking to the traditional turkey this year
Despite the recent rise in meat prices, the Mintec Christmas Dinner Index shows that a typical Christmas dinner will be marginally cheaper by 1% this year, compared to 2018. However, the entire Christmas meal will cost around 3% more, as more money will be needed for the turkeys and pigs in blankets. The higher priced main meal has been more than offset by, the cheaper puddings, as the lower prices of raisins, sugar and milk counterbalance the more expensive meats this year.
From its large range of data coverage, Mintec is perfectly placed to track the prices of those food commodities that make it to a representative Christmas dinner and have blended all these in its Christmas Dinner Index.
Mintec's 2019 Christmas dinner index combines the meat, the vegetables, the Yorkshire puddings and the traditional Christmas pudding for dessert. The breakdown of the components below shows how prices compare to last year's Christmas and provide insights on price movements.

We will start by looking at the main components of the Christmas main meal index, which has increased by 3% year-on-year.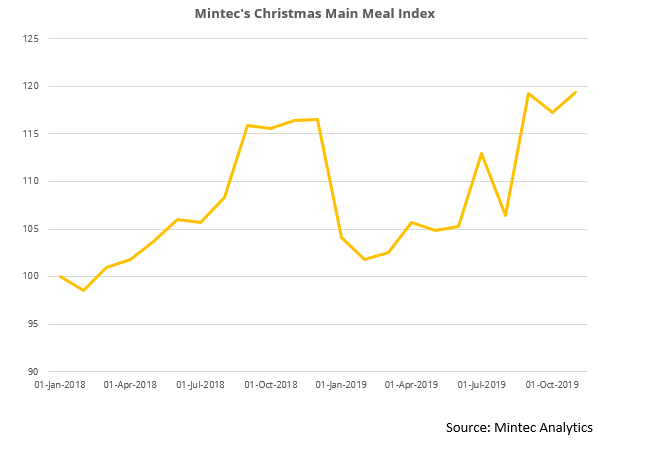 Analysis by Ingredient
Turkey
Higher than average summer temperatures have resulted in lower turkey eggs hatching this season compared to last season. Turkey eggs set by UK hatcheries in September were down at 1.3 million from 2.6 million in August and were stable in October. As a result, the Mintec turkey prices were up 3% month-on-month and 6% year-on-year in November.
Pork
Rising pork exports have strengthened UK pork prices, driven by increased shipments to China. UK pork exports from January to September totalled 178,751 tonnes, up 11% compared to the same period in 2018. The outbreak of African Swine Fever (ASF) in China has resulted in surging demand for pork imports. Also, the incidence of the ASF in some of the other states in the EU has channelled the demand for pork to the UK, driving prices up 10% year-on-year in November.
Potatoes
The last few months have been critical for potatoes, in view of the weather conditions in the top growing regions. Heavy rain over the last few weeks has deepened the flood crisis and is likely to lead to more potatoes being abandoned in the ground in some parts of the UK. UK growers have struggled to get about 10,000 hectares of potatoes out of the ground and storage losses may be high. The British potato produce will be under 5 million tonnes for the second year running, according to early predictions by the AHDB. As a result, Mintec UK potato prices increased by 11% month-on-month in November (reaching £1,555.3/MT). However, on an annual basis, UK potato prices remain down 20% year-on-year.
Vegetables
Recent wet weather and severe flooding in the UK have pushed the prices of UK carrots and Brussel sprouts up by 3% and 29% respectively in the last month. But like potatoes, carrots and parsnips remain significantly cheaper year-on-year.
However, the good news is that Yorkshire pudding ingredients will cost us less this year, with the index down by 3% year-on-year.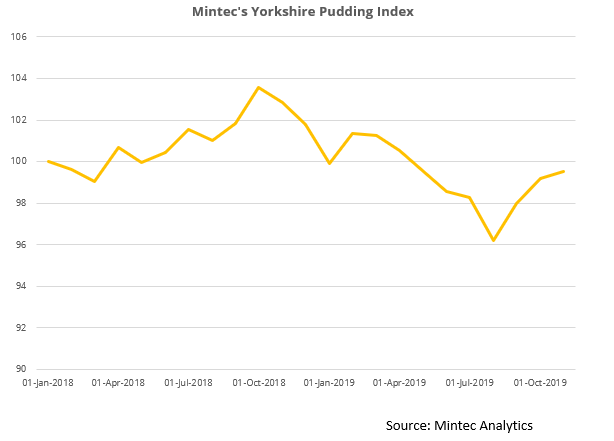 Wheat
Wheat prices are lower this year, down 14% in November 2019 compared to the same time last year. Wheat supply is anticipated to increase by 14 million tonnes this season (+12%) compared to the previous season, due to higher production. Farmers are anticipated to have planted about 500,000 tonnes more wheat in 2019/20 to compensate for the low yields that resulted from last year's summer heatwave. However, prices are now up 4% month-on-month, driven by higher exports.
Eggs and Milk
Milk prices have declined year-on-year while egg prices have remained relatively stable. UK egg production increased by 3.6% year-on-year and 1% quarter-on-quarter in the third quarter of 2019. In the first week of November, egg prices jumped 2% month-on-month, in line with the seasonal increase in demand prior to Christmas.
Of all the Christmas Dinner Index components, the Christmas pudding has experienced the biggest decline since last year, down 9%, driven by lower sugar and raisin prices.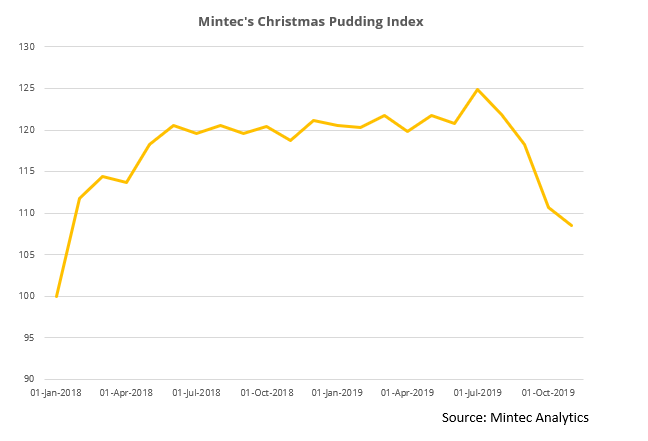 Sugar
The price of white sugar on the London Intercontinental Exchange (ICE) declined by 3% year-on-year in November. The price decline seen in the last six months has been mainly driven by the large ending stocks from the 2018/19 season (mostly based in India), preventing any price support enough to counterbalance the effect of the high availability. Furthermore, lower sugar demand in key consuming countries has contributed partly to the bearish price trend.
Raisins
Californian raisin prices have seen a big drop in the last twelve months. At the start of last season, Californian raisins were selling at a large premium to Turkish raisins and sultanas. In October 2018, the Raisin Bargaining Association and packers agreed to establish the highest price ever in Californian raisin history. This has meant that demand for US raisins has fallen and consequently, weighed down on prices. For the 2019 crop, there's no production forecast available yet, but the quality looks excellent.
Sultanas
Turkish sultana prices have been relatively stable throughout the year, experiencing only a slight price increase, by 2% year-on-year. The 2019/20 raisins and sultana production in Turkey - the main sultana producer have been officially estimated at 300,000 tonnes by the Turkish Ministry of Agriculture, up 15% year-on-year, due to favourable growing conditions. The quality of Turkish dried grapes has improved rapidly over the past years, and demand remains strong.
Almonds
Almond prices increased throughout the year amid a lower revision to the Californian almonds production estimate and expectations of a tight supply transition into the new season. However, prices have experienced mixed trends since August. Initially, declining between August and September on the back of speculations of a larger 2019/20 Californian crop – estimated at 2.3 to 2.4bn pounds. However, almond prices started increasing recently, driven by robust demand. Overall, the benchmark Mintec price for US almonds has gone up by 14% year-on-year.
Conclusion
In summary, the main Christmas meal will cost more this year due to higher turkey and pork prices, which might result in consumers shifting to alternatives such as fish and other cheaper meats. Furthermore, the relatively cheaper Christmas pudding might result in consumers indulging themselves while taking advantage of the lower sugar and Californian raisin prices.